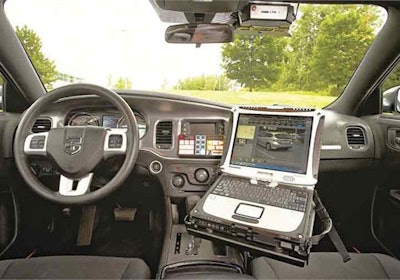 Once a curiosity, license plate recognition systems are now helping officers identify criminals and scofflaws nationwide.
License plate recognition (LPR) is thought by many American officers to be a relatively new law enforcement application for high-def cameras and computer databases. But in truth the technology is older than many cops on duty today.
The first LPR systems were developed in the United Kingdom back in the late 1970s. And they were in wide use in Europe by the end of the 1980s. However, the technology didn't really catch on in the United States until after the 9/11 attacks.
LPR has been a fixture in American law enforcement now for more than a decade. At first its primary application was to recover stolen cars and track people with warrants, but now the technology is being used by both large and small agencies for a wide variety of public safety operations.
Parking Enforcement
Nowadays advanced technology has made the process near automatic, changing the term to automatic license plate recognition (ALPR). The city of Washington, D.C., has been using ALPR for parking enforcement for about six years. D.C. Department of Public Works administrator Keith Cross says the city is now on its third generation of ALPR, currently a Gtechna system that is capable of reading a wide variety of license tags, including those tags that feature numerous colors and images.
D.C. has had great success using ALPR to police residential parking restrictions. Certain neighborhoods in the District restrict overnight street parking to residents, a necessary prohibition in a population-dense city that is a major tourist attraction. ALPR is also used to detect residents who are illegally registering their cars outside of the District and to catch scofflaws. "If you are one of those people who don't believe in paying your parking fines and have two or more tickets that are more than 60 days old, the system will alert on your license plate, and if it checks out, your car will be immobilized and then impounded," Cross says.
Parking enforcement officers in D.C.—like those in most major cities—are not equipped, trained, or authorized to make arrests, but the ALPR systems they use sometimes detect stolen vehicles and vehicles of wanted suspects. For this reason, all of the information gleaned by the Department of Public Works' ALPR systems is shared with the D.C. Metro police.
Milledgeville, Ga., also uses a Gtechna ALPR system for parking enforcement. The central Georgia community's downtown area is near the campuses of Georgia College and Georgia Military College. As a result, parking is at a premium and people try to overstay their allotted time. Milledgeville Chief of Police Dray Swicord says the ALPR parking enforcement has been very successful, and it has led to the city using ALPR on two patrol cars, primarily in a search for motorists driving without insurance.
Robust Technology
Like Milledgeville and D.C., numerous agencies nationwide have acquired ALPR for one specific application and later found that the systems are so robust that they have numerous other uses. ALPR systems are being used to track sex offenders, locate elderly dementia patients who have run away, and protect holiday shoppers from falling prey to criminals.
In Marion County, Ind., sheriff's deputies are using ALPR to monitor parking lots at schools, parks, and shopping malls for the tags of known sex offenders. "[ALPR] helps us know where these offenders are on a day-to-day basis," Dep. Brad Allen told WTHR TV in Indianapolis. The Marion County Sheriff's Department is running four ALPR cars with 3M/Pips systems, and in addition to monitoring sex offenders, they're searching for people wanted on criminal warrants, driving stolen vehicles, and operating vehicles on suspended licenses.
Maj. Daniel Slaughter says the Clearwater (Fla.) Police Department has been running ALPR cars for two years with many success stories credited to the technology but one recent one stands out. A patrol car equipped with a PlateSmart ALPR system recently helped the department locate a confused elderly patient who had run away from a care facility after threatening suicide. The Clearwater PD was not actively searching for the person, but Clearwater officers acted on the hit from the ALPR and were able to successfully perform a traffic stop to check the person's welfare. The elderly patient was returned to the care facility.
The Jackson (Miss.) Police Department has been running two Genetec ALPR systems since 2011. Jackson PD's ALPR-equipped cars were originally tasked with locating motorists with multiple unpaid moving violations, but the department soon found many uses for the technology. One of the most innovative ALPR pro-grams that the Jackson PD has conducted was its "Operation Safe Shop" during the recent Christmas season. ALPR cars scanned the plates of vehicles entering major retail centers searching for wanted felons. The goal was to identify and apprehend the bad guys before they could go into the shopping areas. "We are confident that we were able to reduce the amount of in-store theft, reduce the number of burglarized cars in the parking lot, and keep holiday shoppers safer," says Dep. Chief Eric Wall.
Finding the Money
That ALPR can be very effective in preventing crime and gleaning unpaid fines is hard to dispute. Agencies that have the technology don't want to give it up and agencies that don't have it are looking for ways to get it.
The good news is that the price of ALPR systems has dropped substantially in recent years. Most agencies have found that they can equip a vehicle with ALPR for less than $20,000. Still, in these days of budget cuts and municipal deficits, finding an additional $20,000 is not easy. Necessity is the mother of invention and the agencies contacted for this story were all quite inventive in their efforts to fund their ALPR programs.
One of the nation's most ambitious ALPR programs is in operation in Orange County, Calif. The countywide ALPR effort involves 50 vehicle-mounted ALPR units from Vigilant Solutions spread across 24 agencies, including the sheriff's department. All of the agencies involved are sharing databases and Investigator Ryan Tisdale of the Anaheim Police Department who oversees the effort says the shared information is the key to the program's success. "The beauty of this system is the back end and the kind of analytics it can do," he says. The database is kept on cloud servers.
Information sharing is what makes the Orange County pro-gram successful, but it's federal funding that drives it. The agencies banded together to seek an Urban Area Security Initiative grant from the Department of Homeland Security.
Of course not all ALPR grant requests are going to be as successful as the Orange County program, so agencies have had to get creative to fund their ALPR initiatives. Milledgeville, Ga., funds its ALPR through a technology surcharge fee that's add-ed to every ticket. "That way the violator ends up paying for the equipment," says Police Chief Dray Swicord.
Another way to get the equipment is to volunteer to be a kind of technology tester. Clearwater PD receives some of its ALPR equipment for free from Tampa Bay-based PlateSmart. Clearwater PD's Slaughter says PlateSmart has not indicated that it wants the equipment re-turned by any given date, and it has been "very responsive making adjustments and tweaks as needed."
It's clear that law enforcement agencies are becoming much more creative in finding ways to acquire ALPR and in developing ways to use ALPR to perform their missions. But truthfully officers have just scratched the surface of ALPR's potential, and as this technology becomes more widespread, it will be an even greater boon to public and officer safety.
ALPR Manufacturers