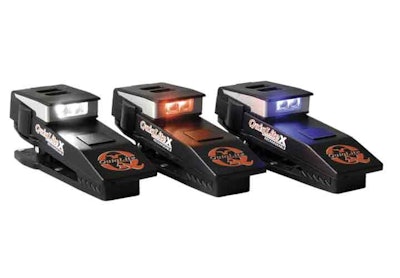 Having been a police officer himself, QuiqLite owner and CEO Brian Quittner knows how essential a hands-free light can be on duty. That's why he created the QuiqLite. It's also why he has created a new version called the QuiqLiteX that is rechargeable and brighter than QuiqLitePro models.
Just like the QuiqLitePro, the small, lightweight QuiqLiteX clips into your uniform's front shirt pocket. Its exposed adjustable arm is adjustable up to 180 degrees and will stay in place at the desired angle so you can easily direct the light's illumination. You can also clip the unobtrusive light to your duty belt. Now, advances in technology have allowed the original model to be further improved upon.
"The old-style QuiqLitePro used regular lithium three-volt batteries, so we could only get the power of the LEDs to be so bright, about 18 lumens," says Quittner. "With the new battery technology in the rechargeable QuiqLiteX, we were able to use a lithium polymer battery strong enough to support surface-mounted Cree LEDs, which are very bright."
QuiqLiteX puts out from 20 to 150 lumens for the dual white LED version and from 20 to 75 lumens for the colored options: tactical red and white, and blue and white. "It has an anti-glare visor on it and it goes on at 20 lumens, so it preserves your night vision," says Quittner.
Positioned on its concealed body, the on/off switch can be pressed through the fabric of your shirt pocket to activate the light, initially operating on the low setting. The "X boost" button on the top of the light switches the output to the high setting, whether that be 150 lumens for the dual white light or 75 lumens for the colored versions.
Recharging the new QuiqLiteX takes up to 2.5 hours. This can be done by using the included charging cord to plug the light into any USB port that provides five or more volts. "You can charge it directly from your computer, your laptop, or from a wall socket with a USB adapter," says Quittner. The battery is replaceable after 300 charge cycles.
Additional features increase benefits to officers, including the 360-degree-adjustable, removable magnetic clip on the back of the QuiqLiteX. It allows you to place it on the side of a vehicle or on its hood to provide additional light. A built-in safety strobe can be seen up to 1.5 miles away and a 10-minute auto-off timer helps preserve battery life. "Independent LED activation allows you to turn on different colors individually," adds Quittner.
Expanding the use of the new light further, one of two new durable nylon attachments available for the QuiqLiteX is the XFlare. Designed to clip onto the light arm of the new light, it acts as a light diffuser that can be used on your person or even on the ground as a marker. The XFlare can be seen from up to 1.5 miles away and will burn brightly for up to five hours on a single charge.
Brand new to the market is the QuiqLiteXRail attachment, which debuted at the SHOT Show. You can attach it to the Picatinny rail of your rifle. Then if you need a weapon light, just slide your QuiqLiteX or QuiqLite Stealth into the already affixed mount. Quittner says the new QuiqLiteXRail is the lowest profile USB-rechargeable weapon-mounted light source on the market.
"Most weapon lights are big and bulky. They put out a very bright spot of light. Ours is for when you need a low-light option," he says. And because it only costs $19.95, it's an affordable backup to have in case your usual weapon light runs out of batteries during an incident. The QuiqLiteXRail comes in standard black and is also available with a pressure switch attachment.
All of these new products fit QuiqLite's company mission. "People don't want to lug around a big flashlight, but it's really about officer safety," says Quittner. "The QuiqLiteX keeps your hands free, your night vision intact, and it makes your job easier to do."