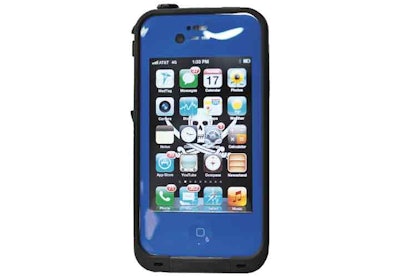 About six years ago I destroyed my cell phone in a washing machine. Ever since that accident, I've been searching for better ways to protect my wireless lifeline. I've tried leather cases, Otter Boxes, hard cases, and I've found them all wanting either in terms of protection or utility.
So when a rep for LifeProof called me a few months ago and told me the company had a great iPhone case that's waterproof, snow proof, mud proof, and impact resistant, I was skeptical. I'm not skeptical any longer.
I tested a police blue LifeProof case on my iPhone 4S for a month for this review. And I tortured the thing.
The drop test was the easiest to accomplish because I'm a klutz. Over the course of about 30 days, I probably dropped the thing 10 times onto carpet, hard tile, hard wood, asphalt, and cement. Not a problem. No dings. No scratches. It just keeps iPhoning.
Water testing was even more fun. I took the phone out of the case, filled the case with dry tissue paper, and snapped it all back together good and tight. Then I let the case play submarine. I submerged it in about eight inches of tepid water in my bathtub for more than one hour. I then took it out, dried it off, opened it up, and examined the tissue. Bone dry. I then sealed the tissue back up in the case one more time, tucked the case into a pocket in my favorite pair of tac pants, and fired up the washer. The case survived the spin cycle, and I believe it would have protected the phone. Even though the tissue paper inside was a little moist, it was not wet.
The LifeProof case is basically a combination of a polycarbonate shell and a rubber O-ring seal. It provides excellent protection for the phone without adding a great deal of bulk. It's a great product.
But it does have some minor issues. Documentation is non-existent in the box. You have to go to the Website to get the instructions, and they are not easily printed or saved. Fortunately, the company has excellent customer service. Reps are available 24/7, the call center is in the States, or using American reps, and response time at 5:46 p.m. Eastern time was 12 minutes.
Besides the lack of documentation, my only other problems with the LifeProof system are caused by the nature of the product. In order to maintain a waterproof seal, the LifeProof case requires a screw-in plug for the headphone port. This is easily lost, but you can buy more of them. Headphone usage is also a bit of a pain. The buds that come with an iPhone do not require an adapter; but aftermarket stuff does. The adapter comes with the LifeProof case, and it's a nifty screw-in design, but it's easy to lose. Of course, you can buy a replacement.
The final drawback for the LifeProof case is the price. List price is $79.99, but you can get them on Amazon for considerably less. The company makes a wide variety of clips, holsters, and accessories, and it also makes iPad covers. I love my LifeProof iPhone 4/4S cover. It's klutz proof and I believe it's also cop proof.
LifeProof iPhone 4S Case Specs:
• Polycarbonate frame
• Shock-absorbing cover
• Scratch-resistant screen cover
• Waterproof to 6.6 feet
• Impact resistant
Price: $79.99