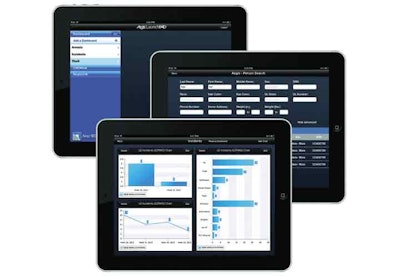 Editor's note: View our photo gallery, "10 LE Mobile Apps."
It's difficult to find a police officer—or a person, for that matter—who doesn't use a smartphone or tablet today. While these ubiquitous devices can be used to communicate, watch movies, and play games, they have also become serious work tools that many officers depend on.
A combination of single-purchase apps from developers and enterprise solutions from big companies provide a wide range of ways to enhance your capabilities on the go, whatever your detail may be. With this in mind, POLICE has put together a sampling of mobile apps law enforcement are using right now.
New World Systems' Aegis LaunchCommand public safety iPad application provides officers role-based dashboards, a dispatch and unit status monitor, and the ability to perform Web-based inquiries on Apple iOS tablets. New World also offers the Aegis Mobile Computing for public safety on Windows-based tablets. This tablet software solution provides messaging, mapping, inquiry, and police incident reporting, which helps officers improve safety and increase efficiency from the field.
These are extensions of New World's Aegis enterprise solution, including its Mobile Field-Based Reporting software. It streamlines reporting processes by automatically importing information from dispatch and NCIC directly into officers' field-based reports.
Platform: iOS and Windows
Price: connected to enterprise solution
Sur-Tec's APParition Solution essentially replaces the radio frequency (RF) body wire. It's a covert audio and GPS software suite for law enforcement that allows an undercover officer or CI to stream live audio and GPS to one or more computers. The mobile application element of the software runs in the background on the user's smartphone.
APParition's data stream can be sent to any computer equipped with the software anywhere in the world. If the signal drops, the solution is designed to ensure that the undercover officer or informant still has a record of the conversation, acting as a digital audio recorder. A data connection is re-established automatically once a signal is available. Monitors can also send signals through vibrations to the undercover operative that could be used as a warning or an alert.
Platform: Android and Windows
Price: $4,995 per device for a software lifetime license, or a monthly plan for qualifying agencies
The CityConnect app comes from PublicEngines, a provider of cloud-based solutions for law enforcement. CityConnect is a fully integrated mobile application that allows agencies to inform, connect, and engage with their local community through their own agency-branded mobile application.
It brings together all agency social media tools, plus PublicEngines' services, including CrimeReports mapping, TipSoft anonymous tipping, and agency alerts in a single mobile application. It allows the public to stay up to date on local crime information and communicate crime information back to law enforcement officials.
Platform: Android and iOS
Price: connected to enterprise solution
Developed by MyProjectX, CopApp ! Calendar Schedule is a simple scheduling app that lets you view which squads work together and when each has days off. The default schedules are based on 3 squads, with repeating schedules of: 1) five days on, two days off, then five days on, three days off, or 2) four days on, two days off. You can modify the schedule to make any type of repeating day schedule. You can add, remove, or move days around to create a rotating schedule.
For helpful visuals, you can highlight individual days to help remember days off or court dates, for example. You can also highlight all days when a particular squad is working. Some templates can now be modified and loaded via the Internet.
Platform: Android
Price: $1.99
Field Contact allows you to document, photograph, search, and share all aspects of your law enforcement contacts using your iPhone. The app makes it simple to enter all pertinent ID information directly into the phone. Then you can use advanced search features to recall stored contacts, including partial searches.
You can add new contacts with numerous law enforcement-specific data fields, but also have the option to use miscellaneous fields for user-defined information. You can even enter multiple vehicles, scars, marks or tattoos, subject-related locations, and stop locations. But this isn't limited to text. Field Contact lets you add photos and enlarge them for in-field recognition, and can e-mail an entire contact to any e-mail address, including photographs. If you send an entire contact to another Field Contact user, the contact is automatically added to the person's database. A passcode is required for security.
Platform: iOS
Price: $4.99
The iCrimeFighterCV (civilian version) app was designed by two police sergeants, Mario Galasso and Jeremy Rausch. Their development company, At-Scene, markets smart-phone apps for iPhone and Android. With iCrime Fighter you can capture photographs, record videos, record interviews, and write field notes and to-do lists for a crime scene or other event.
This investigative evidence gathering app allows you to save cases by case number or ICR. You can locate crime trends with the GPS mapping feature and capture video evidence and taped statements with the convenient built-in recorder with a Miranda warning tab. You can then easily share the cases you collect via e-mail or directly through iTunes for the iOS version. The difference between the CV and LE version of the app is the CV version has a limitation of adding two maximum cases. If you need to add more cases, then you need to upgrade to the LE version.
Platform: Android and iOS
Price: $1.99
Computer Projects of Illinois (CPI) developed the iPatrol enterprise app to allow officers to perform information queries from the field without contacting dispatch. iPatrol, which can be used on smartphones or tablets, provides access to federal (NCIC and NLETS), state, and local law enforcement information. The app is available to users of Criminal Justice Information Services (CJIS). With iPatrol, officers can perform vehicle, person, gun, article, and boat queries.
The iPatrol app accesses the databases using CPI's OpenFox Gateway Cloud that's connected to states via the National Law Enforcement Telecommunications Systems (NLETS) secure network back to the CPI Network Operations Center. Secure chat rooms enable officers to work together to share information. Plus, they can access members of their own agency and communicate to other iPatrol users in other agencies.
Platform: iOS and Android
Price: monthly usage fee through company
My Tracks records your path, speed, distance, and elevation while you walk, run, bike, or do anything else outdoors. It can be used to chart your personal fitness training. But K-9 handlers have also found the app's features to be helpful in documenting K-9 tracking of a suspect with high accuracy.
While recording, you can view your data live, annotate your path, and hear voice announcements of your progress. You can even share your GPS tracks and stats online via Google+, Facebook, or Twitter; with Google Maps, Google Fusion Tables, or Google Docs; or as a GPX, KML, CSV, or TCX file. My Tracks uses the GPS sensor in your device to record geographic and velocity statistics, but also syncs with third-party biometric sensors.
Platform: Android
Price: Free
TheCopApp by EJM Digital allows officers to use their phones to quickly create a report for use in court or for their own records.
After the Web-based report has been created on the phone, the link can be sent via e-mail to anyone. The password required to open the report is automatically included in the e-mail. Any user who has the link and password can open the report from any computer with Internet access.
The detailed report shows all pictures and notes as well as a map of the location. It also plays audio files. At the bottom of the report is a map of where the report was taken. You can also save the report as a PDF.
Platform: iOS (Android version in development)
Price: $4.99
The US Cop app includes more than 1,000 pages of reference content organized into tabs such as Index, Case Law, Training, and Messages. The Index section, for example, includes a Traffic section with subsections for information on states that require front license plates, accident investigation help, traffic-stop case law, a tire's size-speed difference, and LIDAR instructions.
The DUI section provides information and instructions on Standardized Field Sobriety Tests (SFST), as well as video tutorials. Information about drugs includes a pill identifier, DEA drug schedule, DEA chemical list, and photos of commonly abused prescription drugs.
Platform: Android and iOS
Price: $3.99