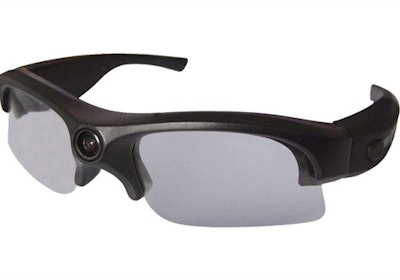 About a year ago I tested a pair of Eye of Mine's 720P high-definition camera glasses and was pretty impressed with them. I suppose the obvious way to make them better would be to up the resolution. Well, that's exactly what they did with the new 1080HD edition, called the Eye-View1080HD Video Sunglasses. Like their predecessor, these glasses come with interchangeable clear and polarized grey lenses and have a high-definition video camera built into the bridge of the nose.
The overall design was very well done. The glasses look almost identical to my regular sport sunglasses and fit comfortably. The construction feels solid and they have a matte black, rubberized finish. They're not heavy or overly bulky and, most importantly to cops, it isn't glaringly obvious there's a camera in them. The company's done a nice job of hiding a lot of technology in a small package.
The 1080x1920P resolution at 30 frames per second is more than enough to record even the finest details and built-in stabilization technology prevents the image from jarring as the camera moves. A built-in microphone records audio as well. I found the microphone to be directionally specific as it seemed to pick up the best audio of objects I was looking at and ambient noise was greatly reduced. Certainly a nice feature for those working in crowds or on a busy roadside. The range of the microphone seemed limited to close quarters or "conversational" distances.
The company claims the camera's battery life to be one hour in 1080HD mode. Not the greatest, but as long as you regularly download your footage and give the glasses a quick recharge they'll work fine from call to call. Eye of Mine also sent me an external battery pack that can be slipped into a shirt pocket and will extend the battery life to around 5 hours.
The 1080HD's come with a removable 32GB Micro SD card to record video footage, and the glasses include a USB cable to both download video to a computer (viewable with QuickTime) and recharge the battery. Since most computers, including laptops in patrol cars, have this free application there is no complicated, proprietary program to install. This makes using these glasses about as easy as using a USB thumb drive.
Operating the Eye-View's camera is quite easy; there's one large silver button on the right side that begins and ends recording and each segment is saved as a separate file with a date and time stamp, much like a voice recorder. There's also a small blue light on the inside of the frames that tells you when recording is in progress. This is nice but requires the user to take the glasses off to see the light and verify the camera is actively recording. And in a police environment, most times we would prefer not to give away the fact that we're recording. A quiet but audible tone would be better.
The video itself is excellent and since the camera moves with the wearer's head, the viewpoint is almost always ideal. This isn't the case with most clip-on or uniform-mounted cameras. I wore the Eye-View glasses on duty working nighttime patrol and they performed very well, even in low light.
Overall, I'm a fan of the Eye-View 1080HD sunglasses and would recommend them to anyone wanting a convenient way to record good quality video on the move.
EYE OF MINE • VIDEO SUNGLASSES SPECS:
Lenses: Interchangeable polarized and clear
Resolution: 1080x1920p full HD @ 30 frames/sec (H.264 codec); 720x1280p@ 60 frames/sec (H.264 codec)
Video Format: MOV QuickTime
Working Temperature: 23° F to 104° F
• 16GB micro SD card holds about 3.5 hours of video, 32GB holds about 7 hours
• 135-degree wide-angle view at 1080p, 170-degree super wide-angle at 720p
• 1-hour built-in rechargeable battery (USB)
• Supports removable 16GB/32GB TF micro SD card (not included)
• Simple 1-button start/off
• No menus to mess with
• Ability to manually control 10 settings including sharpness and contrast
• 90-day warranty
Price: $299 for basic package, $380 for complete kit