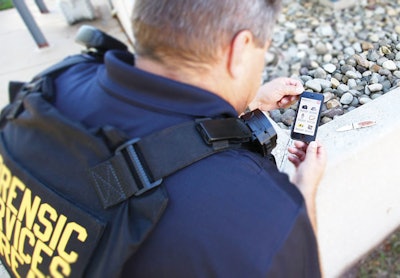 For any incident you likely use different methods to record interviews, take notes, transcribe them, write reports, take pictures and video, and then upload everything to your agency's server. QueTel's Mobile Traq lets you do all this via an app on the smartphone you already use.
"With the Mobile Traq app on your smartphone you have one device performing several different functions. To start with, it's a still camera, video camera, and interview tape recorder. So it's recording most of what you'd need at the incident location," explains Jim Cleaveland, QueTel president. And that's just the start of what this solution offers.
QueTel has been automating evidence management with mobile barcode scanners for years. As an organic evolution, QueTel's Traq Suite was designed as a seamless solution for evidence collection and management centered around the Mobile Traq app.
Instead of needing a separate data storage solution, you use Mobile Traq in concert with the company's Traq Suite agencywide backend database software. The data on your device uploads when in range of a recognized Wi-Fi connection that sends it to the company's cloud or an on-agency-premises server.
Because all of the data collected with the app is held in the same place, you can easily incorporate all of them into an incident report.
"With Mobile Traq you can write your report in the built-in word processor and pull in words from a transcribed interview with a witness or suspect as well as incorporate any images taken. It can make a much clearer story."
What makes the backend Traq Suite even more beneficial is that in addition to storing and managing uploads from Mobile Traq, it can also store or provide access for viewing your agency's other digital files from body-worn and in-car cameras, interrogation room software, high-quality still cameras, and surveillance video on CD or DVD. Authorized personnel can easily search for digital and physical evidence and view, copy, and print them.
QueTel's goal is to make the system available to agencies of all sizes by providing four different levels of sophistication and capabilities depending on the agency's needs.
"The bronze level allows you to take images and videos. For silver, add to that the audio capabilities which include interviews, notes, and automated transcription," says Cleaveland. "Gold adds the ability to take a picture of any collected evidence and describe the evidence briefly. Then there's a platinum level. It has extra features such as a system for electronically managing disposal of unneeded evidence and the ability to easily create enhanced images with effects like cropping or highlighting for presentation in court."
Training can be built into the subscription price, which is based on the number of officers an agency has.
Cleaveland has worked with the developers writing the code to make sure Mobile Traq is designed to meet the needs and specifications of law enforcement officers who tested the app. To make it work the way officers wanted, they had to incorporate a full range of features.
Security is of course a major concern. Therefore Mobile Traq is designed so that if a phone it's downloaded on falls into someone else's hands, no one else can access the files. The system also erases each file after it's been uploaded so that no trace remains on the device. The only copy is on the server, so the device has no evidentiary value once uploaded. That means even if you're using the Mobile Traq app on your personal phone, there should be no reason for it to be subpoenaed.
Mobile Traq can currently run on your iPhone, as well as an iPod or iPad, and soon will be available on Android.