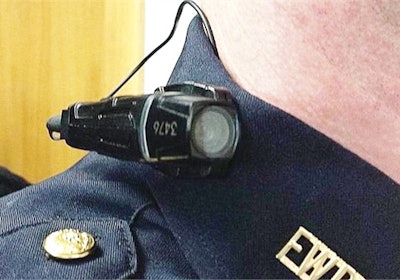 Post-Ferguson the interest of chiefs and sheriffs in buying body-worn cameras for their officers has grown to an unprecedented level. But those who have succeeded in implementing wearable evidence capture programs say agencies may want to take a step back and make sure they are getting the right equipment and have the proper infrastructure in place to make their adoption of officer-worn video a success.
First Steps
Before you start sizing up cameras or asking for funding, you need input from the IT folks, whether they be in-house or contracted.
Technically the trickiest part of the whole digital video evidence capture cycle is the uploading of files to storage and the management of the data. And a major expense is the connectivity required to upload the data efficiently, and the servers or cloud systems that will be needed to store it. So you need input from IT professionals to help you budget for the necessary infrastructure.
"So many times IT is a second thought in these things, and it really needs to be factored in from the outset," says Steve Zieverink, a network support specialist with the town of Trophy Club, Texas. "You can't take all of these cameras and expect them to upload to one desktop."
Uploading video can be a major issue. A slow connection to the server will turn that task into a full-time job. This is especially problematic if you choose a camera system that doesn't have some kind of docking system that allows you to upload from multiple units simultaneously. "If you think you are going to get your officers to sit there after their shifts and upload these files through a USB port, it's not going to work," says Sgt. Vernon Lutz, an IT officer with the Evansville (Ind.) Police Department
Once you've opened discussions with IT, it's time to get some cameras and put them through their paces. A few years ago, it wouldn't have been difficult to get every wearable camera used in law enforcement for testing. Now that's probably not realistic since it's become a very crowded market. Experts say do your research and pick three to six models for the testing and evaluation. Of course, that's not always practical.
Sometimes your decision will be accelerated based on imminent need. You may also decide you want to use the same brand of system for both your in-car and on-body cameras.
Regardless of how many cameras you evaluate, don't just focus on the wearable unit itself. Yes, you want excellent video—maybe even HD, if you have the storage space—superior sound, and features that make it rugged and easy to use, but don't forget the back end.
The back end is the evidence management software used with the camera. If you are not satisfied with its capabilities and user interface, you are not going to have a very successful officer-worn video program. Another important point to consider is that you may want to use the same evidence management software for both your in-car and on-body cameras. This is possible with technology from a number of vendors, but if that's important to you, be sure to ask about it.
People and Policy
Some officers can be very resistant to change. And some may not like the idea of wearing a camera all day because it smacks of Big Brother. Any law enforcement executive implementing an officer-worn video program will have to address these issues.
Chiefs and sheriffs have tried a number of different strategies to achieve officer buy-in. Chief Jeff Halstead of the Fort Worth Police Department believes officers should have a major say in establishing the body worn camera policy. "My push was I wanted the officers to feel it was their policy, so I allowed the Police Officers Association to work with a deputy chief and draft the policy," Halstead says, adding that the policy was "comprehensive" and went into effect with few changes.
Lt. Jim Correa of the San Rafael (Calif.) Police Department agrees with Halstead that policy needs to meet the needs of the officers who will wear the cameras on the street. "We wanted to make sure that the policy reflected the realities of police work," Correa says. San Rafael PD's policy also had to achieve the goals of the officer-worn video program, reducing liability and protecting officers against baseless claims of misconduct and excessive force.
Some agencies have very strict guidelines for when officers must activate their cameras. Others prefer to leave that decision to the officers. Halstead, who is retiring from the Fort Worth PD to consult with agencies about officer-worn video through his company Halstead Group LLC, is a big advocate of officer discretion. "We give officers complete discretion on when to run code 3, when to call for back-up, and when to use force, including deadly force, so I think we can give them the simple discretion of when to turn on a camera." Of course that should vs. shall policy only goes so far. Fort Worth officers can buy themselves an internal affairs investigation if they intentionally turn off the camera during a use of force or an arrest.
Ongoing Expense
What to record and how long to keep it bears on the cost of the program. Payment for cloud storage is based on data volume and even 100TB server arrays can fill up quickly on some agencies. Which is why most agencies set retention policies, often with automatic purge dates of say 90 days to a year after the event for files that have not been flagged for investigative reasons.
But regardless of how careful you are in researching, testing, collaborating with IT, and working with officers to establish policy, you are likely to need more storage space than you think. And sometimes this ongoing expense can get out of control.
For example, Evansville PD's Lutz says he set up a 100TB server for evidence storage and carefully established retention cycles for certain categories of incidents based on the standard 90 days for insignificant files used by most agencies. Then he had a rude awakening.
The city attorney notified the chief that all files captured by the officers' cameras would have to be retained for 10 years, regardless of content. The result of that decision is that Evansville PD will need a lot more storage than originally projected.
Lutz estimates that the server is filling at a rate of 2TB every 10 days. "We are facing some challenges," he says, adding other agencies should check such legal issues before starting their programs.
Is It Worth It?
Given all the labor, costs, and headaches involved in implementing an officer-worn video program in a given law enforcement agency, the question needs to be asked: Is it worth the trouble?
All of the officers contacted for this article would answer with a resounding yes to that question. "You do your officers a disservice if you don't have this technology available," says Maj. Dawn Layman of the Lenexa (Kan.) Police Department. "Even if you already have in-car video, this provides the best evidence."
The officers contacted for this story also say their officer-worn video programs have saved their agencies more headaches than they have ever caused. "To date our officer-worn camera systems have saved four officers their jobs, and have prevented two officers from going to an indictment phase on a use of force," Halstead says.