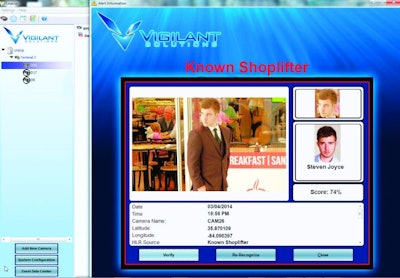 Imagine you are working a rape case and you're trying to identify the perpetrator. He posted a video of the crime on the social media site Vine, but you can't clearly see his face in the video and you can't find any information linking back to the Vine account holder that would help you identify him. Fortunately, he's posted a profile picture of himself on the site. Imagine you can use this image to search for the individual.
In fact, one agency did just that using Vigilant Solutions' FaceSearch facial recognition software. In this case, the system did not have a positive match. However, officers were able to identify the suspect using other methods.
With its background in license plate recognition, Vigilant Solutions has used its knowledge of image analytics, large database management, and cloud computing to create facial recognition software for law enforcement. "The ability to look at an image and make sense of it is something we've proven to do very well on the LPR side. We decided it would make sense to do it on the facial recognition side," says Brian Shockley, Vigilant Solutions' vice president of marketing.
Shockley says law enforcement officers wanted a facial recognition system that was affordable and easy to use, so Vigilant Solutions sought to meet these needs with FaceSearch. "The result is a very intuitive, cloud-based system that allows agencies of all sizes to deploy a turnkey facial recognition solution that requires no investment in server architecture and minimizes training requirements with the simple interface," he says.
How it Works
FaceSearch software uses more than 350 vectors, or measurements, of the human face to compare images so agencies can identify an unknown person or verify someone's identity with great accuracy. Vigilant developed its own facial vectoring algorithms in-house, which allows the company to use the latest developments in image analytics for increased accuracy and to monitor quality.
Facial appearances can change over time due to aging, facial hair, and other variables, but that's why it's important to look at many different aspects of the human face through FaceSearch's vector system, as the basic structure does not change, says Shockley.
You can upload a booking photo, a photo from social media, or even artist renderings from a sketch artist to check against images from Vigilant's pre-populated gallery of over 14 million facial images, all with metadata from the original source. "In addition to the pre-populated gallery that makes FaceSearch useful for an agency on day one, FaceSearch also allows for agencies to upload and manage their own galleries," Shockley says. "Agencies still own their data and have full control over data retention policies and access controls."
Once you've uploaded an image, to find a match you can filter based on criteria such as agency (on shared systems), county, gender, and hot list source.
Or you can search against hot list data without an image. If you enter a subject's first name and a geographic area, this will generate a list of people who fit that criteria and will show their images. You can choose from among these images to create a gallery of possible matches. You can also use this to create a photo array or lineup for a victim or witness to view to help identify a suspect.
Multiple Platforms
FaceSearch is available via the web, on mobile devices, and as a PC-based application for different situations. In all of these formats, the look, feel, and function are very similar. "This is intentional to minimize training and also provide for an intuitive and satisfying customer experience," Shockley says.
While all have similar functions, each format lends itself to different uses, Shockley says. And depending on need and preference, an agency may decide to provide access to officers based on job function.
Web access for FaceSearch is more likely to be used by investigators or analysts trying to identify a suspect. This could be an image from a criminal informant, from social media, or from an artist rendering resulting from a victim's description.
The mobile app is designed for in-the-field patrol or investigative use. This could help a patrol officer identify a disoriented person without ID or help an investigator who wants to attempt identification of a body prior to the CSI team arriving and clearing the scene.
FaceSearch's PC client is intended mainly for adding individuals to the agency's gallery, for example as part of a jail management system. It can also be used in real time to provide additional security to check snapshots of willing individuals against the gallery.
Additionally, Vigilant Solutions' LineUp facial cataloging product uses the FaceSearch API to work with existing CCTV systems to both catalog facial images for later use and also to check catalogued facial images in near-real time against various watchlists. This could be used to identify subjects caught on camera in courthouses, for example.
Security
In developing FaceSearch, those at Vigilant Solutions were very conscious of security concerns.
"The product has several safeguards including the ability to create customized access controls and detailed logging of data access," Shockley says. "FaceSearch also features built-in image enhancement tools complete with an audit trail of all enhancements and the ability to jump back in time to a prior enhancement." No third-party editing software or plug-ins are needed.
FaceSearch is usually deployed using Vigilant Solutions' cloud services. This offers a level of security and redundancy that an agency may not be able to afford on its own, Shockley says. It also can provide cost and time savings. "Because Vigilant offers a cloud-based system, the only thing needed to implement the system is an agency policy and training program," says Shockley. Vigilant Solutions can also deploy FaceSearch using local storage or with a hybrid of both local and cloud storage.
Once you've begun using FaceSearch, your agency can expect updates to help improve the process. The company listens to customer feedback and if an individual agency wants to alter the names of labels or adjust the positioning of a button, for example, Vigilant can make those customized changes within a matter of just days or weeks without affecting system performance.
And even if you don't have specific requests, Shockley says, "We roll out updates on a regular basis, once a month or so, to make the system more intuitive and more feature rich."