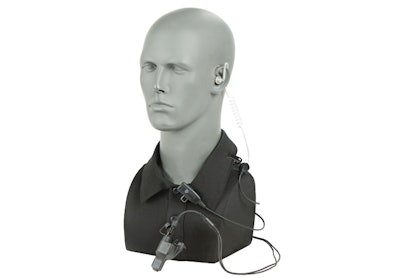 Being able to communicate with your fellow officers and especially your dispatcher is a critical part of law enforcement. If it's important, it'll likely be aired on the radio and you need to make sure you get the message. Traditional shoulder mics work well and are pretty much bulletproof but there is a definite need to be discreet.
Acoustic earpieces became popular some years ago and now are the standard for almost every patrol cop. The last thing you want is radio chatter giving away your position as you try to sneak up on a call or the suspect you're talking to hearing he has a warrant before you have time to put him in handcuffs. Add in a small and concealable microphone and the pair can be used for everything from patrol work to undercover operations.
Safariland has its hand in just about anything and everything law enforcement related. Communications are no exception, and one of the brands under the group's umbrella, Tactical Command Industries, makes a variety of high-quality communications gear for first responders. I took TCI's Two-Wire Patrol Kit out for a few weeks on the road to see if the company's comms gear could live up to the quality standard the Safariland Group is known for.
The Two-Wire Patrol Kit consists of a radio adapter, a small clip-on microphone with push-to-talk button, and an acoustic earpiece. The adapter can be mounted to the radio and both wires are secured via a quick-disconnect attachment. This is the ideal kit for uniformed officers as it can be concealed inside a uniform shirt, keeping it out of view and away from the grabbing hands of a bad guy. If you've ever lost your radio in a foot pursuit you know how valuable this is.
Additionally, the system is super light at less than two ounces, both the microphone and the earpiece have sturdy clips to hold them in place, and the rubber-coated wires are thin enough to be flexible yet thick enough to hold up to daily wear and tear. The earpiece is clear and comes with both foam and silicone buds. I'd opt for foam if you're in a high-noise environment like a concert or out on the range.
In the past, my biggest complaint with small communications kits like these (and I've owned a couple of them) has been the quality, or lack thereof. I love the idea but the thought of trusting my comms to a couple of flimsy wires just didn't sit well with me. As I opened the package for this kit I had the same thought, but after a couple of weeks of use I'm confident the Two-Wire Patrol Kit is more than durable enough for whatever the shift throws at me. The sound quality is good, the earpiece is comfortable, and I'd recommend this to anyone looking for light, high-quality comms at a great price. You can pick up yours directly from Safariland.
Tactical Command Industries Two-Wire Patrol Kit Specs:
Kit Includes:
Earpiece/acoustics tubing assembly
Radio adaptor with Hirose connector and Push-to-Talk (PTT)
PTT/microphone assembly
Price: $110
A.J. George is a patrol sergeant with the Scottsdale (Ariz.) Police Department who also serves as the SWAT team's crisis negotiation supervisor.