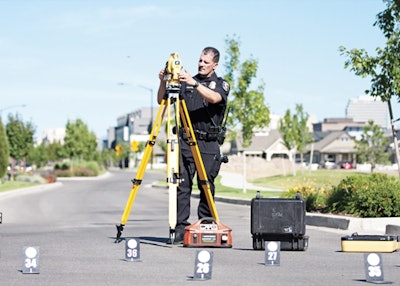 Digital accident reconstruction has changed the way officers process scenes. Instead of using a tape measure or wheel, they can use lasers. Instead of poring over pages of data to find the right values for calculations, they can pull the pertinent statistics from a database. The ability to gather the necessary information more quickly helps clear scenes more quickly, which prevents secondary accidents and keeps officers and civilians safer.
Increased accuracy in measurements and calculations helps ensure that officers have better information for court, which can put away reckless drivers and make roads safer for everyone. And it's hard to argue with that.
Here are some examples of how law enforcement officers are using digital tools to investigate traffic accidents.
4N6XPRT Systems
Master Sergeant Dave Keltner of the Illinois State Police Traffic Crash Reconstruction Unit supervises eight full-time reconstruction officers and 11 part-time officers, all of whom depend on 4N6XPRT Systems' StifCalcs and Expert AutoStats to determine calculations for accident scenes.
"Having the stiffness coefficients from StifCalcs saves us hours of time we would otherwise have to spend analyzing the NHTSA crash data, and with Expert AutoStats, having one spot to go to for a lot of manufacturers' car specifications and measurements for the vehicles saves us a whole lot of time," says Keltner.
Expert AutoStats features a combined vehicle dimensional database of over 43,000 automobiles, utility vehicles, and pick-up trucks intended for sale in the United States, and because it's already downloaded it's accessible even without an Internet connection. This annually updated information is helpful in virtually every traffic accident, Keltner says. Knowing the exact measurements of a specific car model's undamaged bumper compared to its measurements after it has crumpled, for example, helps determine the impact of a crash, including those involving pedestrians.
In one recent case, Keltner was tasked with reconstructing the scene of an accident in which a driver lost control of his car, left the roadway, and crashed. This included determining how fast the vehicle had been moving before skidding along the street, through grass, and then hitting a tree. So he used StifCalcs. It allows you to access the NHTSA Crash Test data and develop A-B-G and Crush Factor stiffness values quickly.
Initially, Keltner calculated the energy loss from skidding across the street and the grass, and came up with an equivalent speed of 83 mph in a 55 mph zone. But that was without taking into consideration the large tree the man had impacted with the side of his vehicle.
"With StifCalcs I was able to get the stiffness coefficients for the side impact of the crash. I could take those stiffness coefficients and calculate that the damage from striking the tree leads to this amount of energy loss and I can then add that in to my total picture of the crash events," says Keltner.
Instead of the initial calculation of 83 mph, Keltner was able to determine the accurate rate of speed at which the vehicle was traveling "at the beginning of the crash events, which was 124 mph," says Keltner. That damning information led to the driver entering a guilty plea.
"There's lots of cool gadgets with mathematical programs out there, but I always tell my people that their knowledge base regarding physics and how it correlates to vehicle and accident movement is the biggest thing," says Keltner. "It's knowing how to use the tools."
Tools like 4N6XPRT's Expert AutoStats and StifCalcs.
"A lot of it is readily available info, but the time you can save having it all there at your fingertips makes it so much more helpful…and cost effective," Keltner says.
Carlson Software
With Carlson Software's two-part Crime Scene Investigations (CSI) software, investigators can measure a crime or accident scene in the field using CSI Mobile and then take the information back to their offices and analyze and map it with CSI Office.
An upgrade from the earlier expansion of the original AIMS product prepared by Carlson Software and sold by Nikon Instruments, Carlson CSI Mobile and Office is designed specifically for police departments with valued input from the Cincinnati Police Department in its development.
CSI Mobile includes a library of vehicle dimensions and items such as manholes and trees. CSI Office allows users to view a scene in three dimensions from many angles. Both are made to be easy to learn and easy to use — all commands appear in one menu — Carlson CSI offers a library of more than 40,000 automobile makes and models. This allows those recreating an accident scene to draw undamaged cars with only two field shots, based on the actual dimensions of the car. Illustrations of damaged cars can be created based on field shots of the damaged area only.
You can draw linework in the field, save field shots by extending or joining any point on existing lines, use easy "Move Up" and "Offset" commands, and create an accident report as a text file based on car make and model.
The Cincinnati Police Department worked closely with Carlson Software to develop this product, which is designed to work the way law enforcement agencies work, utilizing the terminology and descriptions required. "Complicated surveying terms are taken out and renamed in English," says Rob Uhlenbrock of the Cincinnati Police Department.
Faro Technologies
Dep. Bryon O'Neil is the fulltime reconstructionist for the Clackamas County Sheriff's Office. He runs the Crime Reconstruction and Forensic Team (CRAFT), which is a multi-agency team with 16 part-time reconstructionists responsible for reconstruction of all fatal crashes or crashes where a serious crime occurs. CRAFT also handles crime scene reconstruction for homicides and serious assaults. The team uses the Faro X330 Laser Scanner, Faro Scene, and Faro Crash Zone with the Point Cloud Module.
In a recent case, a car was traveling at close to 100 miles per hour on a city street. The driver came to the top of a hill and went airborne. When he landed, he came down slightly sideways, which caused him to begin to slide. His path took him over to impact a telephone pole and then a tree. This caused the vehicle to flip and slide the rest of the way on its roof, killing the passenger.
"We scanned the scene using the Faro X330 and utilized 21 scan locations, as the scene was quite long," O'Neil says. "The first benefit of the scanner is the length of time required to gather the data from the scene. Using the Faro scanner we had the scene captured in a little over two hours, instead of three to four hours with our older total station equipment."
O'Neil is also pleased with the comprehensive data he can collect with Faro's system. He says that with his team's older equipment, they could only capture the points they thought they needed at the time they were measuring the scene. And sometimes after the fact they would realize there was an important measurement relevant to the case that they had missed. "With the Faro, it collects the entire scene," says O'Neil. "Even if you do not realize the importance of something at first you are still able to capture it for future use."
After scanning the scene, O'Neil uses Faro Scene to process the information and quickly create a 3D model. He then transfers the data to Faro Crash Zone and makes a 2D diagram. "A 2D diagram may seem kind of foolish since you have a 3D model but it is the easiest and quickest way to show the overall layout to the jury," O'Neil says. "You can print out a large 2D diagram and have that hanging in the courtroom." Additionally, Faro Scene's free video app allows O'Neil to make a "general flythrough video" that shows an overview of the scene in 3D.
The Scene software can measure all manner of points along the crash route, which allows him to calculate the speed of the vehicle at different points. Once he has this information, he goes back into the 2D diagram using FARO Crash Zone to create an animation. He lays out the vehicle on the marks left on the roadway and then applies the speeds and vehicle orientation at each point.
"During Grand Jury for this case, this left a huge impression on the jury members," O'Neil says. "So many people watch shows like CSI and they see cool technology that is largely not available. This is one piece of technology that is visually stimulating and looks just like what they see on TV."
Laser Technology Inc.
Officer Allen Garland of the Dumas (Texas) Police Department is an accident reconstructionist and motor officer who also does traffic enforcement and crime scene mapping. He routinely uses the LTI 20/20 Truspeed Sx including the LTI Tripod and Prism Pole with provided angle encoder and BAP data collector to perform his duties.
"I like that I can take the laser radar and measure accident scenes and crime scenes and it can also be used for traffic enforcement, which is amazing," says Garland. "And it's small enough to hang around my neck."
The TruSpeed Sx also features a built-in tilt sensor so it can measure both horizontal and vertical distance for crash scene mapping. It has a rugged, weatherproof exterior and a 7x sighting scope for a wide viewing range and the ability to see clearly in all lighting conditions.
The last accident scene he worked involved 380 measurement points, but he was done in only 30 minutes instead of three to four hours. "And that was with traffic moving," says Garland. The officer using the prism pole was in traffic, but he could see over the cars with the prism pole, so we didn't need to divert traffic except for a very small section for a very short period of time.
This is impressive considering the wide area involved when a felony drunk driver caused a multiple car collision. He hit a car in the turning lane, which drove the car in the turning lane forward so that it hit a car in the intersection going a completely different direction, and then hit another car facing him.
"And with the data collector, when it saves each point, you download it, and it downloads it accurately," Garland says. "You can draw some with the data collector – lines and curves – and then it's practically drawn for you when you get back to your computer. It's easy to move around and very portable, and there's no question that when you get it done it's right."
When recording measurements such as a vehicle's angles of departure during a traffic accident, you have to have a stable environment, so it's important that the Truspeed SX is very easy to set and the triangle levels itself internally, says Garland. Every measurement has to be correct. If one is off, they will all be off.
"When you pull that degree and angle, there's no question it's exact," says Garland. "When you go to court with accurate measurement and diagrams that 'pop,' it is very impressive for the jury and helps all involved…except the defendants," Garland says.