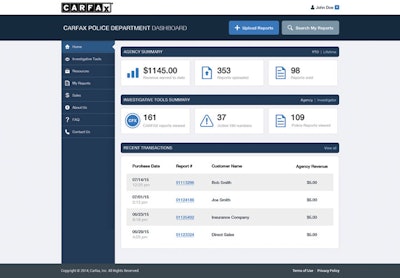 Carfax for Police is a password-protected Website dedicated to law enforcement that provides enhanced investigative tools. Using this new resource, officers can utilize not just general information about crashes and VIN numbers that can be found on the main Carfax site with enough searching, but also specific analytics all displayed in a streamlined dashboard view.
"Now we've created a single-source portal to easily access those tools to monitor any vehicles of interest, and keep track of their use of those tools at an individual and agency level," explains Chris Basso, PR manager for Carfax. "The dashboard provides a snapshot of everything available from Carfax, from running a vehicle report, to looking at all the vehicles you're monitoring though the VIN Alert tool, and being able to access the crash report center."
More than 2,500 law enforcement agencies partner with Carfax by providing the company and other users with crash report information. Any of these departments may request and sign up for access to the new site, carfaxforpolice.com, with no limit on the number of individual officer logins per agency.
Included in this partnership is a service that allows police departments to digitize crash reports and handle all requests online. "For the department there are zero startup costs or maintenance fees and in return we provide free tools to aid in investigations," Basso says. "It's a win-win. Carfax helps investigators solve crimes faster, and takes the burden off of officers manually fulfilling crash reports at the counter. Instead, people just order them online at crashdocs.org."
To utilize the free Carfax investigative tools, every officer who signs up has a unique login with an individual dashboard. On their dashboards, officers can view their own usage and the vehicles, or "active VIN Alerts," they're monitoring as part of their cases, as well as how many police crash reports have been viewed. They can also view agency-wide statistics.
Another useful feature of the dashboard is it notifies officers of who else at their agency and at other agencies is monitoring the same vehicles as them. "A little icon shows up under the VIN Alert tool that indicates whether somebody else is watching the same vehicle," explains Basso. If you click on the icon it brings up the officer's name, phone, and e-mail address, as well as the officer's agency. This can help foster collaboration and allow officers to more easily solve crimes including homicides, drug trafficking, and auto theft.
"Several agencies have recovered stolen vehicles in excess of a quarter-million dollars using the Carfax investigative tools," says Basso. "I've also heard of several drug traffickers that have been busted using them."
Because most officers rely on their smart phones to provide them with information when they're out in the field, Carfax for Police has been designed to operate just as well on phones as on a desktop computer. The mobile version of the site features a responsive design, so it's optimized for mobile viewing, and runs on both Android and iOS devices. As soon as a new piece of info is reported to Carfax, any officers monitoring related vehicles will get an alert via e-mail, which many officers will see on their phones.
"We've also made it easier for a Carfax for Police user to add a vehicle to their VIN Alert by clicking on a button in any vehicle history report that officers run so they can jump on those leads in a timely manner," says Basso. "When it comes to investigations, timing is everything."