Here are two examples of why law enforcement agencies, which often have budgets strained to breaking, are willing to pay for rugged and semi-rugged laptop computers, tablets, and handheld devices.
A Johnson County, Texas, Sheriff's deputy was out on patrol in a rainstorm when the roadway washed out and plunged his SUV into a roiling torrent of water. The deputy escaped unharmed, but the passenger compartment of his vehicle flooded, immersing his fully rugged Getac computer for hours. The computer survived the dunking with no problems.
A veteran Fernandina Beach, Fla., police officer was ending his patrol one evening. He had just pulled his Panasonic Toughbook from its mount and had placed it on the roof of his vehicle. Then a call of armed robbery came over the radio. The officer got back in his car and drove off to assist his fellow officers. About 100 feet down the road, he made a hard left, and the Toughbook slid off the roof of his car and kept going straight while the car went left. The officer knew what happened, but he kept going to the call, where the suspect was apprehended. Afterward, he picked up the computer from the side of the road. The Toughbook's case was seriously scratched by its road trip, but it was still "fully functional," says Capt. Jim Norman.
Norman says it's not just the cost of replacing the computers that makes rugged devices worth the price. He says Fernandina Beach actually attempted to use non-ruggedized laptops a few years ago. The result was machine failure and downtime. Which is why Fernandina Beach PD opted for rugged computers.
Agencies wishing to avoid downtime and the cost of re-installing software into their devices now can choose from a wide variety of makes and models of rugged and semi-rugged machines from a number of different makers. Here's a look at some devices that are probably not 100% cop proof but can take a beating.
Brite
Last year, Brite introduced the Q-Active Dock for the Fujitsu Stylistic Q-704. With a 12.5-inch, full HD display, the Fujitsu Stylistic Q-704 is powered by a Intel Core i7 processor with 8GB of memory and features built-in 4G/LTE and a 256GB solid state SSD drive. The Fujitsu Q series is ruggedized to MIL-STD-810G. Brite says its Q-Active dock for the Fujitsu Q series computers has the smallest footprint in the industry. www.britecomputers.com
Datalux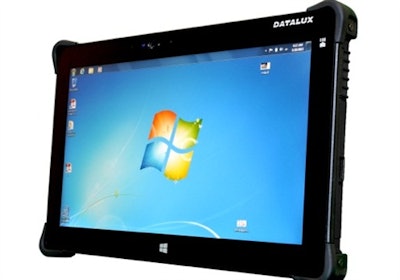 The newest law enforcement-focused ruggedized device in the Datalux line is the TM110 tablet. Compliant with MIL-STD-810G, the TM110 is powered by an Intel Core processor with i5 or i7 speed. It features a large, 11.6-inch, sunlight readable multi-touch touchscreen display and built-in 802.11ac wireless connectivity. Options include LTE connectivity and GPS. The TM110 can also be equipped for security and data collection with a barcode, RFID, smart card, or mag stripe reader.
Dell
The flagship of Dell's fully rugged line is the Latitude 14 Rugged Extreme laptop. Built of magnesium alloy and ultra-polymer, the Latitude 14 is sealed with compression gaskets and is certified to meet MIL-STD-810G and IP-65 protection standards. The laptop is powered by an Intel Core i3-4010U processor (dual core, 1.70GHz, 3M cache, 15W) and boasts 128GB solid state drive. Its 14-inch outdoor-readable, resistive touchscreen HD display operates with an Intel integrated HD graphics card.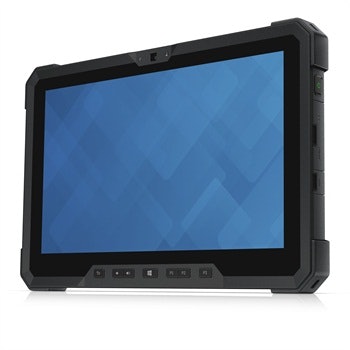 Dell also debuted its first fully rugged tablet in July. The Latitude 12 rugged tablet features an 11.6-inch direct-view, outdoor readable HD display with glove-enabled multi-touch capabilities. The tablet is powered by a fifth-generation Intel Core M processor and offers 512GB of memory. Battery life is up to 12 hours. Connectivity includes 802.11ac Wi-Fi with optional mobile broadband and dedicated GPS. The tablet also features a pogo-pin docking interface for modular component expansion when needed and the ability to pair with an extensive ecosystem that includes docks and keyboards.
GammaTech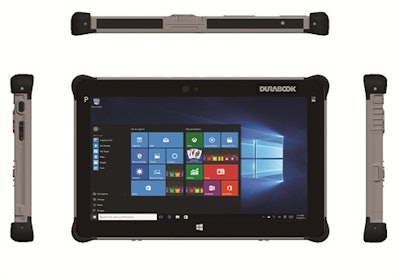 There are two new products in GammaTech's line, the Durabook-S-15AB laptop computer and the R11 Rugged Tablet PD. The Durabook-S15AB features a 15.6-inch full HD display, Intel's latest generation Broadwell U series CPU architecture, and up to 16GB of memory. This laptop is certified to meet MIL-STD-810G for drops, vibrations, and spills. Battery life is 8.5 hours.
At 2.73 pounds the GammaTech's Rugged Tablet PC R11 is one of the lightest 11.6-inch rugged tablets. Fully ruggedized, the R11 is MIL-STD-810G and IP65 certified. The R11 is powered by a fourth-generation Intel Haswell processor for a fast boot-up time and offers such features as a DDR3L socket, a WLAN and GPS antenna, a front-facing webcam, and a micro SD card socket. Options include LTE, a sunlight readable display, a rear HD camera, and an integrated barcode, SmartCard, or RFID reader.
Getac
Getac's company's product line is extensive, including laptops, tablets, convertibles, and an in-car video system called Veretos that integrates with the company's computers.
Getac's best-selling product is the B300 13.3-inch rugged notebook. The B300 is powered by a fourth generation Intel Core i5 or i7 processor with Turbo Boost Technology and Intel Smart Cache. This laptop features a 13-inch XGA TFT sunlight readable display with optional touchscreen and/or night vision. Available drives include a 500GB hard drive or a solid state memory drive of up to 512GB. Connectivity includes 802.1ac Wi-Fi and optional 4G LTE. The guts of the B300 are housed in a full magnesium alloy case, which is one of the reasons why the machine is so rugged. It is certified to MIL-STD-461F as well as the usual MIL-STD-810G and IP65 standards of fully rugged devices. Battery life is up to 15 hours.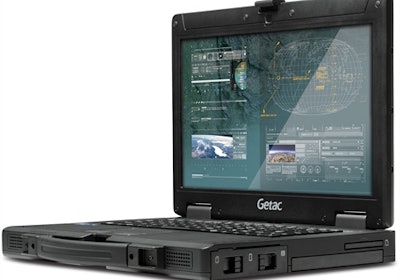 Late last year Getac upgraded its S400 semi-rugged laptop. The company increased the performance of the S400 by updating its processor options. Four processors are offered, and the fastest one is the Intel Core i7-4610M vPro. This processor clocks in at 3.0GHz with Turbo Boost speeds up 3.7GHz, which represents a 53% bump in performance from the previous S400. The S400 is MIL-STD-810G and IP5X compliant.
Getac makes a number of convertible and tablet systems for handheld computing applications. The F110 rugged tablet runs Windows OS on an 11.6-inch display using the buyer's choice of an Intel Core i5 or i7 processor. It comes with two hot-swappable batteries so that with minimal planning users will experience no downtime. The F110 tablet has been engineered for protection against drops, shocks, spills, vibration, dust, and liquid, and it is certified MIL-STD-810G and MIL-STD-461F standards. www.getac.com
Handheld Group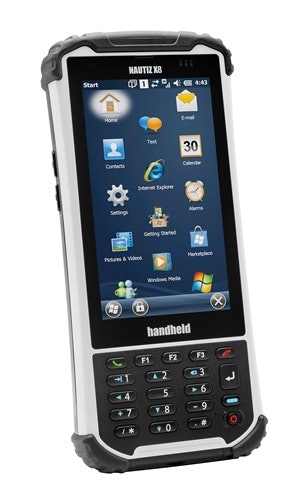 The Handheld Group's Algiz XRW laptop is a MIL-STD-810G- and IP65-certified laptop with a 10.1-inch touchscreen. Because of its dimensions and its solid state memory, the Algiz XRW weighs less than four pounds. The system is powered by a 1.6GHz Intel Atom processor, runs Windows 7, and offers both Wi-Fi and LTE connectivity options.
Handheld's latest rugged tablet, the Algiz 10X, is IP65-rated and meets MIL-STD-810G. It has a 10.1-inch touchscreen, weighs just 2.9 pounds, and is 1.2 inches thick. The tablet runs the Windows 8.1 Pro operating system, which is downgradable to Windows 7 and is powered by an Intel quad-core N2930 1.83 GHz processor with 2.16 GHz boost. www.handheldgroup.com
Panasonic
Panasonic updated its very popular Toughbook 31 fully rugged—MIL-STD-810G and IP65 compliant—laptop early this year. Upgrades include a 2.3GHz Intel Core i5-5300U VPro processor with boost up to 2.9GHz and an integrated Intel HD 5500 graphics processor for better rendering of GIS and other visual applications. Battery life is substantially improved to 18 hours for a single battery and 27 hours with an optional second battery. The Toughbook 31 comes with Windows 8.1 Pro, but users can also opt for Windows 7 Professional. Dimensions of the computer have not changed so users can upgrade without replacing their docks.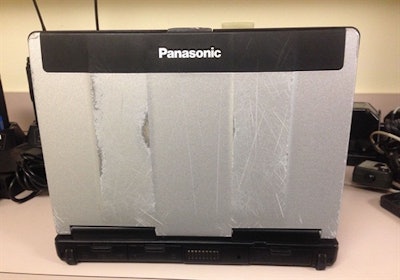 Announced in February, the Toughbook 54 is the latest in Panasonic's line of semi-rugged laptops. It is available in four models all with 14-inch touchscreens, including one that offers a gloved multi-touch touchscreen. Every Toughbook 54 is powered by an Intel Core i5 processor with the buyer's option of an Intel HD Graphics 5500 or AMD FirePro M5100 graphic processor.
The Toughpad FX-G1 is a fully rugged 10-inch Windows tablet powered by an Intel Core i5 vPro processor. Options include a hot-swappable battery and RFID or smart card readers. In addition to the FZ-G1, Panasonic also makes two fully rugged 5-inch handheld tablets with optional voice and data connectivity. The Toughpad FZ-E1 runs Windows 8.1 and the Toughpad FZ-X1 runs Android 4.2.2.