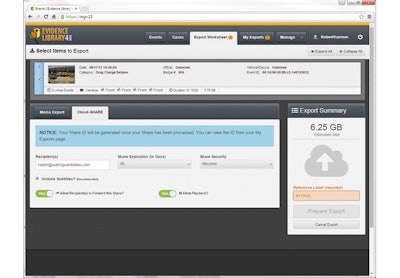 Fulfilling the mounting numbers of requests for digital evidence from the court or the public can be a costly and time-consuming process for law enforcement agencies. It can also be a headache with regard to logistics and security. To ease the burden, WatchGuard Video's Cloud-Share helps agencies find, copy, distribute, and track evidence via the cloud while still maintaining the original data in their on-premises servers.
Departments have traditionally used physical media such as DVDs to create copies of digital evidence files and then transported those burned disks to the requestors, which can require a courier service. Then there's the question of what happens to the disk afterward. Will it be shared with other people? How can you know? WatchgGuard's Cloud-Share makes every step of this process digital, while ensuring the high level of security necessary for law enforcement.
"On the consumer level, people use Dropbox. So why not use it? Well, you could, but it exposes you to security concerns," explains Brian Kirkham, WatchGuard's marketing vice president. "Our clients wanted a similar solution with more security, which is what Cloud-Share provides."
This hybrid solution allows agencies to temporarily share files of digital evidence in the cloud using Microsoft Azure for Government, track who views it, and then automatically remove it from the cloud after a certain time period.
"Now with Cloud-Share, you can easily find the evidence using WatchGuard's new Evidence Library 4 Web, make a copy, and select one or more e-mail addresses from a pre-approved list to receive the evidence," says Kirkham. "Recipients receive an e-mail notification and can immediately view, download, or re-share the evidence based on security credentials set up ahead of time. You can use the audit trail to see when the file was viewed, on what IP address, and whether it was downloaded." You can also control the recipient's ability to re-share the evidence and even track who else viewed it.
The method used for determining which e-mails gain authorization for viewing evidence depends on the agency's preference, says Kirkham. "It can be a white list or black list, by individual e-mail or at the domain level. They may prohibit sharing for anyone with Yahoo or Gmail accounts, but allow sharing for everybody with an e-mail ending in @colincounty.gov, for example. Or you can include individual e-mail addresses, like those of specific attorneys."
Cloud-Share is now a feature within the company's newest version of Evidence Library, WatchGuard Evidence Library 4 Web, which manages an agency's digital evidence from all sources. EL4 Web has a new updated user interface and can now be accessed via Web browser, which many customers had requested. The system makes it much easier to locate video evidence to be shared. Drop-down menus allow you to narrow your search by case number, date, officer, vehicle, device, or incident category, among other options. Any new WatchGuard Evidence Library customer will receive Cloud-Share service as part of the initial set-up. The company is in the process of upgrading existing customers to this new version.
Agencies have the option of simply buying the site license for Evidence Library with unlimited user license for a one-time fee, or adding the software maintenance plan for an additional yearly fee. That includes Cloud-Share and any updates to Evidence Library, including firmware updates for the agency's devices themselves, such as any Vista body-worn camera. The software maintenance program is included for the first year after purchase.
"Cloud-Share is really the most efficient and secure way to share digital evidence," says Kirkham. "It removes the need to produce physical copies of evidence and the worry and cost of storing files indefinitely in the cloud."