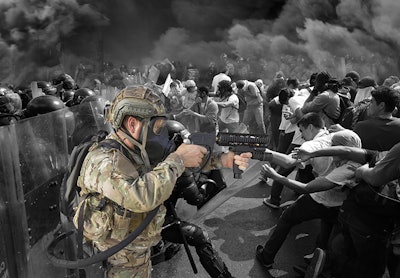 As a former law enforcement officer and a corrections officer who served on a unit tasked with transporting the worst of the worst, Brian Kovacs knows the limitations of numerous less-lethal tools. That's why he was intrigued with the capabilities of the Pepper Pak 50—a backpack-carried OC projector that is powered by compressed CO2—from the moment he first saw it. He liked its design and he liked its versatility. Most of all he liked that it was effective.
Kovacs liked the Pepper Pak 50 so much that he bought the patent for it from the Arizona SWAT officer who invented the product. He then built a company called Less Lethal Concepts to market the weapon system.
The Pepper Pak 50 now sold by Less Lethal Concepts is a slightly different device than the one that was originally marketed by its inventor. "We took the design to the next level and over-engineered all the components for rugged use by law enforcement and military," Kovacs says.
The Pepper Pak 50 consists of two canisters, one of 50 ounces of chemical agent and the other of pressurized CO2, contained in a backpack. The canisters are connected with high-pressure lines that are rated for 6,000 pounds per square inch of pressure—although the system is regulated to 1,000 psi—that connect to an officer-operated nozzle.
Even though the Pepper Pak 50 has a maximum effective range of 50 to 85 feet, it can also be used at closer ranges with no fear of permanent injury. Kovacs says the device disperses the spray as a pulverized conical mist so it won't needle into subjects' skin or injure their eyes. Also, because the spray is propelled by non-flammable CO2, it is completely TASER safe.
Applications for the Pepper Pak 50 include crowd control, barricaded suspects or inmates, and area denial. The system's backpack can be worn over an officer's uniform and even over tactical body armor. It weighs 17.2 pounds and Kovacs says it was designed to be comfortable even when the officer has to move fast and not get in the way when the officer has to fight.
The Pepper Pak 50 has a capacity of approximately 40 one-second sprays. It can also be easily and quickly reloaded in the field. Kovacs says it can be recharged and refilled in 90 seconds. "The only thing that takes any time at all in the refilling process is unscrewing the fill port plug. It's secured with a chemical-resistant O-ring so it won't leak. But it only takes seconds to do that," he explains. Users can purchase chemical agent from Less Lethal Concepts or they can use whatever agent their department policy dictates, so there is no change in the agencies' use-of-force SOPs.
Less Lethal Concepts' Pepper Pak 50 debuted at the Shooting Hunting and Outdoor Trade (SHOT) Show in January. Since then the company has added an accessory rail to the system so that users can add lighting or a video system such as a Go Pro to protect against liability.
The Pepper Pak 50 system comes with three wands for a variety of applications, including a multi-directional wand for deploying agent into an area like an attic and a curved wand for deploying agent under a door or through a cell door. "Using the curved wand, you don't have to endanger an officer in order to gas somebody out," Kovacs says.
More than a dozen agencies are currently using the Pepper Pak 50 and others are testing it, Kovacs says.