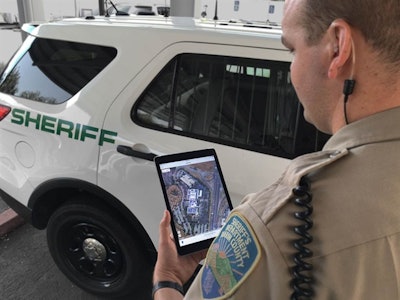 There is a staggering amount of information about people and places that can be harvested on the internet and through social media, if you know how to find it and compile it. Entrepreneur Niraj Shah has built two successful companies—Intelius and inome—based on this concept, and now he is turning his attention to creating a tool he believes will enhance the safety and efficiency of first-responding law enforcement officers.
The software is called FirstTwo because it stresses the importance of information access within the first two minutes of arriving at a scene. It runs on in-car computers and mobile devices such as tablets and phones.
FirstTwo provides officers with information such as names and phone numbers of residents instantaneously by using the GPS in the device to determine the location and then searching for readily available information about that location. Shah believes this intel can be critical in making law enforcement operations safer. "The problem is when officers are knocking on a door and there's yelling and screaming behind that door, the officer doesn't know who is behind that door," Shah says. "The goal of FirstTwo is to give officers that information."
FirstTwo also shows officers the location of other responders. Emergency personnel responding to a call or incident "subscribe" to that incident so that other responders can see them on FirstTwo. The program does not track or monitor officers until they subscribe to the incident.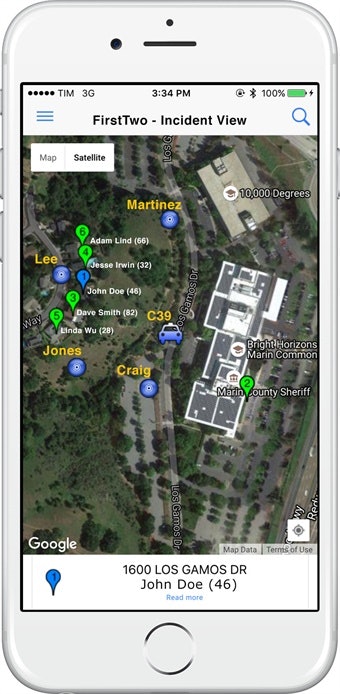 Shah stresses that FirstTwo is not an investigative tool for data mining into the background of an individual. "Once you resolve the identity of someone, you can go deep into that person's background with a variety of other tools, but that's not what FirstTwo is about. We want to help in the first two minutes," he says.
FirstTwo was born in 2015 when Shah gave a presentation to a group of officers on how to use readily available public information to quickly gather information on persons of interest. "It was one of those magical moments," Shah says. "Afterward a number of officers from different agencies came up to speak with me and they told me that what I did live during that presentation would have taken them three days to do. So we started talking about the possibilities of what we can do to innovate for first responders." Shah's goal after that meeting was to get a tool into the hands of officers as quickly as possible, and he now has numerous agencies using the product.
FirstTwo is now available to law enforcement agencies from the company's Website at www.firsttwo.com and from the Apple and Android app stores. Agencies can sign up for a free 30-day trial. If an agency chooses to continue using FirstTwo, it then pays a monthly fee for use by all of its officers, not per each officer. Pricing for an entire agency of as many as 50 officers is $150 per month and $400 per month for an agency of 51 to 250 officers. Agencies of more than 250 officers can call for pricing.
"I felt the cause; I'm not after a paycheck," Shah says, explaining why he wanted FirstTwo to be as inexpensive as possible for users. "I'm trying to make this a no-brainer. FirstTwo uses a phone that they already have so they don't have to buy hardware, there's no IT involvement, it quickly provides information that is accessible but not always easy to get, and it's easy to use and affordable."