Whether used for internet, phone calls, radio, or printing tickets, these devices take police technology into the 21st century, making it easier for officers to issue citations, scan documents, and communicate. Designed to provide multiple solutions, each product is rugged enough to accomplish any number of tasks regardless of weather conditions.
Brite Computers
Q736 Tablet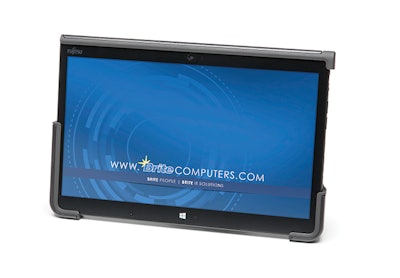 After 17 years of public safety industry experience, Brite Computers continues to optimize the Brite-Fujitsu Solution by pairing it with the latest Q736 Fujitsu Tablet. Brite's ergonomic design puts officers first by giving back the passenger seat, being airbag zone compliant, and not obstructing windshield or mirror views. The solution also allows for more technology in shrinking cockpits with 4 USB ports, Ethernet, VGA, HDMI, and Power for peripheral connectivity.
PublicSafety.BriteComputers.com
Brother
RuggedJet Mobile Printer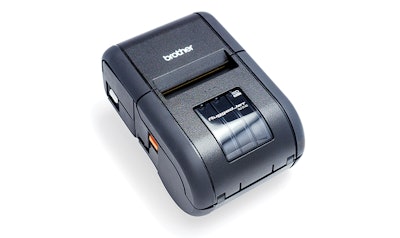 Brother Mobile Solutions introduces the new 2" wireless mobile label and receipt printer to its mobile printer lineup. The new RuggedJet 2 is a compact, lightweight, wireless, yet rugged mobile printer for field applications such as parking violations, citations, receipts, labels and more! Brother's mobile printer lineup also includes the award-winning, full-page PocketJet 7 Series popular with public safety agencies nationwide; the RuggedJet 4 for ecitations, and the RuggedJet 3 label and receipt printer.
Fujitsu
ScanSnap iX100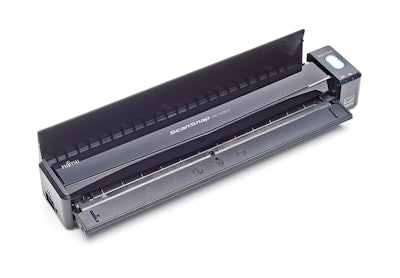 The Fujitsu ScanSnap iX100 is a light and fast wireless scanner equipped with a built-in lithium rechargeable battery and Wi-Fi connectivity for anywhere, anytime scanning to a computer, smartphone or tablet. The iX100 weighs 14.1 ounces and scans a color document at 5.2 seconds per page with a simple push of a button. The scanner transmits searchable PDF or JPEG files such as receipts, business documents, bills, business cards, and plastic ID cards directly to a PC, Mac, Android, and iOS compatible devices, as well as popular cloud services.
Getac
F110 Fully Rugged Tablet and V110 Fully Rugged Convertible
The next generation Getac F110 fully rugged tablet and V110 fully rugged convertible help officers battle a new generation of performance demands and security threats in the most extreme environments. Ideal for law enforcement, both are redesigned to deliver bulletproof Windows 10 security, best-in-class performance and an 11.6" sunlight readable touch screen, housed in a thin and light form factor. Couple that with a fully rugged design that survives drops, rain, heat, cold, and dust, and you have the perfect tablet for working in a cramped vehicle and an ideal convertible for those who sometimes need a full-size keyboard.
Handheld Group US
Nautiz X2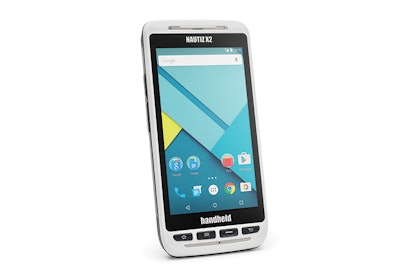 The new Nautiz X2 is the most compact and comfortable rugged handheld available. It is a true all-in-one: a computer, a scanner, a camera, and a 4G/LTE phone. With enterprise-level capabilities, it can handle all your tasks – and your rough-and-tumble environments. Plus it offers the portability, feel, and sophistication of an Android smartphone. All this and it's the best value in the market.
Juniper Systems
Mesa 2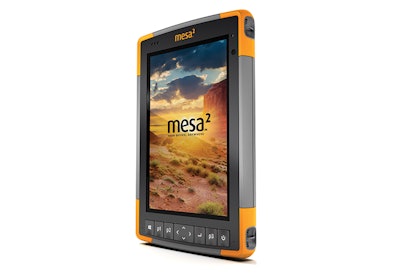 Juniper Systems' new Windows 10 Mesa 2 Rugged Tablet is equipped to perform in a wide variety of industries with harsh environments—one being law enforcement.
An IP68-rated Windows tablet, the Mesa 2 is designed to withstand water, dust, impact, and chemicals, and has a wide operating temperature range for extreme cold and heat. The Mesa 2 also features all-day battery life, an extra-bright display, and a lightweight, ergonomic form for minimal fatigue—all important benefits to law enforcement professionals.
Motorola
APX 8000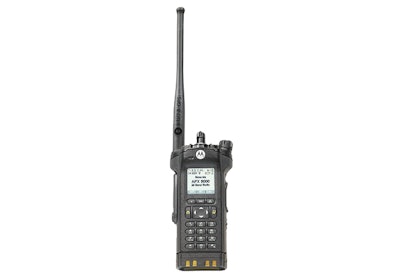 The APX 8000 is Motorola Solutions' first all-band P25 portable radio featuring integrated Wi-Fi for more efficient radio management, allowing the radio to receive new settings (codeplug), firmware, and feature updates over the air in seconds, while the user continues to talk without interruption. The radio will automatically access pre-provisioned Wi-Fi networks at secure locations and download pending updates approximately 30,000 times faster than P25 data rates. APX 8000 ASTRO 25 radios will be able to receive code plug updates in seconds rather than needing preplanned time out of the field.
Panasonic
Toughpad FZ-F1 and FZ-N1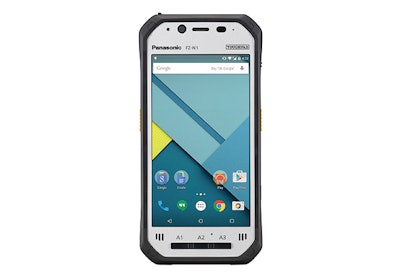 Panasonic's Toughpad FZ-F1 and FZ-N1, the company's new all-in-one handheld, is slim and fully-rugged. Dirt, drop and water resistant, it's proven strong against unrelenting conditions with an IP65 (all weather) and IP67 (dust and water resistance) rating. The Toughpad features a quad-core processor, angled rear-facing barcode reader, warm-swappable long-lasting battery and multi-carrier 4G LTE, with voice capabilities. FZ-N1 model is Android 5.1.1 and FZ-F1 model is Windows 10.
RuggON
PM-311B
The RuggON PM-311B delivers better screen clarity in sunlight (850 nits thanks to optical bonding and an AR/AF sunlight-readability solution). It also offers a snap-on MRZ+MSR reader that can read up to three lines of MRZ (Machine Readable Zone) data, enabling it to capture, identify, process and database-match advanced passport, visa, and ID-card data anywhere the law enforcer is.
This tablet also offers fingerprint reading (508dpi capacitive fingerprint reader for accurate fingerprinting). Advanced encryption options include an FIPS 140-2 certified encrypted SSD and the customizable option of erasing all SSD data with the press of a button.
Sonim
Paragon Car Kit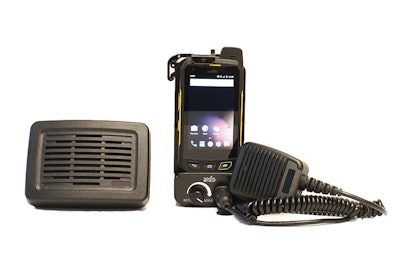 Sonim's new ultra-rugged vehicle kit provides unrivaled functionality in any environment. Rigorously tested to meet MIL-STD-810G and IP-65, the military-grade solution is capable of securing the Sonim handset in any emergency vehicle, while delivering a simple, intuitive, hands-free solution for public safety professionals who need to be provided with up-to-the-minute information while traveling to the scene of an incident. The vehicle kit is designed to work with the XP6 and XP7 smartphones.
TAG Global Systems
GD3030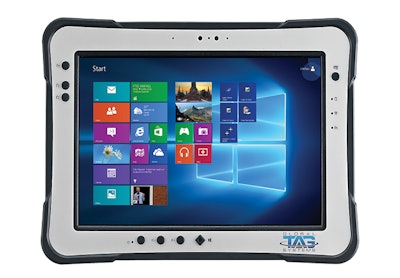 The TAG GD3030 from TAG Global Systems provides public safety officers with a mobile hardware solution that enables data to be captured and processed at the scene instantly. The latest IP65 tablet is equipped with new features and multi-functional inputs for stationary and mobile applications. It includes long battery life, no gap communication, and a touchscreen that supports glove, fingertip, and stylus. It comes standard with GPS, Wi-Fi, Bluetooth, Windows 10, RS232, front and rear cameras, and 4GB memory. It has 4G LTE, Smart card reader, bar code reader, NFC, and mag stripe reader.
Two Technologies
N5Print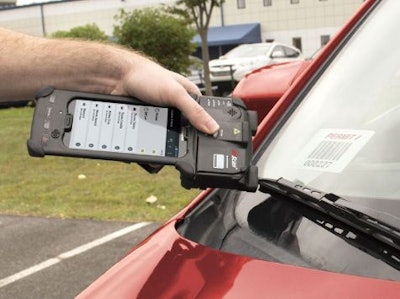 The N5Print allows users to print 3" receipts or other data directly from an integrated thermal printer. With its 13MP color camera, audio and video recording functions, the N5Print offers employees the ability to capture multiple types of data.
The N5Print has 16GB internal memory and 64GB MicroSD. The screen is a rain-resistant 5.7-inch diagonal high resolution 1080 X 1920, utilizing Super AMOLED display. The N5Print runs Android OS version 4.4.4 (KitKat), and features 3-channel magnetic stripe reader, NFC, Smart Card Reader and a barcode scanner. A drop-in cradle with spare battery charger may be used for desktop or vehicle mounting.