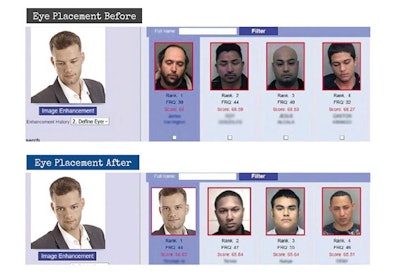 In the immediate aftermath of the 9/11 terror attacks, automated facial recognition became a hot technology. The very idea that software using a database of facial photos could help prevent the next terror attack was reassuring. It was also likely untrue. The technology was not nearly sophisticated enough to pick out a terror suspect in a crowd scene unless that suspect was facing the camera and ideally lit in both photos. But the technology and the techniques for using it have improved greatly over the last 15 years and now facial recognition software is becoming a common tool in law enforcement.
Applications for facial recognition are still being determined, but some of the most common include criminal investigations, identification of people with false IDs, and access control.
Back in the early 2000s, only a few companies were making facial recognition tools for law enforcement and you needed the resources of federal agencies or large and well-heeled municipal police departments to acquire the technology and the expertise to effectively use it. Now numerous companies, including 3M, Cognitec, and Vigilant Solutions, produce affordable facial recognition tools specifically for law enforcement operations.
The Tools
3M makes a variety of facial recognition products, including a live matching system and the 3M Cogent suite of biometric solutions. Running on PCs and on mobile devices, 3M's Live Face identification system was designed to scan crowds and alert authorities to the presence of bad actors. The system works with a wide variety of compatible cameras and can capture multiple images of a person for more accurate matching. 3M Cogent's Mugshot System allows law enforcement personnel to access a mugshot database from a desk or out in the field and find mugshot matches using descriptions or digital images of the suspect.
Cognitec's facial recognition tool is called FaceVACS, and the latest version was released in 2015. One of the key features of the newest FaceVACS is the ability to use it on mobile devices. The company says a smaller memory footprint of its new facial characteristics matching algorithm has made it possible to run the tool on Android and iOS devices. Mobile Examiner allows officers to take suspect photos at the scene, search central databases, and quickly receive candidate lists to help determine his or her identity. Cognitec has also added video scanning capability to its menu of facial recognition tools. FaceVACS-VideoScan lets users perform facial match searches on persons appearing in both real-time video streams and stored media files.
Vigilant Solutions calls its facial recognition tool FaceSearch. FaceSearch runs on a variety of platforms, including PCs and smartphones, and features an easy-to-use interface. The tool allows the investigator to easily edit poor quality images within the interface so there is no need to use third-party software. The company says the editing is straightforward, allowing any investigator or analyst to make necessary adjustments without being an image editing master. Reports are downloadable and memorialize the effort conducted by the investigator.
Success Stories
Many of the greatest successes of facial recognition technology will probably never be revealed to the public since the technology is widely used by the Department of Homeland Security in terrorism prevention. But every day, facial recognition systems are helping law enforcement agencies identify the bad guys and close cases.
In 2014, the FBI was able to arrest a child abuse and kidnapping suspect on the lam in Asia with the aid of the State Department's Diplomatic Security Service, which had scanned FBI Most Wanted posters into its facial recognition system. A scan of the suspect's poster matched a passport photo of an individual traveling in Nepal under another name.
The Sacramento County (CA) Sheriff's Office announced this year that it was expanding its facial recognition program to 500 licenses. The agency has used Vigilant Solutions' FaceSearch to great success. "Over the past year we have made as many as 35 criminal identifications resulting from its use," says Sgt. Kyle Hoertsch. "Two notable cases are the identification of a cold case homicide suspect on the first day of use, and the identification of another individual on a routine traffic stop. The gentleman was covered in prison tattoos, did not have a valid ID, and the name he provided to us included the name of a famous actor as the middle and last names. Upon taking his photo using the mobile app, we were returned a list of possible matches within about two seconds. Upon review of the possible matches, the officer on patrol was able to visually confirm that the gentleman was indeed the same person seen in a 2006 booking photo out of Ohio."
The NYPD operates its facial recognition system from the department's Real Time Crime Center. The unit has to date conducted 8,500 facial recognition investigations, yielding 3,000 possible matches, and leading to almost 2,000 arrests.
Skill and Experience
Roger Rodriguez spearheaded the NYPD's facial recognition investigation unit and he is now manager of image analytics for Vigilant Solutions. In addition to his work with Vigilant, he is also an evangelist for the technology and what it can do, writing blogs and white papers on the Vigilant Solutions Website (www.vigilantsolutions.com) and answering reader questions about facial recognition at PoliceMag.com.
Rodriguez says he is frustrated by the perception of facial recognition as magic that is held by some in the public and even by some law enforcement officers. He bristles at the idea that facial matching leads instantly to arrests and says facial recognition technology should be used in an investigation in a similar fashion as investigators use the work of a sketch artist.
"You have to establish probable cause for an arrest by other means than a facial match," explains Rodriguez. He says that in his work with the NYPD, a facial match was just one element of an investigation. Investigators also needed to document other facts about the individual before establishing probable cause for an arrest. "Facial recognition is a lead generation tool," Rodriguez says.
Accuracy of matches is an issue that can also be affected by the experience and skill of the investigator using a facial recognition system. People who believe facial recognition systems are magic think that the technology can be used to match one image of a face to one individual in a database of millions with just one push of a button. In reality, achieving solid results with facial recognition requires the user to apply some investigative talent and even image pre-processing skills. "You have to be crafty and persistent," Rodriguez says.
One of the easiest ways to achieve better results, according to Rodriguez, is to apply common sense filters to the population the facial recognition system searches. For example, if the image is of a male 18 to 30 years of age, an investigator can tell the system to search for men, eliminating a sizable element of the database that is female, and then apply an age filter to whittle down the possible matches even more.
Users also have to realize that very few images of suspects are perfectly lit or feature the kind of forward-facing view that is ideal for facial recognition algorithms. Vigilant's FaceSearch includes an easy-to-use image pre-processing tool so that users can lighten images and even adjust the positioning of the subject's face to improve their chances of a match. Such processing does not alter the original image, which investigators will need in court.
In the early days of his facial recognition work at the NYPD, Rodriguez taught himself how to use Photoshop for image pre-processing. Photoshop is a complicated tool and that's why he encouraged Vigilant to include an easy-to-use image pre-processing tool in the latest version of FaceSearch.
Rodriguez believes that the growing success rate of facial recognition investigations and the development of easy-to-use solutions will spur more agencies to acquire the technology. "In the next three years or so the use of facial recognition is going to double," he says.