Check out what's new in night vision and thermal imaging.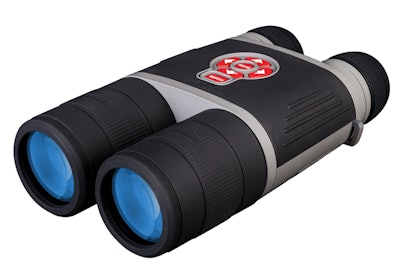 ATN
BinoX HD
ATN specializes in the design and manufacturing of advanced, precision electro-optical systems developed for the commercial, law enforcement, and military markets. Product offerings include digital night vision, advanced night vision systems, and thermal imaging units. The ATN BinoX HD is designed to make collecting video and photo evidence easy, day or night. The BinoX Smart binoculars offer a host of features and sensors: WiFi, GPS, 1080p video, night vision, range finder, gyroscope, compass, and much more.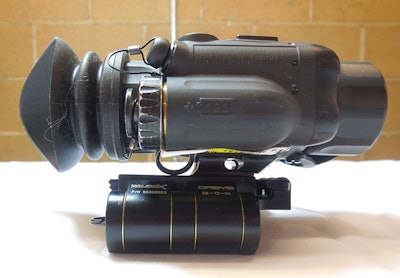 Aurora Tactical
BAE Systems Skeet IR-X Micro Thermal Monocular
Aurora Tactical is an authorized distributor for the Skeet IR-X Micro Thermal Monocular manufactured by BAE Systems. LE/MIL restricted, this handheld unit is also weapons mountable and is the smallest thermal weapon sight available, according to the company. This unit can be used as a front clip on sight or stand alone. Weighing in at only 9 ounces, the Skeet IR-X also comes with video image capture and video recording capabilities, several reticle patterns, and zoom features.
Bushnell
Digital Sentry Night Vision
The Digital Sentry is Bushnell AR Optic's first night vision monocular. The 2x monocular is multiple carry—helmet and weapon mounts are included—or it can be used as a handheld device. The night vision is powered by an 850 nM LED IR illuminator with an intensity control for clear images in any level of darkness and a viewing area reaching out to 220 yards. It serves as a 2x magnifier during the day, and can be used with a red dot as a night aiming solution.
http://bushnell.com/tactical/night-vision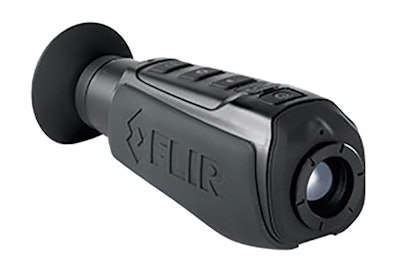 FLIR
LS-Series Thermal Night Vision Monoculars
FLIR's new LS-X and LS-XR handheld thermal night vision monoculars are built specifically for those who serve and protect. This powerful, yet simple imager gives law enforcement an advantage whether searching for evidence or pursuing a suspect, all in the palm of your hand. The newest additions to this field-proven line, LS-X and the LS-XR, feature enhanced resolution displays, extended zoom capabilities, and video output.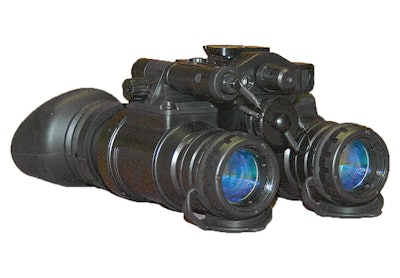 Harris Corp.
F5032 Lightweight Night Vision Binocular
Harris Corp. recently introduced the new F5032 Lightweight Night Vision Binocular designed to increase a law enforcement officer's low-light and no-light capabilities. This lightweight binocular reduces fatigue during extended usage and provides an excellent 25-centimeter close range focus that allows users to conduct tasks such as map reading, operation of equipment, and other close-up duties that were difficult using previous versions of night vision goggles. The F5032 also features optional adjustable diopter lenses, eliminating a law enforcement officer's need to change static lenses for personal or mission requirements.
https://www.l3harris.com/all-capabilities?q=Night%20Vision%20Devices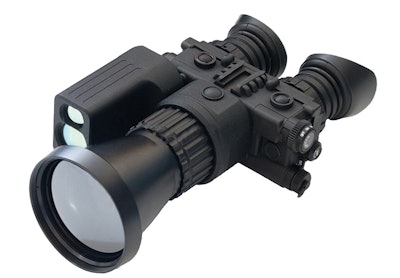 Luna Optics
Long Range Thermal Binoculars With Built-In Laser Rangefinder
Luna Optics' new thermal binoculars are intended to be used for long range (up to 1,700m) observation, search, and detection in a great variety of ambient conditions (daylight, twilight, nighttime) as well as limited visibility (fog, snow, rain). It allows detection of moving and still objects, which have temperature contrasting with the environment, (people, animals, buildings, vehicles). A built-in laser rangefinder provides accurate distance measurements up to 700m. The binocular comes with distinctive fast-learning controls as well as video output, digital zoom, moisture control cartridges, tripod mount, and carry case. Available in 3.5x or 5x optical magnification.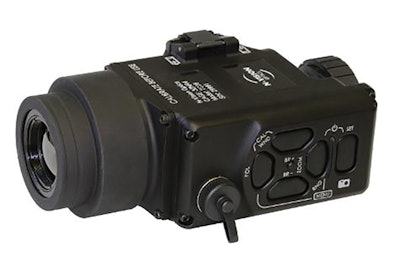 N-Vision Optics
TC35 Thermal Clip-On Sights
TC Series clip-on sights are the latest additions to N-Vision Optics' thermal optics product line. The TC35 attaches in front of the day scope on a MIL-STD-1913 (Picatinny rail), allowing the flexibility to use the sight on multiple weapons. The TC35 is fully collimated to maintain boresight with the day optic, eliminating the need to re-zero, when attached or detached from the weapon. The TC35 can also be used as a stand-alone weapon scope, with four reticle patterns custom tailored for individual weapons with corresponding zero, color, brightness, and contrast. Standard 2x and 4x digital zoom enables clear identification of targets before engaging.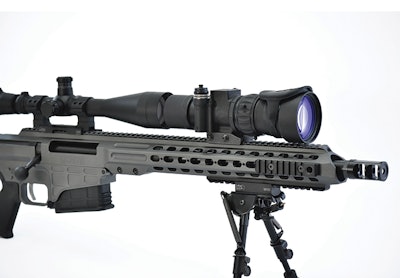 Night Vision Depot
Night Vision Clip-On Weapon Sights
Night Vision Depot offers refurbished MIL-SPEC AN/PVS-30 night vision clip-on weapon sights from the battlefield. These AN/PVS-30s were exchanged by the U.S. Army with the factory for brand new systems. These systems have seen service in battlegrounds from Iraq to Afghanistan. Now you can own a piece of that history at a fraction of the price of a brand new system.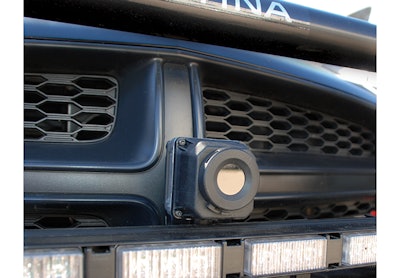 Safety Vision
Thermal Imaging Cameras
Safety Vision has partnered with FLIR, known for its thermal imaging cameras, to supply the law enforcement industry with systems tailor-made for their specific patrol cars and other vehicles. Using Safety Vision's unique experience with wireless installations, critical visibility is now available when it is needed most. Using FLIR technology, you'll be able to easily identify human subjects in hectic, dark, and low visibility environments. Reliable FLIR cameras are the perfect complement to your Safety Vision ICOP PRO digital video recording system.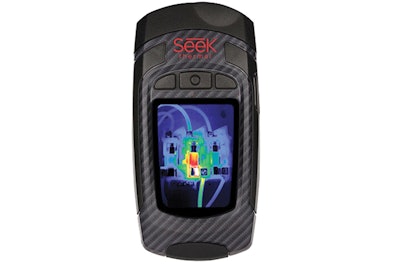 Seek Thermal
RevealPRO Thermal Imaging Camera
RevealPRO is Seek Thermal's most advanced handheld thermal imaging camera yet. Highly durable and easy to use, RevealPRO combines a high-performance 320 x 240 thermal sensor with intuitive software to help you work smarter. And, when you need it, a powerful 300-lumen LED light is available at the touch of a button. Offering adjustable thermal level, span, and emissivity settings, RevealPRO aims to offer high-resolution thermal imaging and software capabilities at an affordable price.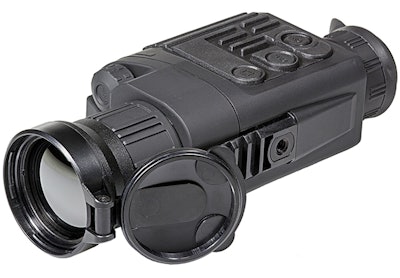 SellMark
Pulsar Quantum XD50S 2.8x-11.2x42 Thermal Imaging Monocular
Tested and reviewed by the National Tactical Officers Association (NTOA), and now recommended by the organization's membership, the Pulsar Quantum XD50S Thermal Monocular is an IPX4 weather-resistant thermal imaging optic designed to detect human-size heat signatures over 1,300 yards away. The Quantum XD50S features a high microbolometer resolution of 384x288, sharp 640x480 OLED display, video-out capability, range finding reticle, white hot/black hot viewing modes, and seven color palettes for varying environments. For distance surveillance, the XD50S even features 2x and 4x digital zoom functions, ranging from 2.8–11.2x magnification, while maintaining great imaging detail.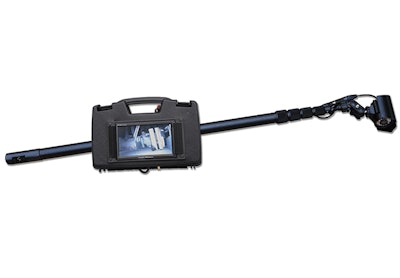 TacView
3.10 Pole Camera
TacView is a pole mounted, IR/color camera that can help you search areas in full room light or total darkness. The camera head size is two inches in diameter with built-in auto on/off IR LEDs. It is strong enough to break and rake a window. The 3.10 model expands to from three feet to 10 feet, which allows viewing into a second-story window or onto the roof of a one-story building from ground level. In addition, its camera head will detach and may be clamped onto the top of a shield or hidden and linked to a 100-foot cable (optional) that will let you discreetly watch your objective behind cover 100 feet away.