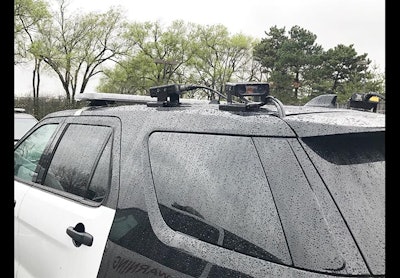 License plate recognition technology is nothing new. Some of the earliest systems were developed more than 40 years ago. But they didn't really start making an impact in American law enforcement operations until about a decade ago.
In the 2000s license plate recognition systems were promoted to American law enforcement as a tool for recovering stolen vehicles and tracking people with warrants. They do that and they do it very well. They also can do much more.
Here's a look at some innovative ways U.S. agencies are using LPR systems to enhance public safety.
ELSAG
The Lenexa (KS) Police Department has been fielding ELSAG (www.elsag.com) LPR systems since 2009. The department has three mobile systems and five fixed systems reading plates across the city, a 50,000-person suburb of Kansas City.
Major Dawn Layman says the Lenexa PD's experience with LPR has led it to develop best practices for deploying the systems where they can be most effective. For example, rather than positioning the fixed units in the busiest traffic areas, the department chooses locations where it can get the best results with the least amount of equipment and expense.
"We look for chokepoints," Layman says. "Places where lanes converge from four to two lanes and drivers have to slow down." She adds that Lenexa PD has found the best way to deploy cameras is one per lane. Given that, she says the department can't afford to place its cameras in the most heavily traveled areas of the city. "In some areas we would need 16 cameras, and that's way too expensive for us."
All officers on the Lenexa PD receive alerts when a vehicle on a hotlist as stolen or having a warrant is located by the LPR systems. But Layman says officers do not take action until they check with dispatch for additional information. She explains that the NCIC database on the LPRs is updated twice per day while dispatch can query the NCIC in real time. Layman says knowing the real-time status of the warrant is critical because between updates of the LPR database, the warrant may have been "taken care of."
The Lenexa PD is very proactive with its LPR program, according to Layman. For example, when it receives an alert from another jurisdiction, it will check to see if that plate has been read in Lenexa. Recently, that policy helped catch a church burglary suspect pretty much red-handed.
"We got an alert from another jurisdiction that if you spot this suspect, check local churches. The license plate was spotted by one of our systems, and one of our unmarked cars saw a car with that plate pull into a church parking lot," she says. Lenexa officers made contact with the suspect and found stolen property from other area churches in the trunk of the car.
L-3 Mobile Vision
The results achieved by a highway patrol user of the L-3 Mobile Vision (www.mobile-vision.com) AlertVU LPR system reveal how versatile and valuable license plate recognition has become in contemporary American law enforcement.
L-3 says this customer makes 200,000 license plate reads daily. The results of these reads are nothing short of remarkable. The agency employed its LPR systems in the apprehension of two top-10 fugitives, in the interception of a bus full of undocumented aliens that was carrying two kilograms of narcotics, in the capture of one person who was a child abduction suspect and another who was a murder suspect, and in the seizure of $325,000 of contraband.
A representative for the agency says it is very pleased with the system and that it has yielded a high return on investment. "The system pays for itself every month," the representative told L-3 Mobile-Vision.
NDI Recognition Systems
Since 2006, the Charlotte-Mecklenburg (NC) Police Department has invested heavily in license plate recognition systems from NDI Recognition Systems (www.ndi-rs.com). The CMPD, which serves some 800,000 people in Charlotte and Mecklenburg County, deploys 89 fixed LPR cameras, 13 Road Warrior LPR trailers, four mobile systems on patrol vehicles, and two portable Rapid Deployment Systems.
The CMPD's LPR systems are monitored from its Real Time Crime Center (RTCC), a 24-hour command facility that is staffed by trained detectives. In addition, the LPR alerts are seen by patrol officers and supervisors.
RTCC staff use the LPR systems in conjunction with a network of surveillance video cameras. When the LPR systems alert the command center staff to the presence of wanted or warranted vehicles, they can use the surveillance cameras to relay real-time information to officers in the field. Every workstation in the RTCC can access the LPR system and NCIC so that the staff can relay critical intelligence to CMPD officers on the streets.
NDI-RS systems are also in use by the Daytona Beach (FL) Police Department. The popular tourist destination draws 8 million visitors annually and the department's 250 sworn officers provide services for them and the 67,000 residents of the city. That's a heavy mission for a small force, so it deploys LPR systems to help maximize its resources.
Daytona Beach PD fields two stationary and two mobile NDI-RS systems to great effect. "I love this system," says Jackie Flory, one of the department's crime analysts. "I can't even tell you how many cases we've solved using it." Flory says the system, which was acquired in 2006, has helped officers solve serious crimes, including bank robberies.
The details of that case are indicative of how LPR systems are being used for more than stolen vehicle recovery.
After a bank robbery in the neighboring community of Ormond Beach, officers identified a personalized license plate on a suspect car. Witnesses also said the car had no hubcaps. Flory used NDI-RS's VeriPlate Intelligence Server and Communications engine to determine the suspect had since acquired new hubcaps for the vehicle. Daytona Beach officers were able to act on that intelligence and locate and apprehend the suspect, who subsequently confessed and was charged with four counts of bank robbery.
Vigilant Solutions
The Sacramento County (CA) Sheriff's Department has been using LPR systems from Vigilant Solutions (www.vigilantsolutions.com) since 2012. Sgt. Kyle Hoertsch says the SSD deploys 38 mobile units and 12 fixed cameras. He says the combination of systems has been critical to the agency's successful implementation of LPR technologies.
"They are different monsters," he says of mobile and fixed systems. "Mobile units are only on the road as much as the officer is. Patrol vehicles are parked when officers are answering calls for service. So you don't get as many scans out of the mobile units as you will with fixed. You can only deploy the mobile about 10 hours per day. The fixed units are scanning 24/7."
In addition, the SSD has deployed 554 iOS devices with Vigilant Solutions' Mobile Companion app installed. The Mobile Companion app allows officers to capture license plates on mobile devices and add them to the database. "What we encourage officers to do is snap pictures of vehicles and their plates at large crime scenes," says Hoertsch. Not only is that much faster than taking out a pen and paper and writing down all the information on the vehicles at a scene, it also creates a digital footprint of the scene and it adds the license plates to a database where more than 300 agencies share information. If one of those cars is on someone else's hotlist those officers can be notified that the car has been located." Hoertsch says the SSD's systems watches for plates on a variety of hotlists, including parolees, stolen vehicles, warrants, DUI offenders, sex offenders, and others.
One of those lists is missing persons, and Hoertsch says it has helped avert tragedy when a person with diminished faculties wandered away from home. "We had an alert on the plate of an elderly lady with dementia from two counties away that started pinging here in Sacramento County. The system gave us precise information on her location and we were able to find her and make sure she was safe," he says.
Hoertsch believes the secret to success for an agency investing in an LPR program is to make sure someone in the agency has overall responsibility for the program. "You need to find a champion for the program and let them exploit it to its fullest," he says. "Otherwise, the program can fail very easily. I see so many agencies using this new generation of equipment just for old style alerts. That's really only about 5% of the capabilities of the program. It's like owning a Ferrari and only driving it in first gear. You have to learn how to drive an LPR system to see how much of a resource it can be."