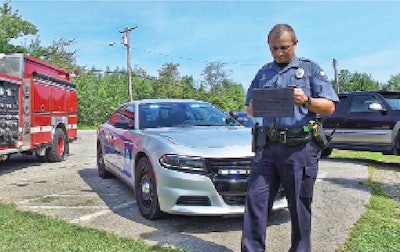 Shortly after the atrocities of 9/11, reports began to emerge that one of the reasons so many firefighters died in the World Trade Center attack was that police helicopters circling above the scene could not warn them the building was about to collapse. This communication breakdown was well documented in the 9/11 Commission Report, which was released in 2004. And ever since that report was issued interoperability between different agencies has been a major concern for public safety leaders.
What grew out of this concern was a massive initiative to create a cellular communication network just for first responders. And when all of the nation's television stations were required to transition to digital broadcast signals about a decade ago that freed up radio spectrum in the 700MHz band and triggered a bidding war among cellular providers. It also spurred public safety officials to argue that 20MHz of this precious radio real estate should be reserved specifically for use by first responders.
That's pretty much the birth of what would become the First Responder Network Authority, although at the time it went by names such as Public Safety Broadband and Band 14. Today, the Authority is known as FirstNet. Established by Congress as part of the Middle Class Tax Relief and Job Creation Act of 2012, FirstNet was funded with $7 billion and given the mission of establishing, operating, and maintaining a nationwide interoperable broadband network for first responders.
Today, FirstNet is finally becoming more than just a public safety pipedream. The backers of this initiative quickly realized that the federal government was not going to fund a nationwide cellular system for first responders alone. The cost would have been staggering. So instead, FirstNet put out a bid for cellular companies to build the network. In March it was announced that AT&T had won that contract by offering to spend $40 billion over the next 25 years to create and maintain FirstNet. That means FirstNet is about to go online and here's how that could affect you.
Too Much Traffic
FirstNet is to be a secure broadband cellular network that offers specific features for law enforcement. Mike Poth, FirstNet's CEO, says broadband cellular communications devices are becoming more and more prevalent in law enforcement operations. For example, some of the nation's largest agencies now issue smartphones to their officers. "Smartphones and other devices are becoming invaluable for patrol officers," says Poth, who served as an officer with the Corvallis, OR, and Tempe, AZ, police departments and retired a captain.
Broadband digital devices work great in day-to-day police work, according to Poth, but officers can have a hard time using them for mission critical communications during not only major incidents but also during special events. On existing networks officers have to compete with all the other cell traffic trying to access the network. Which can be a problem.
Ely Reyes, assistant chief of the Austin Police Department, says his officers have extensive experience with cellular communication issues at special events like the South by Southwest music festival and University of Texas football games. "When we have those large events, the cell network becomes congested, and it's difficult to make calls or use data," he says.
The HOV Lane
FirstNet is designed to let officers break through cellular gridlock by giving them usage priority and even letting them pre-empt access to the network by other cellular users.
As first envisioned after the release of the 9/11 Commission Report, public safety broadband was going to be a network where spectrum would be allocated for public safety use only. That proved impractical. So the concept of priority and pre-emption was developed.
What this means is that FirstNet provider AT&T can use all of the spectrum it is acquiring through its agreement with FirstNet for commercial purposes until it is needed by public safety users. Chris Sambar, SVP for AT&T-FirstNet, says officers should think of their access to FirstNet as an "HOV lane" for communications that gives them special access and priority. "When first responders need it, they get immediate access, and it's all theirs," he says. Sambar adds that in a major emergency AT&T is willing to allocate all of its spectrum, not just 20MHz, for public safety priority use.
Public safety professionals with access to FirstNet will use special SIM cards in their phones. These cards will identify their calls as priority on the network and when necessary they will push other users off of the network to give the FirstNet user access. Sambar says in most cases other AT&T customers will not even notice they have been pre-empted. However, in a major incident scenario, some commercial customers may get bumped. The exception to this is 911 calls, which will also have priority on the network.
Moving Forward
Now that AT&T has signed on to build FirstNet, how it will be implemented in each of the 56 states and territories will be decided by the governors. AT&T submitted buildout plans to the governor of each state and territory last month. Now the governors have 45 days to review the plans and 90 days after that to decide to opt in or opt out.
If a governor opts out of the AT&T plan, then the state or territory will have to build its own public safety broadband network that's as robust or more robust than the AT&T network as part of the nationwide mandate. If a state opts in to the FirstNet/AT&T plan then there is no cost to the state for building, operating, or maintaining the network. Sambar says the AT&T plan is "low risk" for states and territories, and they are not obligated to use it, once the system is built. "If we build it and they don't like it, they don't have to buy [the service]," he says.
Costs and Benefits
Once a governor agrees to AT&T's buildout plan, the company will begin offering FirstNet services in that state or territory. Individual public safety personnel will be allowed to subscribe to the service, as will agencies. "Price point and features for this service will be very attractive. This will be a very aggressively priced product," Sambar promises.
AT&T believes in the near future a smartphone will be as essential to law enforcement operations as a patrol car, according to Sambar. Currently, however, smartphones are not very prevalent in official police work. Officers carry their own personal phones on duty, but only about 30% of agencies issue phones or encourage their officers to acquire smartphones for official use through a stipend program.
That means not every agency is currently positioned to benefit from FirstNet. Even the Austin PD, which serves one of the nation's most technologically advanced cities, does not issue smartphones to officers. Assistant Chief Reyes says the Texas agency is currently "doing some cost analysis" to see how much issuing smartphones will cost and to identify funding. He adds that FirstNet coming online may be the catalyst to accelerate that process. "I believe this is a good opportunity for us to look into that further," he says.
For agencies to make such an investment, the benefits of providing smartphones and FirstNet service to officers will have to outweigh the costs. Proponents of the system say the ability for officers to receive secure high-speed data transmissions to their devices in the field will make the public and officers safer and make police work more efficient.
Reyes says FirstNet will have substantial impact on the way patrol officers respond to calls through intelligence-led policing. He sees officers receiving real-time visual information from the scene they are responding to and about the people involved before they arrive.
Poth, who served on a SWAT team, says FirstNet will give tactical responders a wealth of intelligence on a callout. He says users will be able to use Internet of things devices, surveillance feeds, drone video, and other streaming data to make critical decisions before executing an entry.
The Future
Such real-time intelligence tools are just the beginning of the benefits FirstNet may bring to law enforcement in the future according to Sambar. He envisions a time when FirstNet will be the connectivity behind a hub of video capture devices and artificial intelligence software that will reduce the amount of time law enforcement officers spend on report writing so that officers can spend more time on active patrol.
Sambar says that future is being developed today, but it probably won't be ready for law enforcement use until the next decade. Other innovations that could benefit from the connectivity provided by FirstNet are going to be part of daily police work very soon.
AT&T has committed to bringing as many innovative tools as possible to FirstNet, Sambar says. For example, the company says it will work with its partners to produce broadband devices specifically for the network. Also, it is hiring a team of app developers to produce public safety software for the FirstNet app store, which will not be available to the public. "This is not Angry Birds. Every app will be vetted for cyber security vulnerabilities and tested to ensure it works," Sambar says.