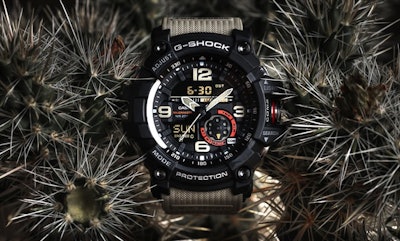 Every officer…Every call…Requires a dependable timepiece.
The G-Shock Master G Mudmaster, G1000-1A5 timepiece provides every officer, at every call, with top-of-the-line technology they can count on.
This latest addition to Casio's Mudmaster series is the ultimate in tough; designed to stay functioning no matter what an officer encounters in the field. Rain, sleet or snow, this watch is the perfect option for every officer, on every call. Learn more about the GG1000-1A5's top-of-the-line features, and shock-, mud- and 200M water-resistant construction.
ANY WEATHER

The GG1000-1A5 features a mud-resistant construction that keeps the innerworkings of the timepiece functioning even when the call of duty exposes officers to rain, snow, heat, dirt and sludge. The timepiece's design utilizes multiple gaskets on the pipes that guide buttons and shafts to keep the elements out and the timepiece's functioning in.
ANY SITUATION

From sunlit streets to dark alleys. Because officers work night and day, seeing the GG1000-1A5 is made easy with a dial that is illuminated by an Auto Super Illuminator LED, with optimum-brightness, that can be activated with the tilt of the wrist. In addition to its digital display, large Arabic numerals at 12, 3, 6 and 9 o'clock give a traditional 3-hand analog readout.
ANY OPERATION

Today's officers tackle a myriad of tasks from interviewing witnesses and notetaking to investigating a homicide or making an arrest. The GG1000-1A5 simplifies performing these duties with oversized, non-slip buttons featuring a checkered finish for non-slip operation. When duty gets tough, this timepiece gets tougher, by proving shock resistance via a hollow-case structure, all-directional protective coating and cushioning material.
ANY TASK


Officers rely on timepieces for more than keeping time, they also look for them to perform a variety of additional tasks. For this reason, the GG1000-1A5 comes complete with a digital compass, five daily alarms, a thermometer, world time in 48 cities/31 time zones and of course, 12/24 time formats.
ANYWHERE

Officers require a timepiece that takes them from the squad car, to the streets to the station or the courthouse. Because every day is not spent on patrol, the GG1000-1A5 is as sleek and beautifully designed as it is functional. This attractive timepiece comes in three colors with a band surface that resembles a cloth band texture, and hour and minute hands that are shaped with points resembling warning markers.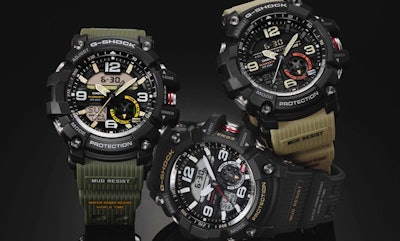 MASTER OF G
GG1000-1A5