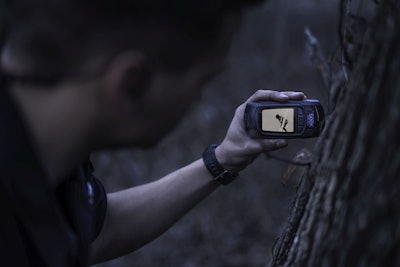 The development goal for Seek Thermal's new Reveal ShieldPRO system was clear from the beginning, says company VP Tim LeBeau. "We wanted a tool to help keep officers safer and to help officers keep the public safer."
Toward that end the Seek Thermal team sought out the advice of its potential end users. "We spent a lot of time speaking with law enforcement officers and finding out about the issues they needed to be solved," LeBeau says.
The result is a lightweight and versatile thermal imaging system that is small enough to easily fit on a patrol officer's crowded duty belt or in a plainclothes officer's coat pocket. "A lot of police departments have to go to the fire department when they need thermal imaging. With our solution, officers can easily carry it with them and have the technology ready as needed," LeBeau says.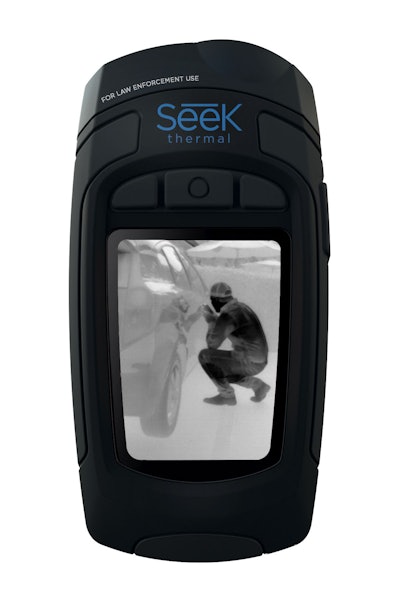 Just as important as its size and versatility is the economics of using the Seek Thermal Reveal ShieldPRO. The device has a suggested retail price of $799, extremely low for a thermal imaging camera. "We wanted a thermal imaging product that has the ability to do a lot of things but at a price point law enforcement can afford," LeBeau says.
Despite its price, the Reveal ShieldPRO does not skimp on features or capabilities. It offers a high-resolution 320 x 240 sensor and 4GB of onboard storage for still image capture. Features include: long range detection even in total darkness, a rechargeable battery, and a built-in 300-lumen LED flashlight.
Perhaps the most interesting feature of this thermal imaging camera is its display. The Reveal ShieldPRO has an LCD display on top of the device. The user points the lens at the target and a representation of the thermal data is shown on the display. Seek Thermal says the design of the Reveal ShieldPRO offers tactical advantages for officers searching for suspects in crawlspaces and attics and for officers clearing rooms.
The Reveal ShieldPRO can be used in a variety of law enforcement operations.
LeBeau says some of Seek Thermal's best customers are K-9 officers. "They want to size up the situation and find out how many people are out there before they let loose their dog," LeBeau says. "They also need to keep track of where the dog is going, which is made easy by following the dog's heat signature in complete darkness."
Seek Thermal is based in Santa Barbara, CA, so its equipment was used by area agencies to respond to last year's fires and this year's mudslides. Thermal systems can help locate people trapped in rubble and partially buried in mud.
Another application for the Seek Thermal system is locating hidden items. Corrections officers and jail deputies can use it to find drugs and weapons on inmates. It can also detect hidden cargoes in smugglers' vehicles. And because tossed evidence temporarily retains the residual heat signature of the person who tossed it, the Reveal ShieldPRO can help officers recover weapons and drugs discarded by criminals.