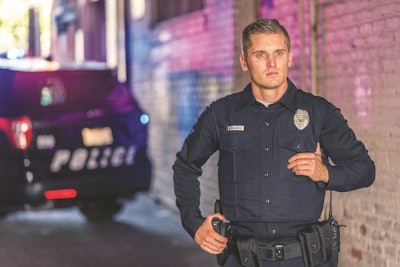 A team at 5.11 Tactical spoke to hundreds of law enforcement officers from around the world and asked them what their ideal class A polyester-wool blend uniform would be like. After getting an idea of just what officers wanted, the company set to work making it a reality. The result is the 5.11 Tactical Flex-Tac Poly/Wool Class A uniform.
David Hein is vice president, Global Professional Division and Merchandising Operations at 5.11 Tactical. He was instrumental in helping develop the new uniform based on officer feedback. "Talking to all these officers, they wanted something more comfortable, lighter weight, with a traditional look that resists spills," says Hein. "The great thing about our product is you can get it wet and it doesn't smell [like other wool uniforms]. And you can put it in the washing machine." This is because the uniform pants and shirts are made of an engineered fabric that incorporates high-quality Australian Merino wool, thanks to a partnership with Woolmark.
The Australia-based company specializes in creating wool fabric blends. "We went to them with a challenge: a fabric that incorporates our Flex-Tac technology that you can treat with Teflon and meets our abrasion, durability, and comfort expectations," says Hein. Through collaboration, they developed Flex-Tac Poly/Wool patented technology.
Hein says the Australian Merino wool selected for the Flex-Tac Poly/Wool Class A uniform is the best you can buy on the planet. It's comfortable because it absorbs moisture and provides thermal regulation, keeping you cool in hot weather and warm when it's chilly outside. And it naturally resists odor. The wool is also resistant to abrasion and retains its shape and color. Hein adds, "UV protection is critical because officers are out in the sun so much of the day, and wool inherently provides that."
The two companies worked closely together throughout the uniform development process. This included incorporating Flex-Tac mechanical stretch into the fabric and perfecting the cuts of both the men's and women's styles.
"I think our women's uniform fit is second to none," says Hein proudly. "With the mechanical stretch built into the shirt and pant, this uniform is truly a really great fitting product and it gives it that professional look."
If alterations need to be made to men's or women's uniforms, 5.11 can do it. That includes attaching any components of the kit that every uniform piece in the line comes with. Epaulettes, badge tab, camera/radio loop, name badge support strip, and a microphone loop arrive in a separate bag with each uniform.
"If the dealer doesn't have the ability, we have a custom shop in our warehouse in Northern California to customize any uniform in any way the officer or agency needs," says Hein. "Think of it as the 5.11 tailor."
The Flex-Tac Poly/Wool Class A uniform line includes long- and short-sleeve shirts and pants for men and women. Women's shirts are available in sizes xs to xl in regular and tall and men's shirts come in sizes small to 6xl in short, regular, and tall. The pant is available in women's sizes 2 to 20 and in men's sizes 30-inch to 60-inch waist. All come unhemmed, so the length can be customized either by the dealer or the 5.11 custom shop. Hein says this wide range of sizes "covers probably 99% of officers."
Both shirts and pants are available in midnight navy, silver tan, and black, and pants are also available in sheriff green. "With those colors we believe we're covering probably more than 95% of the market," Hein says. "I'm happy to say, we generally exceed people's expectations, especially with fade resistance." 5.11 Tactical Flex-Tac Poly/Wool Class A uniforms are now available, with an MSRP of $95 for shirts and $110 to $115 for pants.
"Our goal is keeping the officers safe in their ability to do their job better. The uniform is no exception to that," says Hein. "We're making sure we have provided and exceeded that expectation, while achieving the ability to create something that's lighter weight, more breathable, and has that performance standard you've come to expect from 5.11."