908 Devices • MX908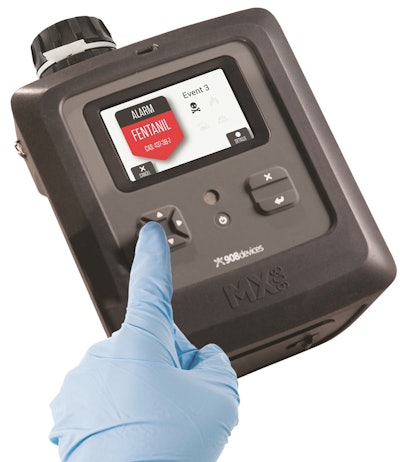 MX908 leverages high-pressure mass spectrometry to deliver dramatically enhanced sensitivity and broader threat category coverage. The MX908's new Drug Hunter Mode is a Mission Mode for the detection and identification of drugs and pharmaceutical-based agents including fentanyl and fentanyl-analogues, heroin, cocaine, and amphetamines. When Drug Hunter is selected, the MX908 hardware reconfigures to provide optimal efficiency and mass spectral selectivity using sequential fragmentation to selectively create and confirm the expected mass fragments of the drug targets of interest.
Alden Dimensional Media • NarClip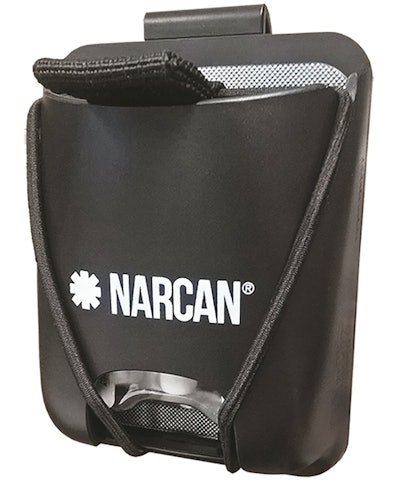 From the makers of NarcanKit, Alden Dimensional Media's new NarClip is an ultra-slim carry solution for Narcan Nasal Spray. If temperature is not a concern, this injection-molded rigid polymer core holder is ideal for either belt or MOLLE deployment. The belt clip fits up to a 3.75-inch service belt. A bungee cord secures the Narcan blister pack in place, and features a single-finger push release. Quality tested for maximum protection of the blister pack. The NarClip measures 2.875" wide x 4.25" high x 1.5" deep.
B&W Tek • TacticID-1064 Handheld Raman Analyzer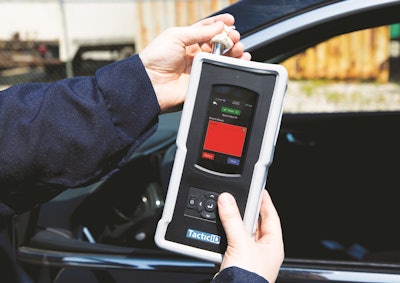 B&W Tek's new TacticID-1064 is a handheld Raman analyzer for real-time identification of suspicious and unknown substances in the field, including mixed narcotics, explosives, and hazardous materials. It is made to identify more samples with better accuracy and faster speed than other similar devices. The TacticID-1064 has a comprehensive on-board library included but also allows users to create and import customized libraries. It features both touch screen operation and navigation using hardware buttons, and comes equipped with an on-board camera to capture evidence photos at the scene. The TacticID-1064 displays both GHS and NFPA704 chemical safety information, giving additional actionable data.
http://bwtek.com/products/tacticid-1064/
Decon 7 Systems, LLC • BDAS+ (Biological Decontamination Accelerated Spray)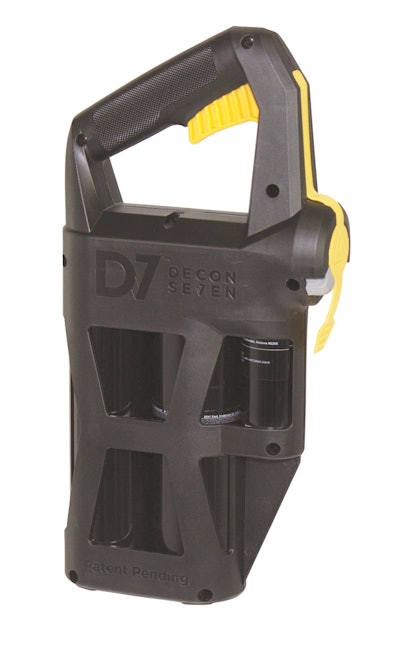 The Decon7 Biological Decontaminant Accelerated Spray Plus (BDAS+) is a solution to the complex chemical and engineering issues of containing an effective military-grade decontaminant in an individual rapid response application system. Combining familiar operation steps similar to a fire extinguisher, but with improved ergonomics tailored to the task and user, it is made to provide first responders with an immediate decon solution. The Decon7 BDAS+ is designed to be ready to use (RTU), lightweight, portable, and rapidly deployable. It neutralizes chemical and biological warfare agents (CBWs), hazardous industrial chemicals (TICs), volatile organic compounds (VOCs), bodily fluids, bacteria, viruses, and fentanyl.
Detectachem • MobileDetect MDT Pouch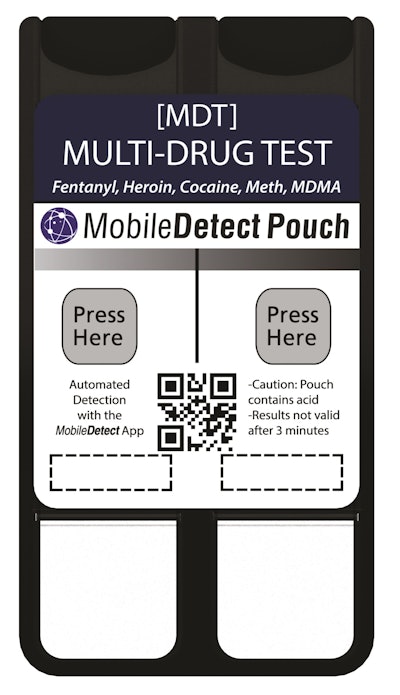 The MDT Pouch from DetectaChem brings automated colorimetric fentanyl, carfentanil, opiate, opioid, and narcotic detection to your smartphone. The MDT-Multi Drug Test is made to detect even small traces of fentanyl and carfentanil when it is found in heroin or other cutting agents in a highly accurate two-stage approach to fentanyl detection. The MDT Drug Testing is designed as a reliable and cost-effective fentanyl detection solution for first responders.
www.detectachem.com/mdt-fentanyl-test/
Halyard Health • Fentanyl-Resistant Gloves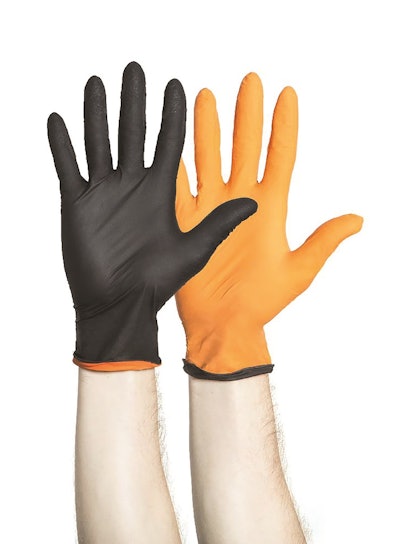 Halyard Health's new Black-Fire Nitrile Exam Gloves are designed to protect first responders from fentanyl exposure, exceeding the recommendations and guidelines for handling fentanyl outlined by the National Institute for Occupational Safety and Health (NIOSH). The Black-Fire glove has both a black side that allows the wearer to see white powder and a high-visibility orange side you can use when directing traffic or working in low-visibility situations. The low-friction orange side can also be used for pat-downs and search situations where hand visibility is important. The glove can even alert you when there's a dangerous rip or tear with proprietary Quick Check technology.
OHD LLLP • The Quantifit
The Quantifit is a state-of-the-art mask fit testing device that uses only air and OHD's patented Controlled Negative Pressure (CNP) technology to perform a speedy, three-minute fit test. You can use it to test in any environments with no consumables. Other methods only challenge the mask with particles or a qualitative solution. Since the Quantifit uses air as a challenge agent, the company says you can be assured of the most "health protective" fit test in the world when using the Quantifit.
http://info.ohdusa.com/the-benefits-of-switching-to-cnp
PH&S Products • ResQ-Grip Glove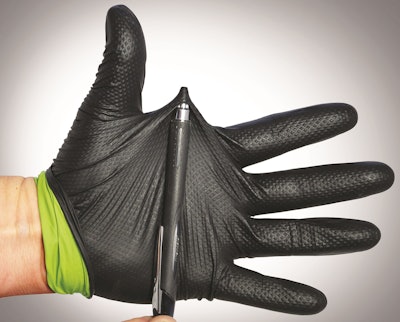 PH&S Products' ResQ-Grip Glove has a high degree of force of break and a super tough nitrile compound that gives ResQ-Grip excellent abrasion resistance and protection to protect those who put themselves in harm's way. They have also been successfully tested for heroin and fentanyl resistance to ensure the safety of first responders who come in contact with these substances. Made of 100% Nitrile, this single-use, powder-free glove features a raised diamond pattern for ultimate grip. It is touch screen friendly and comes in packages of 100 for sizes small, medium, and large; and packages of 90 for sizes XL, 2XL, and 3XL.
Sirchie • NarkSafe Enclosures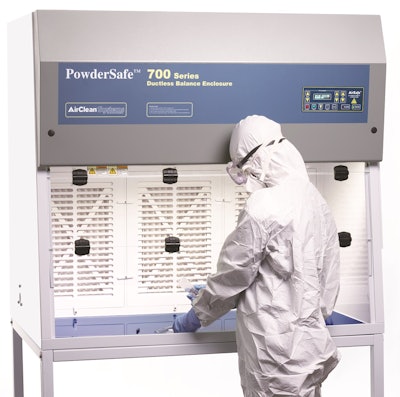 Sirchie's NarkSafe Enclosures are designed to allow first responders to handle any substance and protect lab technicians during forensic analysis and handling of fentanyl or other dangerous substances. Its negative pressure environment pulls any particulate away from the operator and eliminates end-user exposure. Add a bonded carbon filter and analysis of other chemical solutions or marijuana exhibits can be safely handled in the same workspace. The company says NarkSafe will not leak with a turbulence-free, horizontal laminar airflow with dual HEPA filtration. Available in widths of 36 inches, 48 inches, and 72 inches.
Thermo Fisher Scientific • TruNarc Handheld Narcotics Analyzer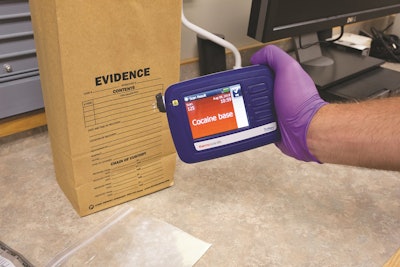 The use of illicit narcotics and opioids continues to skyrocket. Emerging lethal drugs like fentanyl and carfentanil threaten public safety. To save lives and protect law enforcement officers, banned substances need to be identified quickly, safely, and accurately. The Thermo Scientific TruNarc Analyzer rapidly identifies drugs and can reduce the backlog of cases at crime labs while decreasing costs. This leads to faster case resolution and helps drug offenders access treatment more quickly.