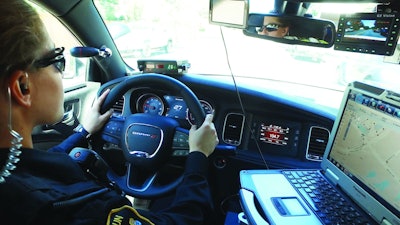 If you look back at some of the issues of this magazine from the last decade, you'll see a lot of discussion about communications interoperability. The primary concern at the time was finding a way for different public safety agencies to communicate over the radio with each other at critical incidents such as active shooters and terror attacks. Such concerns about public safety communications during critical incidents and especially during the 9/11 attacks led to proposals for establishing a dedicated public safety communications network.
The radio frequencies for a public safety network became available about 10 years ago when all American TV channels were transitioned to digital signals from analog signals. Much of that spectrum went to other uses, but one band was set aside for public safety use.
In 2012 the First Responder Network Authority (FirstNet) was established to oversee the 20MHz of radio spectrum that Congress has allocated to a dedicated public safety network. As part of its management of the network, FirstNet held an auction to find a major cellular provider to build the network. AT&T won that auction and FirstNet went online in 2017. Since then 50 states, five territories, and the District of Columbia have authorized their agencies to sign on with FirstNet.
And FirstNet is not the only option for dedicated public safety communications. Last year another major player entered the first responder broadband cellular market. Verizon is now offering an alternative network for agencies and officers that want priority high-speed cellular, the Responder Private Core.
FirstNet
The FirstNet core went online early last year. Since then, more than 5,000 first responder agencies have signed up for the service for a total of more than 425,000 connections (users). Individual officers can sign up for FirstNet at their local AT&T stores or online.
Harry Markley, law enforcement senior advisor for the First Responder Network Authority, says agencies and officers are still asking one overriding question about the network: "What is it?" he says with a laugh. "We are still trying to get the message out of what it is and how it works."
The primary thing that FirstNet provides for law enforcement is priority on a secure network. Transmissions from devices identified as belonging to first responders have special status on the network. And in those cases where the network is congested, public safety users have so much priority that the network will actually drop other users to give first responders access. This process is called "preemption."
Markley says that FirstNet ran a test during last year's Boston Marathon. Boston first responders were given FirstNet equipped devices, and they were able to communicate and access data over those devices despite congestion on the network from the throngs of people gathered for the race and the Patriot's Day celebration. Boston officials told Markley that their experience with FirstNet was very different from what they experienced on the day of the bombing attack when cellular communications went down for hours.
Markley says individual agencies and officers want different things from FirstNet. For example, small agencies in areas with very little radio coverage are looking to use FirstNet for voice communications over cellular phones to augment or supplant land mobile radio networks. Larger agencies want to ensure they have communications during major events, either planned or unplanned. "What they're hoping for is that this will provide a constant stream of communication no matter what happens," he says.
Markley, a former assistant chief with the Phoenix Police Department, says he has 30 years of experience running critical incident scenes and he sees great value in a dedicated network for incident commanders and other first responders. "It's impossible these days to run a major incident on the radio," he says. "You need that person-to-person communications over the phone."
Verizon
The Responder Private Core from Verizon is the nation's primary competitor to FirstNet.
The Responder Private Core separates first responder data and voice traffic from Verizon's other cellular customers and provides secure remote access to apps and other tools for public safety professionals. Like FirstNet, Verizon's Responder Private Core gives public safety users priority even to the point of removing other users from the network.
Nick Nilan, director of public sector product development at Verizon, says public safety users on the Verizon network can sign up for access to the Core. Verizon will then put a feature on their account that identifies them as a public safety user. "Users don't have to do anything to access the Core once they have that feature on their account," he says.
Verizon is not yet releasing numbers of users for its public safety core, but the company will say it has a number of agency users and a large base of individual first responder users.
While most of the users on the Verizon Responder Private Core are accessing the network on their cellphones, Nilan believes the future of the network will involve other uses. "The real growth will be in the number of connections per vehicle through the MDT router," he says. Those connections will include telematics, streaming video from body-worn cameras, and smart vests that tell dispatchers and commanders when an officer is under stress or has suffered a medical event or injury. "All of these sensors together are operating on our network today," Nilan says, adding that they will become more prevalent in coming years.
In order to spur such innovation in law enforcement technology applications, Verizon not only sends out "solution architects" to help customers get the most from the network, it also facilitates networking among first responder customers. "We will bring together two customers, one that has a challenge and another that has solved that same challenge," he says.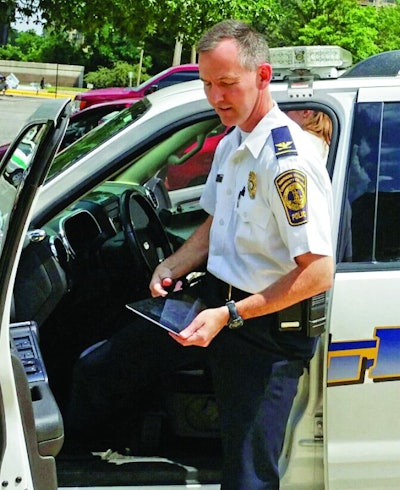 In Action
Huntington Beach, CA, is literally "Surf City USA." The northern Orange County city of roughly 200,000 people doubles in population when the "U.S. Open of Surfing" comes to town each summer. And that puts a strain on local law enforcement.
Robert Handy, chief of the Huntington Beach Police Department, says the crowds from three major events, the surfing championship, a large Fourth of July parade, and an annual air show and the need to communicate with more than a dozen agencies that provide services and security for the events were the reasons he started working with AT&T FirstNet.
"We were having trouble with our cellular communications during these events," he says. "Two or three years ago we had complete failure of voice and data during peak times."
Since last year, Huntington Beach PD has been adding FirstNet service to all its new devices, and it plans to issue smartphones to its 222 sworn officers. So far Handy is very pleased with the results. "We had a very specific problem that we needed to solve and solve quickly. FirstNet worked well for us," he says.
FirstNet law enforcement advisor Markley sums up why agencies and officers should want access to a dedicated first responder network. "On the worst day when the unplanned thing—earthquake, active shooter, bridge collapse—occurs, everyone will be on their phones and first responders will still have access to those networks and the ability to communicate," he says.