Not long ago, law enforcement was not considered a high-tech field. That has changed immensely in the last two decades. Law enforcement agencies now purchase software tools for a wide variety of operations, including traffic enforcement, video management, records management, report writing, and investigations, just to name a few.
Here's a look at some software solutions designed to make police safer, more efficient, and more capable.
Axon
Axon Redaction Assistant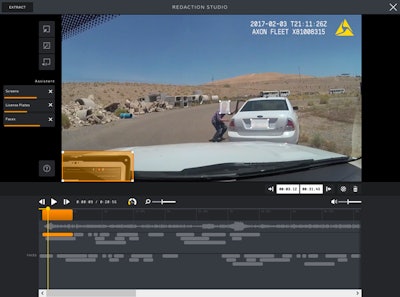 Axon Redaction Assistant is the company's first advanced artificial intelligence (AI) powered tool for law enforcement and prosecutors. Currently, when redacting video footage, users are manually drawing boxes around objects frame-by-frame. With Redaction Assistant, the AI detects a license plate, face, or screen and automatically draws a box around it so the user can then confirm if it is an object that needs to be redacted. This streamlines workflow so video is redacted and ready to share with the public quickly. www.axon.com/redaction-assistant
CentralSquare Technologies
Field Ops
CentralSquare's Field Ops app allows officers to stay connected. Field Ops is a user-friendly app that uses real-time information to keep responders connected beyond the vehicle. Whether outside their cars patrolling the beat; searching inside a building; or working on motorcycles, bikes, or even horses—Field Ops keeps first responders and the command center connected. The app also allows supervisors quick 24/7 insight into field operations and lets off-duty responders check in so they can prepare for their next shift. http://lp.centralsquare.com/field-ops.html
Cradlepoint
Routing Platform with Modem

The COR IBR1700-1200M routing platform from Cradlepoint is purpose-built to provide law enforcement agencies secure, in-vehicle networking for mission-critical communications. The addition of a MC400-1200M modular modem offers users the capability to add a second carrier for greater bandwidth, more applications, and gigabit-class LTE. Features include: advanced routing, WiFi, content filtering, GPS and telematics integration, WiFi-as-WAN, and cloud configuration/remote troubleshooting. This NetCloud Service for mobile solution includes 24x7 support, cloud management software, and a limited lifetime warranty. https://cradlepoint.com/att
CrimeCenter Software
Intelligence Management Module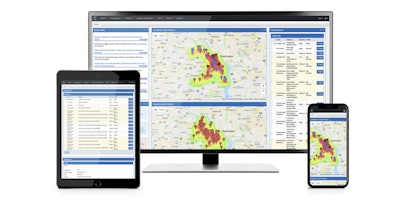 CrimeCenter Software's Intelligence module, the newest addition to its cloud-based case management platform, provides actionable intelligence that helps law enforcement make better decisions, manage tips, counteract threats and crack down on gang activity. To ensure compliance, the platform automates the process of tracking, reviewing, and purging data. The Intelligence module fully integrates with the Whooster investigative data and technology platform, so agencies can search directly from their case folder and find connections between people, phone records, casework, and investigative leads. https://crimecenter.com
Envisage Technologies
FirstForward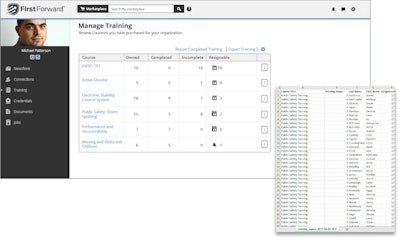 Law enforcement agencies and commanders may know Envisage Technologies' FirstForward.com as a place to find training (including more than 100 free online courses), but they may not know it's also a tool that can be used to streamline policy document acknowledgements, ease performance evaluations, track certifications and expirations, and document exposures to harmful substances. For only $10 per officer per year, users can enhance the long-term health of their officers and easily manage training for the entire department, all without using cumbersome spreadsheets and paper documents. info.FirstForward.com/PRO
GunTrac
APB360
APB360.com is a cloud-based management solution from GunTrac LLC that provides a 360-degree overview for asset management, asset inspection, asset ledgers, firearm qualifications, comprehensive training management, intelligence/analytics capabilities, firearms and range qualification management, chain of custody, compliance management, FTO, LIMS, and much more. The system also provides the backend for a weapon shot counter system called ShotPM. https://apb360.com
InTime
Scheduling Solution

InTime is a solution designed to help public safety agencies make better staffing and scheduling decisions. The software provides flexible and user-friendly scheduling, timekeeping, and workforce management. In Time says it has more than 21 years of experience as a leader in the public safety market and 100,000 users. www.intime.com
Motorola Solutions
Capture Mobile Camera App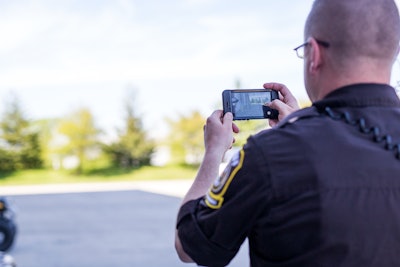 Cases can evolve in a matter of minutes. Success at catching criminals is dependent on being able to secure the proof that puts them behind bars, no matter where it is. Motorola Solutions' Capture Mobile Camera App lets the first officers on the scene record law enforcement-grade digital evidence using their smartphones. The company says this gives investigators some of the evidence they need to progress their cases before crime scene professionals process the scene. www.motorolasolutions.com/en_us/products/police-cameras/capture-evidence-grade-camera-app.html#tabproductinfo
Motorola Solutions
Spillman Flex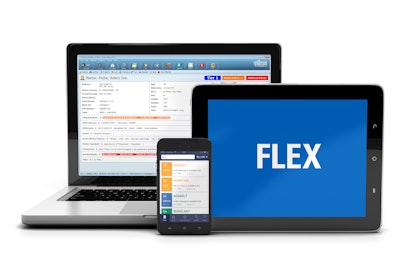 Flex is the flagship law enforcement product from Spillman Technologies (a Motorola Solutions Company). It offers public safety agencies integrated, real-time data through RMS, CAD, and JMS; mobile data and field reporting; and even crime analysis using CompStat software. With more than 50 interconnected modules, Flex is engineered for optimal integration and customization by law enforcement customers. www.spillman.com
Nuance Communications
Dragon Law Enforcement

Using Dragon Law Enforcement, officers can dictate incident reports faster, safer, and more efficiently. Dragon users can simply speak to dictate their reports with up to 99% recognition accuracy, the company says. They can also query their RMS solutions by voice. www.nuance.com/dragon/campaign/dragon-law-enforcement
Panasonic
Unified Digital Evidence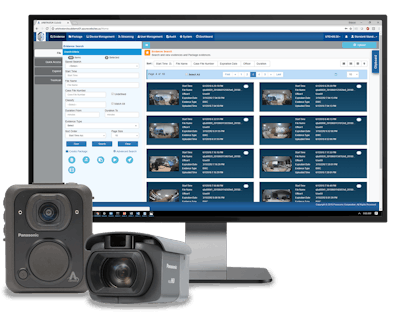 Panasonic's Unified Digital Evidence (UDE) now features web-based evidence management and file sharing, sophisticated reporting, and anywhere access. These features have been added to UDE's simple, intuitive design, which allows law enforcement to spend less time managing, finding, and sharing digital evidence, the company says. Whether on-premises or on the Microsoft Azure Government Cloud, UDE protects all video and audio captured during an event and creates validated evidence files that are easily shared, managed, audited, and securely stored. https://info.panasonic.com/arbitrator-unified-digital-evidence.html
PTS Solutions
Platinum RMS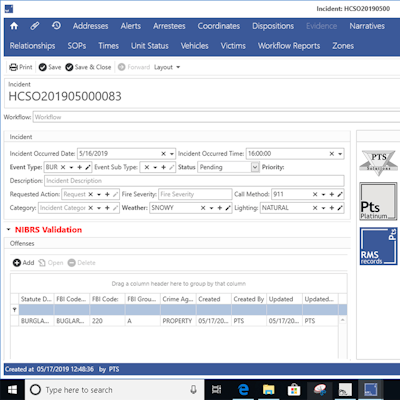 The all new Platinum RMS (Records Management System) software from PTS Solutions allows users to customize screens to suit their preferences and administrators to customize fields, field locations, and workflow to benefit the needs of the agency. A wizard assists users in entering NIBRS reports. Users can also retrieve information using quick analytic reports that display data in various formats including lists, graphs, and charts. They can also build their own searches and then print those searches into custom reports. www.ptssolutions.com
Saltus Technologies LLC
DigiTicket

Saltus Technologies' digiTicket helps officers and courts reduce ticket processing times, eliminate handwriting errors, and improve the safety and security of ticketing programs. DigiTICKET can be configured with handhelds, tablets, laptops and printers. digiTICKET solutions can be purchased outright or acquired using a monthly service pricing option. The service pricing option requires no upfront costs or long-term contract. www.saltustechnologies.com
TBL Systems
Mobile Dispatch
Law enforcement agencies can enhance their current CAD systems or replace them with Mobile Dispatch by TBL Systems Inc. Legacy CAD and RMS systems can be upgraded using TBL's applications, including mobile Case Reporting, eCitation, eCrash, eF.I., and now Mobile Dispatch. Using TBL Systems' solutions agencies can use department-issued iPhones or iPads to enhance or replace transponders, MDCs, and legacy CAD systems with a highly secure, CJIS-Compliant, app enabled and cloud-based environment. www.tblsys.com
ThinBlueOnline
Verbal Options Simulator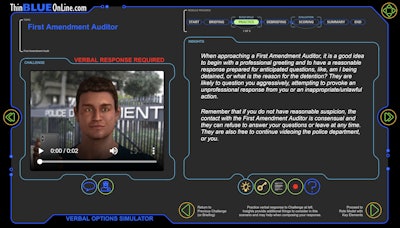 The right words can make the difference between a peaceful resolution and a use-of-force situation. Defusing that situation before force is needed increases officer safety while reducing department liability. The Verbal Options Simulator from ThinBlueOnLine.com allows officers to practice verbal skills including de-escalation, negotiation, cooperation, and empathy. This patented technology is accessible online from computers and mobile devices for just pennies a day, the company says. www.ThinBlueOnLine.com/pm
Tyler Technologies
New World ShieldForce
New World ShieldForce from Tyler Technologies is a mobile app that extends the power of mobile and computer-aided dispatch, providing officers, command staff, and dispatchers with situational awareness. ShieldForce provides immediate updates about an incident or call for service, allows officers to self-dispatch to an incident and shows where all personnel are located even out of their vehicles. https://empower.tylertech.com/shieldforce-buyersguide.html
Vector Solutions
TargetSolutions

TargetSolutions, a Vector Solutions brand, delivers real-time training, recordkeeping, and operations management solutions for first responders. The company says it provides engaging, accredited online training courses, cutting-edge software applications, and performance management solutions to help make law enforcement officers safer, and make their agencies more capable and more compliant. TargetSolutions Scheduling automates overtime and simplifies crew scheduling. TargetSolutions Check It is an innovative mobile application for streamlining equipment and vehicle checks, the company says. www.targetsolutions.com/law-enforcement
David Griffith is editor of POLICE/PoliceMag.com.