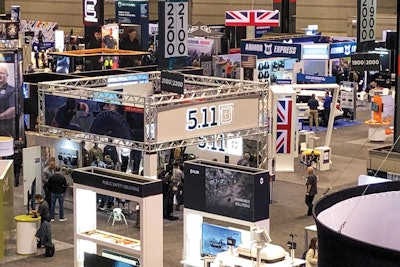 The annual International Association of Chiefs of Police (IACP) conference is the nation's largest exhibition of law enforcement technology solutions. This year's IACP held in Chicago in October did not disappoint when it came to exciting new software, hardware, and other innovative police products.
Here's a look at what caught our eyes at the show.
BODY-WORN CAMERAS
BodyWorn by Utility (www.bodyworn.com) announced the release of Ultimate Witness, a tool for viewing, managing, sharing, and exporting cases and media evidence.
Bounce Imaging (www.bounceimaging.com) does not make a body camera for officers, but it does make a body-worn system for K-9s. The company displayed the Cave Canem (beware of the dog) system, which offers a 360-degree view and features stabilization to eliminate blur. The company customizes the mount for each dog's vest. When needed the system can be taken off the dog and used on a pole camera and even as a throwable surveillance tool.
Motorola Solutions WatchGuard (www.watchguardvideo.com) was one of two major body camera makers to announce a new model with a detachable battery. The WatchGuard V300 offers a swappable 12-hour battery pack for longer shifts.
Panasonic (www.security.us.panasonic.com) announced the launch of Panasonic i-PRO Sensing Solutions, a joint venture of Panasonic and investors. The i-PRO Sensing Solutions' Public Safety Solutions Division introduced the next generation BWC, which features a user-swappable 12-hour battery. Other enhancements include an easier-to-read status screen and a very secure mounting system.
COMMUNICATIONS
Cradlepoint (www.cradlepoint.com) promoted its cloud-managed routers for LTE, which are managed through Cradlepoint's NetCloud Service for mobile. The system allows IT professionals to make remote adjustments and offers carrier flexibility for LTE connectivity.
L3Harris (www.l3harris.com) unveiled its XL-200M P25 mobile radio at IACP. The XL-200M delivers audio across broadband and VHF, UHF, 700/800 MHz, and 900 MHz. It is field upgradeable to LTE through a hardware plug-in. Standard features include: Wi-Fi, Bluetooth and GPS.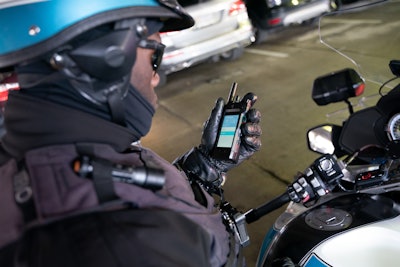 Motorola Solutions (www.motorolasolutions.com) made a major splash at this year's IACP with the APX Next smart radio. The APX Next is a P25 radio with a variety of next-generation features, including LTE connectivity for communications when the LMR signal is too weak, a virtual assistant that takes voice commands, and an officer location feature that updates every three seconds.
Mutualink (www.mutualink.net) discussed how its technology provides interoperable communications between public safety agencies so that they can securely share voice, video, and data as part of an all-hazards response strategy.
Nuance Communications (www.nuance.com) demonstrated its Dragon Law Enforcement speech recognition tool. Dragon LE was developed to make it easy for officers to dictate reports and notes. The solution uses AI to better recognize the speaker's accent and learn repeated words. In addition, the company showed that it is working on the development of an interviewing tool that could be used for field interviews and for interrogations.
Otto (www.otto-com.com) showed its NoizeBarrier tactical headset. The headset protects the wearer's hearing with a 23-decibel noise reduction rating while helping them maintain communications.
Sierra Wireless (www.sierrawireless.com) showed an Internet of Things (IoT) tool for monitoring offenders. The Omnilink OM500 ankle bracelet is an LTE offender monitoring device that allows law enforcement agencies to better manage pre-trial detainees, individuals under house arrest, probationers and parolees.
DRIVING SIMULATORS
L3Harris (www.l3driver.com) demonstrated its new PatrolSim driving trainer. The latest innovation in the L3Harris PatrolSim is EyeTracker, a machine learning feature that monitors where the driver is looking and how their head is positioned during the scenario. This can be used to correct bad habits and to inform students that they are taking their eyes off the road when using equipment.
VirTra (www.virtra.com) also brought a driving sim to IACP. The VirTra Driver Training Simulator (V-DTS) is an immersive system that offers a variety of popular law enforcement vehicle models. Trainers can adjust traffic density, hazards, and weather. The system even gives students the feel of the road using hydraulics.
DRONES
Icarus Aerospace (www.icarusuas.com) is a veteran-owned company that sells unmanned aerial systems (UAS)—the preferred aviation term for drones—to law enforcement. In addition to providing UAS, Icarus offers training. Principle Joshua K. Brown is the architect of the International Association of Directors of Law Enforcement Standards and Training (IADLEST) "UAS for Public Safety" course.
RedUAS (www.reduas.us) is a Maryland-based company that helps agencies develop tactics and policies for utilizing drones to achieve their missions and for deterring and defeating malicious drones. The company says more and more agencies are contacting them about counter UAS tactics, and the solution is having the "right training and the right people." Note: Shooting down a drone is legally hazardous for non-federal law enforcement.
LICENSE PLATE READERS
Axon (www.axon.com) announced that it is adding ALPR capabilities to its Axon Fleet 3 in-vehicle video system. Because the ALPR system uses artificial intelligence and is integrated into the features of the Fleet 3, Axon believes it can reduce the cost of existing license plate recognition solution to a price point where agencies can afford to equip many more vehicles with the technology. The company says its ALPR is the industry's first AI-powered system built from the ground up using an "ethical design and privacy-centric framework." The guidelines were created by Axon's AI and Policing Technology Ethics Board.
Genetec (www.genetec.com) announced its AutoVu SharpZ3, which is powered by Intel's Movidius Myriad X VPU (vision processing unit). The company says the AutoVu SharpZ3 is among the first ALPR systems to use Intel's advanced vision processing and deep learning technology to improve the accuracy of reads during difficult conditions.
Leonardo (www.leonardocompany.com) discussed its ELSAG Cloud Storage Solution (ECSS). The CJIS compliant virtual server reduces IT responsibilities for ALPR data, the company says. ECSS is housed on Amazon Web Services, allowing agencies to access their ALPR data at all times and to share it with other jurisdictions.
Rekor Systems (www.rekorsystems.com) came to IACP to promote its Watchman ALPR solution. The company says Watchman can "turn any fixed or mobile IP camera into a state-of-the-art LPR solution."
PROTECTION TECHNOLOGY
ChemImage (www.chemimage.com) showed its VeroVision Threat Detector. This standoff system can detect dangerous chemicals, including those used in explosives and drugs. The company says VeroVision is designed to find residue that cannot be seen with the naked eye and reduce the amount of time emergency personnel is exposed to dangerous substances.
FLIR Systems (www.flir.com) showed a variety of tools to detect hazardous materials, including explosives and radiation. FLIR's Fido is a handheld explosive detector that can be used to identify traces of a variety of explosive materials in under one minute. The identiFinder R300 is a spectroscopic personal radiation detector that can be easily and discreetly used at traffic stops.
SOFTWARE
CentralSquare (www.centralsquare.com) brought its suites of computer-aided dispatch, 911 records management, and jail management solutions to IACP. The company is working to improve 911 dispatch interoperability between agencies and jurisdictions, speed emergency response, and make public safety software easier to use.
Cobwebs Technologies (www.cobwebs.com) showed it AI-powered intelligence solution. Cobwebs can monitor and analyze activity on social media, on the open web, the deep web, and even on the dark web. ( To learn more, see "Cobwebs Technologies: Deep Web Detective," POLICE October 2019.)
CrimeCenter Software (www.crimecenter.com) showed its Intelligence module for its cloud-based case management platform. The intelligence module helps investigators gather and analyze actionable intelligence, manage tips, counteract threats, and crack down on gang activity. The software also automates the process of tracking, reviewing, and purging data.
Envisage (www.firstforward.com) showed its First Forward solution for managing law enforcement training records. First Forward can also be used by officers to keep records of their employment histories, certifications, and commendations.
Motorola Solutions Vigilant (www.vigilantsolutions.com) demonstrated its improved BallisticSearch tool and a new product, Vigilant CrimeSearch. BallisticSearch provides officers with preliminary ballistics information on casings found at crime scenes. When used in combination with CrimeSearch, BallisticSearch can help investigators draw connections between different crimes and identify suspects.
PowerDMS (www.powerdms.com) showed its cloud-based platform that helps law enforcement agencies write and edit agency policies. Agencies can even use PowerDMS to test their officers and ensure the officers understand the changes in policy.
Thin Blue Online (www.thinblueonline.com) is an online training software tool that provides practice-based training to build de-escalation and other verbal communication skills in law enforcement officers. ThinBlueOnline's scenarios were written by law enforcement officers for officers.
Tyler Technologies (www.tylertech.com) demonstrated its cloud-based Law Enforcement Analytics solution. The new tool is designed to give police commanders a comprehensive view into crime statistics in their community, including increases or decreases in specific types of crimes. The company says the information enables agencies to address crime patterns by defining and improving tactics, show the impact of tactics on crime via dashboards, reduce time spent preparing statistical reports, and help manage multiple improvement initiatives.
Veritone (www.veritone.com) showed IDentify, an AI-powered software tool that lets agencies quickly compare their known offenders against crime scene footage. IDentify optimizes workflows for investigative teams, letting them manage and track cases.
USE-OF-FORCE SIMULATORS
NSENA VR (www.nsenavr.com) showed its full virtual reality law enforcement use-of-force and firearms training system. The system uses virtual reality headsets for a full 360-degree 3D experience and requires less training space than conventional simulators.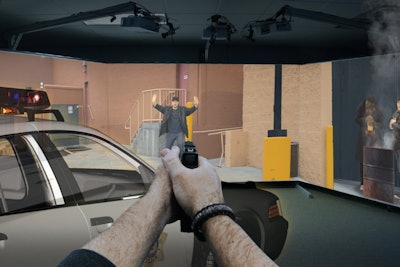 Ti Training (www.titraining.com) showed an augmented reality (AR) headset for its Recon (reconfigurable) simulators. The AR Immersive Reality system features RealMax Augmented Reality Headsets. This AR system allows users to see the scenario being displayed on the screen and aim their weapons like they would in a real incident, but it also lets the instructor add 3D images of objects such as patrol vehicles and walls into the training arena. In addition to objects, the headsets can be used to introduce fire, smoke, or rain into a scenario. Multiple headsets can be used at the same time so that all students working a scenario will see the same things.
VirTra (www.virtra.com) announced that its newest system will offer hyper-realism in the form of 4K high-definition images. The 4K visuals will help officers learn to detect subtle indicators of danger that could save their lives on the street. VirTra has announced that it has received orders for the 4K system from the Federal Law Enforcement Training Centers (FLETC).
VEHICLE SYSTEMS
Code 3 (www.code3esg.com) and Haas Alert (www.haasalert.com) announced a joint venture to improve officer safety. Haas Alert's technology alerts motorists using the Waze app (www.waze.com), Apple CarPlay, Android Auto, or other similar infotainment products that a law enforcement vehicle is responding to an emergency nearby. Code 3 is working with Haas so that when emergency vehicles activate their Code 3 lighting, the Haas Alerts software sends an alert to the Safety Cloud, and a notification is sent to the motorists. The companies say their goal in linking their technologies is to reduce vehicle collisions between public safety units and civilian drivers.
Havis (https://www.havis.com/) showed its mounts, consoles, and storage systems for the latest law enforcement vehicles. The product line includes mounts and accessories for all of the most popular law enforcement vehicles.
Ram Mounts (www.rammounts.com) showed its newest GDS branded tools for mounting tablets and phones in vehicles. The GDS line is a complete ecosystem that includes solutions for protecting and charging mobile devices, including docks and Otter boxes.
SoundOff Signal (www.soundoffsignal.com) showed its latest lighting systems for the Ford Interceptor Utility, including the new 2020 models. The systems include full size but extremely thin lightbars, grille lights, fascia lights, and windshield lights.
WEARABLES
5.11 Tactical (www.511tactical.com) showed its ABR Pro Pant which offers a less loose fitting appearance than traditional tactical pants and features proprietary Flexlite rip-stop fabric that is 71% polyester and 29% cotton. The material is very lightweight and stretches for comfort.
ArmorExpress (www.armorexpress.com) brought it Busch Protective line of helmets to IACP. The helmets offer a boltless shell design, a proprietary quick release system, and they are fully adjustable, making sizing for most officers not an issue. The helmets have VPAM (European ballistic standard) certification.
Elbeco (www.elbeco.com) showed its new Reflex uniform shirts and pants. The Reflex Uniform is designed to have the professional appearance of a Class A but offer the comfort and functionality of a Class B. The pants and shirts are constructed of rip-stop material with nano fluid repellency and UV protection.
Reebok (https://reebokwork.com) exhibited its Trailgrip Tactical boot. The Trailgrip Tactical features an active traction rubber lug pattern for gripping power. A MicroWeb lacing system keeps the wearer's foot locked in with lateral stability, the company says. The MemoryTech footbed adapts to the contours of your foot. The composite toe meets or exceeds ASTM F2413 safety standards.
TruSpec (www.truspec.com) showed its new 24-7 Expedition Pants. The pants have integrated soft four-way stretch panels for ease of movement, a slider waistband for comfort, dual mesh zippered cooling vents on each leg, and extra nylon webbing fabric for durability when wearing boots.