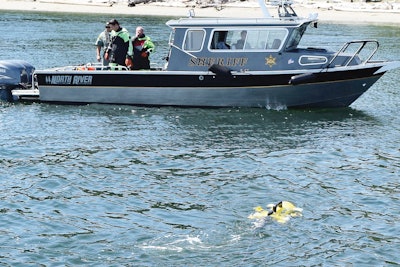 Like tactical and bomb squad robots on land, remotely operated vehicles (ROV) can go places that it is dangerous for officers to go and protect their users from hazards. They also save agencies money by reducing the need for dive team operations to recover bodies and evidence.
Here's a look at some of the most popular ROVs for police work.
Deep Ocean Engineering (www.deepocean.com) makes the Phantom T-Series, a rapid deployment high-performance ROV system. Phantom T ROVs have polypropylene chassis that are non-corroding and maintenance free. The Phantom T5 sports four vectored horizontal and one vertical Tecnadyne thrusters for control and propulsion in current. Features include HD cameras, lights, and sonars. The system comes with a 300-meter-long umbilical cable.
JW Fishers (www.jwfishers.com) makes a number of popular law enforcement tools for use in water, including the SeaOtter-2 and the SeaLion-2 ROVs. These highly maneuverable remote-controlled vehicles each have four motors that provide sufficient power to work in ocean currents with depth ratings of up to 1,000 feet. Features on these lightweight submersible robots include powerful lighting systems and high-resolution color cameras with pan and tilt capabilities. Options for the systems include a manipulator arm, side cameras, and sector scanning sonar (SCAN-650) technology.
RJE International (www.oceanbotics.com) makes the SRV-8, an ROV rated for 305 meters that features eight thrusters. Features include a dual mode camera, 1,500-lumen LED light, and a robotic three-jaw grabber.