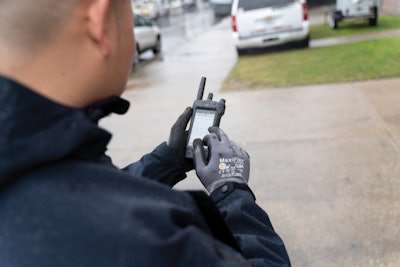 A split second can make a critical difference for a police officer facing a dangerous or urgent situation. Even in the course of day-to-day operations, time is precious. Today's beat demands technology that is intelligent and intuitive, so Motorola Solutions has answered the call with APX NEXT, a low-stress radio made to thrive in a high-stress environment.
The Problem
A wealth of information is available to today's first responders, but how can they access this information in the field without losing focus on the task at hand? Responders need to be aware of what's happening around them at all times. They can't afford to be distracted by devices or actions that take their eyes off a scene, and their hands must remain free to help those in need.
We wanted to build a first-of-a-kind, Project 25 (P25) mission-critical radio to provide the right information and features to first responders. For both their safety and the safety of those they protect, it was important that the radio's functionality not overwhelm them when their attention needed to be elsewhere. For this reason, we kept the trusted form factor of our APX line of radios, which are second nature for first responders across North America. Responders regularly tell us that their radios are their lifelines when they need to quickly communicate with their teams.
For more than two years, we worked with first responders across North America to understand their technology needs and challenges. We obtained their feedback at every step of our development process and used it to create a radio that includes a touch interface and voice interaction, while keeping all of the critical APX radio functions first responders depend on.
"A radio is a first responder's lifeline when 100% of their attention needs to be on the people and events around them," says Collin Arnold, director of the New Orleans Office of Homeland Security. "Motorola Solutions worked closely with our public safety team, who is nationally recognized for their technology leadership, to build a radio that goes far beyond what we thought possible. APX NEXT and ViQi allow our first responders to keep their eyes on what's happening, while obtaining the critical information they need to help protect our community."
The Solution
After working hands-on with first responders, dispatchers, and technicians for more than 2,000 hours, we introduced APX NEXT, a smart radio that brings usability and performance advancements to every aspect of the radio experience.
APX NEXT has the same form factor as our popular APX line of land mobile radios (LMR) and features intuitive interfaces that let first responders keep their eyes up, hands free, and their attention where it matters most. APX NEXT offers extreme impact resilience, clear audio, and an advanced battery. What's new is a rugged touch screen, intuitive voice controls, and complementary broadband connectivity to enable applications that accelerate workflows and bring new intelligence to the field. Here are a few more highlights.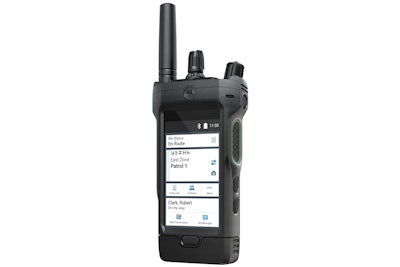 It's a mission-critical radio. APX NEXT is an all-band P25 radio designed to military standards of ruggedness. Intuitive knobs and buttons are easily distinguishable by touch and designed to minimize accidental activations. It features noise suppression to tame background noise and two digital microphones for users to be heard in any environment. A high-energy density battery packs the most talk time in our smallest battery package yet.
It has a rugged touchscreen. It has a mission-critical toughened glass touchscreen designed for all-weather use, with a transflective display that can be seen easily either indoors or outdoors. The screen recognizes a touch with bare hands or gloves, and it rejects false touches from other elements, such as water hitting the screen.
It features a virtual assistant. APX NEXT is available with virtual assistant ViQi (pronounced Vicky). ViQi voice control enables users to control the radio via voice. For example, they can change channels or audio volume with simple voice commands. With ViQi Virtual Partner, responders can retrieve information from a remote database using natural language interactions, such as, "ViQi, run a license plate."
It continually shares location information. Using SmartLocate, the radio's location data is automatically sent over broadband to a dispatcher's mapping console, providing dispatchers with up-to-date location information as often as every 3 seconds.
It features a smart radio connection. SmartConnect ensures APX NEXT is connected to a responder's land-mobile radio (LMR) network, regardless of his or her location. A police chief can be traveling out of state and use her APX NEXT to communicate directly with her team at home.
It's easy to program at anytime. Technicians, IT staff, and network engineers can use APX NEXT's SmartProgramming function to update radios automatically, so radios spend less time in the shop and more time in the field.
APX NEXT is part of the end-to-end mission-critical ecosystem that we offer for first responders from call taking and dispatch, to investigation and analytics, to evidence and records. All of these are interoperable with our customers' Motorola Solutions software and APX systems.
Case Studies
A traffic stop: An officer on patrol alone pulls over a suspicious vehicle. With the convenient push of the dedicated ViQi button, the officer is able to check the license plate before even making the stop. After a quick run of the driver's license, ViQi notifies the officer that there is an issue. The officer steps away to review the search results and determines that the driver has an outstanding warrant. The driver attempts to flee on foot and the officer pursues the suspect. The dispatcher, assisted by SmartLocate, is able to share the location with other responding officers and resolve the incident safely.
An officer on patrol: While walking her beat, an officer receives a text message on her APX NEXT radio. The large transflective display is clearly visible in full sunlight, so she can quickly see the text is from a fellow officer who needs assistance tracking down a suspect. She replies using the on-screen virtual keyboard, replaces the radio in her belt holster, and begins the search. She operates her APX NEXT using ViQi voice control and is able to keep her eyes up and focused on the environment around her.