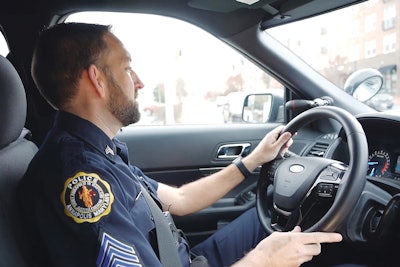 It's likely that no other technology will have more impact on law enforcement in the next 10 years than the growth of dedicated high-speed first responder networks for voice and data. These secure first responder networks have the potential to change almost every aspect of how officers communicate and use mobile devices on the job.
Currently, there are two broadband cellular networks designed specifically for first responders: FirstNet provided by AT&T (www.firstnet.com) and Verizon's priority and preemption services for first responders (https://www.verizon.com/business/).
FirstNet, the First Responder Network Authority, was established in 2012 as a public-private partnership to solve some of the emergency communications issues identified after 9/11. AT&T administers the network under a 25-year contract with the Authority, and it went online in 2018 in 56 states and territories.
In contrast, Verizon's priority and preemption service for first responders is entirely financed and operated by the company. Both offer very similar capabilities. The most important aspects of these networks is their speed and their ability to give first responders priority when network traffic is high. In some situations, these networks will even kick other users off to facilitate first responder use, which is the "preemption" aspect of the service.
FirstNet and Verizon's priority and preemption service are both available to individual law enforcement officers and to law enforcement agencies. Individual officers can contact AT&T or Verizon and, after their credentials are confirmed, they will receive a SIM card for their phone that gives them access to the first responder network of their choice.
Agencywide Access
When an agency decides it wants to access a first responder network, the process is a little more involved than calling up the carrier or going to the carrier's local store. It often involves the agency's procurement process and buy-in from local government officials, especially if the agency issues smartphones to its officers.
The first step is contacting the carrier. FirstNet has AT&T sales representatives who are assigned to specific geographic areas and trained to help law enforcement agencies access the network. Verizon has a team of "solution architects" that work with law enforcement agencies. Nick Nilan, Verizon's director of public sector product development, says agencies can "leverage their existing contracts" with the company to add priority and preemption. "They simply request that service and we will migrate them over."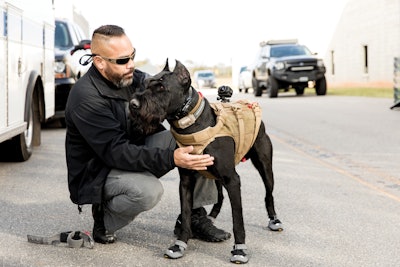 Agencywide implementation includes smartphones and other equipment. Nilan says some law enforcement agencies that use Verizon have their officers use their personal phones and some issue the phones. Nilan says it's better to issue the phones because any cost savings from not doing so tends to evaporate quickly with the cost of modifications for compliance and security. For these reasons and more, Nilan says Verizon is seeing "more agencies buying smartphones for their officers."
Nilan says the first step even before contacting the carrier is for the agency to determine the capabilities that it wants to add. "We work with the agencies on understanding what their mission is, what they want to accomplish, what their goals are, and then work the technology into those goals," he says.
Both Verizon and FirstNet say their services include assistance to agencies wanting to get the most out of the networks. These representatives help the agencies identify what additional equipment and tools they need for their missions.
Connectivity
If an agency wants to use its high-speed cellular network connections on more than just smartphones and other devices with cellular chips, it's going to need connectivity tools that transfer the LTE signal to the devices over WiFi. These commonly include hotspots, routers, or antennas.
Hotspots are essentially portable wireless WiFi receivers. They are excellent tools for officers who need connectivity on the move. Some agencies even use them to provide LTE signals to a variety of equipment in patrol vehicles, which is probably not optimal. While they can be less expensive than routers, they have some drawbacks. They really were not made for duty in a patrol vehicle, and some can't take the vibration and dirt. Also, most do not have the ability to be configured for CJIS and other security compliance measures.
The most common connectivity tools for high-speed cellular first responder networks are antennas and in-vehicle routers. The antennas pick up a variety of signals and send them to different systems in the vehicle, including the radio and other devices and the WiFi router.
Ted Hebron, senior product manager for antenna producer Laird Connectivity (www.lairdconnect.com), cautions that antennas perform differently on different vehicles. "For that reason, any one-size-fits-all approach to FirstNet upgrades is likely to backfire. Each type of vehicle should be treated as its own project, and the planning process should include radio frequency modeling, precise placement of antennas, and RF testing to ensure that the range and performance match what an agency needs," he says.
In-vehicle routers from companies like Sierra Wireless (www.sierrawireless.com) and Cradlepoint (www.cradlepoint.com) are a popular solution for adding LTE connectivity to a vehicle to create a vehicle area network (VAN). Many agencies already have WiFi routers for their in-car computers and for peripherals such as ticket printers. These can be upgraded for use with high-speed first responder networks.
Cradlepoint, for example, offers a module for upgrading its existing customers' routers for FirstNet capability. Jonathan Fischer, the company's vice president of business development, says the cost of upgrading existing hardware with modem modules is about half the cost of buying new routers. Fischer adds Cradlepoint allows for the ability to add a secondary modem for flexible connectivity. The company is even planning on offering upgrades for 5G so that certain equipment bought today will not be obsolete in a few years.
The software and firmware on Cradlepoint routers can also be upgraded while the routers are in the field through the company's NetCloud Manager. "Even a [city or county] with little to no IT resources (using NetCloud) can configure and upgrade the software and firmware for an agency with hundreds of vehicles and routers," he says.
Sgt. Ricky Truitt of the Annapolis (MD) Police Department says his agency has been using Cradlepoint routers for years and was able to make the transition to FirstNet very easily. "Cradlepoint has done a good job in the last few years making things not future proof but certainly forward looking. When you are on a government budget at the state or local level, that's critically important."
Future Worries
FirstNet and Verizon have only been operating their first responder 4G LTE networks for a few years. But already much of the talk and much of the worry from their police customers is about the next generation of wireless, 5G.
In the last decade or so, cellular voice and data networks have improved incrementally. The fifth generation of cellular voice and data networks is going to change communications and entertainment worldwide. Experts say 5G will be 50 times as fast as the current 4G LTE. In law enforcement this is going to mean that agencies will stream a lot more real-time video.
Verizon is one of the biggest promoters of 5G technology in the United States. The company has already set up certain areas in major cities with 5G networks, even though very few people have equipment that can use it. (Note: Some AT&T phones say "5GE," but that's the company's rebranding of its 4G network as "5G Evolution.")
"5G is really just rolling out," says Verizon's Nilan, who reassures public safety customers that they shouldn't be worrying about it. "We'll take a specific lifecycle approach to the products our customers are already buying. As the devices get older and eligible for upgrade and ready for upgrade, that's when we'll start talking to our customers about switching from 4G to 5G. It won't be like you have to do it today. It will be over time as it fits into your budget."
Another key point that public safety agencies need to know about the 5G transition is that just because 5G comes online and more 5G capable devices become available does not mean that their current equipment will be instantly obsolete. Nilan says, "The coming of 5G does not shut down the older network. We're going to have 4G around for many years to come."
Enhanced Capabilities
Probably the most important question any law enforcement agency should ask before signing up with a high-speed first responder network is how the capabilities of that network can help officers operationally. What is the return on investment?
There are now hundreds of public safety agencies using high-speed first responder networks, and the success stories are numerous.
The Brazos County (TX) Sheriff's Office was one of the earliest adopters of FirstNet. It was using the network even before the network was officially available.
In 2017, Brazos County SO was able to share access to a FirstNet experiment in neighboring Harris County that coincided with the city of Houston hosting the Super Bowl. The result was extremely positive, and the agency signed up for full implementation immediately after the network became available statewide.
What sold Brazos County SO on FirstNet was its experience with communications at Texas A&M football games. Before using FirstNet, the deputies often found their cellular data and voice communications less than reliable as more than 50,000 people in- and outside of the stadium tried to access their cell providers.
Each Brazos County SO patrol vehicle is now equipped with a high-speed LTE router that creates an LTE vehicle area network. The VAN provides FirstNet capabilities for the deputies' mobile devices used in the general vicinity of the vehicle.
There are now some agencies taking the capabilities of these networks to the next level. The Chicago Police Department is running a test to see if it can replace its in-car laptop computers with smartphones in a docking station, keyboards, mouses, and displays.
"That's what some Chicago officers use now in their cars," says FirstNet's Batcher. "They can take the phone with them when they get out and use it as you would a regular smartphone."
Then there is the Annapolis PD. Sgt. Truitt says the agency—like many others—needs FirstNet to provide critical communications when networks are overloaded. In Annapolis, networks can get jammed by people at Naval Academy football games or from the demand generated by visits by high-ranking brass or government officials. And the APD uses the network to ensure communications during those times. But it is now going to need the speed, security, and priority of FirstNet 24/7 for an innovative new mobile data system.
Truitt says Annapolis is now the first local law enforcement agency to move all of its mobile-computing services to the cloud. The APD now has 38 patrol vehicles with "zero client" display systems. That means the displays in the vehicles are not hooked up to local computers. They receive all of their software and data from the cloud.
"Our officers will no longer have to log out and then go into the station or pull the computer out of the car to use it in the station. The data and software will move with them," Truitt says. He adds that the transition would not have been possible without the assistance of AT&T FirstNet and Amazon Web Services.
The Annapolis and Chicago examples show that the capabilities of high-speed dedicated public safety networks are much more than just cutting through cellular gridlock. Axon has added LTE chips to its Body 3 body cameras that can stream real-time video from the field on Verizon or FirstNet, depending on agency choice.
And that is pretty mundane stuff compared to what some experts say will be the future of these networks. They see them as tools for enhancing officer safety from both human threats and medical crises. It's predicted that soon these networks will give agencies the ability to let their officers wear sensors that will detect a sudden rise in heart rate, or blood pressure. These sensors could notify command that an officer was being assaulted or they could alert EMS that an officer is having a heart attack.
David Griffith is editor of POLICE/PoliceMag.com.