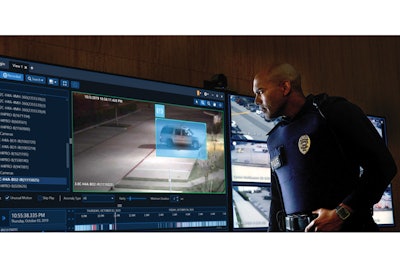 Thirty years ago the presence of law enforcement surveillance cameras in American cities was rare. That was something the Europeans did. Now law enforcement agencies in some American cities are monitoring thousands of ubiquitous dome cameras and other crime fighting video systems. The city of Atlanta alone reportedly fields 8,000 of these crime-fighting tools.
Atlanta officials say the cameras are not so much a deterrence to crime as a tool for capturing evidence against criminals. "I don't think a camera is going to prohibit [suspects] from committing the crime. It's just going to be a resource for us to apprehend those who commit crimes," Atlanta Police Sgt. Warren Pickard told WSB-TV. Pickard added that the most important impact of the city's surveillance systems is helping to get repeat offenders off of the street.
Atlanta's positive experience with surveillance video is not unusual. Other cities have seen similar impact from implementing these systems. And now that the general deployment of video systems is showing benefits, many cities are finding new ways to use surveillance cameras.
Officer Safety Program
Last year the Dallas Police Department, Safer Dallas (www.saferdallas.com), and Motorola Solutions announced the Starlight Program, a six-month pilot program involving collaboration between law enforcement and local businesses. The pilot program was designed to give Dallas PD officers better intelligence about incidents at businesses that receive a high volume of calls for service, including three convenience stores. That intelligence can alert officers to hazards and make officers and the public safer.
Businesses participating in the Starlight Program are equipped with Motorola Solutions' Avigilon (www.avigilon.com) cameras, blue lights, and program signage. They are actively monitored by the Dallas PD's Real-Time Crime Center (RTCC) using Motorola Solutions' CommandCentral Aware software.
"This is an exciting time for the Dallas Police Department and our partners, Safer Dallas, and Motorola Solutions," says Renee Hall, chief of the Dallas Police Department. "The technology fosters faster decision making with real-time situational awareness. The ultimate goal is to protect the public while making first responders more effective by providing much-needed information before they arrive on scene."
Although the Starlight program originally launched at only three businesses, the organizers hope it will spread to more. It is open to businesses throughout the city.
"We have seen great success in a variety of communities in using technology, like our integrated software and video solutions, to create a tighter connection between public and private entities and further our shared mission of improving public safety," says Neil Thomas, vice president of Motorola Solutions' sales and services organization. "We're proud to launch this new pilot program with the Dallas Police and Safer Dallas to help connect the Dallas community to public safety."
Housing Authority Safety
Surveillance cameras are also being used to fight crime and vandalism in residential areas. But when people see the cameras every day they can become just part of the scenery and criminals get more brazen.
Such indifference by criminals to the existing surveillance cameras was one reason why the Long Beach (NY) Housing Authority (LBHA) recently acquired a new security system. The LBHA also wanted to update the technology it was using. The existing system lacked efficient export capabilities and did not capture images in high enough resolution to be useful in investigations and prosecutions.
LBHA worked with systems integrator DVSS (www.dvss-security.com) to install a full security solution, including Avigilon HD Pro, HD Dome, and HD Multisensor cameras. On the back end the system included: Avigilon Control Center video management software and network video recorders.
The result has been a 70% reduction of crime in the LBHA properties, officials say. The new system's success led the Long Beach Police Department to integrate with it for streaming and downloading video to police headquarters and to officers' mobile devices in the field. The partnership between LBHA and the police has led to dozens of high-profile arrests.
David Griffith is editor of POLICE/PoliceMag.com.