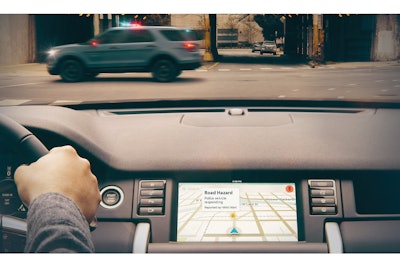 Inspiration struck Cory Hohs when he was almost struck by an ambulance while riding his motorcycle down a busy Chicago street. The vehicle's lights and sirens hadn't been enough to make him aware of the ambulance until it was right on top of him. This near miss led to the development of HAAS Alert's Safety Cloud to notify drivers of nearby emergency vehicles and help prevent collisions.
While conducting research to create this service, Hohs and his team learned that vehicle collisions are the leading cause of death for law enforcement officers. At that point, HAAS Alert's mission became to help prevent such deaths.
"Up until now, the only options were move-over enforcement or educational campaigns, but enforcement and education aren't the same as prevention," says Hohs, CEO and co-founder of HAAS Alert. "People usually have about 3 seconds to react once they see lights and hear sirens before impact. It's closer to 30 seconds with our service, which is usually broadcast to drivers about a half-mile before they're approaching a vehicle and ensures more time for the driver to react."
The earliest versions of the service explored using technology to recognize the sound of emergency sirens and then alert drivers of an approaching vehicle. But in noisy cities that didn't always work, and it didn't inform drivers about stationary vehicles with only lights activated for a traffic stop, for example.
Now, HAAS Alert's Safety Cloud activates and broadcasts an alert via a cellular signal when emergency lights and sirens are active. "That's the trigger most departments use to know that these vehicles actually want to be seen and are trying to alert drivers near the vehicle to their presence," says Hohs. It's important to the company that their service not compromise officer safety by disclosing police vehicles' locations.
He says Safety Cloud alerts, which pop up on a smartphone screen, provide drivers with just enough information to protect them. They don't even specify a law enforcement vehicle, just that some type of emergency vehicle is near. One type of alert is for stationary vehicles ahead, and the other is for vehicles actively responding nearby.
The system is most often set up to trigger once an emergency vehicle's lightbar is activated, but it is very flexible. Safety Cloud could be set up to only broadcast alerts to drivers once one specific lightbar pattern is activated, or it could be connected to a different device's "switch" to trigger activation, allowing the service to be used by unmarked cars without activating lights and sirens.
This flexibility extends beyond activation. "We intentionally developed this so that it universally works with all first responder vehicles, no matter how old, no matter the make or model," says Hohs. And it can connect with any make of lightbar and work with any existing technologies being used in the vehicle. "It doesn't have to replace or dislodge anything. It just sits on top of whatever they already have," Hohs adds.
Hardware-free integration is available, but most Safety Cloud customers choose to connect via a cellular transponder that wires directly into their vehicle. It's about the size of an iPhone and is made to be unobtrusive. Installation of the entire system takes only around 30 minutes per vehicle. Once it's set up, the officer doesn't need to do anything differently, which is helpful from both an efficiency and safety perspective.
And the service doesn't require a separate cellular data package to maintain reliability. "You're sending such a small amount of data, not like video, so even in a low cell area, this product has been proven to work great, from large to small rural departments," he says.
Around 100 million alerts have been processed through the service via the Waze crowdsourcing navigation app used by many drivers on their phones. But HAAS Alert is seeking out partnerships with many companies to extend its reach, including working directly with car manufacturers to eventually make Safety Cloud digital alerts just as common as a speed alert warning on a car's instrument cluster, Hohs says. "We want alerts accessible to everyone, to be as effective as possible."
The company is already partnering with manufacturers of police vehicle accessories, such as Code 3, to integrate the service into their lightbars. Safety Cloud can also integrate into vehicles' existing telematics systems.
To further meet law enforcement agencies' needs, HAAS Alerts wants to futureproof Safety Cloud so it will work for years to come. Should a city get 5G or some other future technology, it's very easy to swap out the unit for a newer version, Hohs says. In the meantime, the company is constantly updating its core service with new features, which are added for no additional cost via over-the-air updates, so there's no vehicle downtime to receive them.
Cost for the Safety Cloud service suite depends on factors including integration and the length of the service contract, but Hohs says it usually equates to around a dollar per vehicle per day.
Advanced add-on services, such as smart city data integrations, are also available. For now, HAAS Alerts is focused on delivering safety alerts to save the lives of police officers and members of the public they serve.