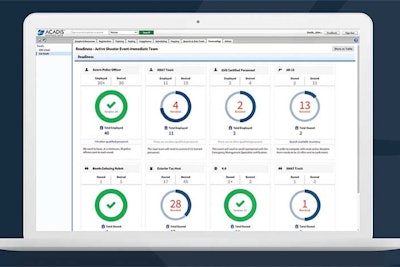 This year has shown us with stunning clarity the importance of a mission-ready law enforcement agency. As COVID-19 placed unprecedented demand on first responders everywhere, law enforcement administrators confronted a harsh reality. They discovered that in a situation that changes nearly every hour, real-time training is not only ideal, it's a matter of life and death. And under social distancing mandates, delivering that training can seem impossible.
Through online content delivery, the Acadis Readiness Suite facilitates up-to-the-minute training from anywhere in the world. Officers can maintain a healthy distance from their peers—and others—and be assured that they are receiving the most current, relevant, and accurate information to use in their front-line battle against COVID-19.
Training and Certification
The Acadis Learning Management System (LMS) allows you to create an online library of courses and training sessions. Through the secure student portal, officers can access your custom-designed instructional materials—including videos, classes, interactive content, activities, quizzes, and even the certifications associated with the successful completion of online training. If you want to generate a custom diploma for content completion, Acadis can do that, and even include the state and/or federal seals (where applicable) to show appropriate compliance.
While this content can be made available 24/7 and completed at a self-determined pace, many administrators also add discussions (with notifications) to online content like classes and activities. This allows law enforcement personnel to connect with classmates and instructors in meaningful ways, all while maintaining a safe distance from others.
Not all courses are created alike and not all staff will successfully complete them the first time. With Acadis LMS if you want to allow retakes for one test, but not for another one, you can set a Course Retake Rule. You can also store all the results for every officer. Acadis seamlessly records completion metrics, test scores, and other results directly to a person's training record (no paper required).
Through LMS' robust management dashboard, law enforcement administrators have access to a powerful catalog of capabilities, including automated e-mails, facility management, and more. This gives you a secure connection to every one of your records from anywhere you access the Internet.
Automated Scheduling
With Acadis Scheduling, you can establish rules for instructors, facilities, equipment, and other assets, then allow Acadis to schedule them automatically, creating a seamless schedule in minutes. When disruptions happen—and you know they will—you can perform real-time manual adjustments, continually making the best use of your time and resources, and providing updates to registrars, students, and other important stakeholders throughout the process.
Acadis Scheduling means you're always in control of the moving parts that affect training logistics, and Acadis does the "heavy lifting" when it comes to putting students in the right training sessions with the right instructors at the right times. In fact, some organizations that switch from older systems to Acadis Scheduling save up to 90% of the time they previously spent on creating and updating schedules. Whether your staff trains in the classroom, at the firing range, or online, you can manage capacity planning and space conflicts easily with Acadis Scheduling.
Real-Time Inventory Tracking
Part of what makes a crisis is a sudden and unexpected need for resources that your force might not use on a regular basis. For example, do you know how many gas masks your organization owns? Where are they? Are any in use right now? Who is using them? What about vehicles, firearms, and service animals?
Acadis Inventory lets organizations keep up-to-the-minute records on the whereabouts, condition, and purpose of every item in their inventory. A full chain-of-custody record can be recorded for any inventory item, providing legally defensible documentation about the whereabouts of weapons, protective equipment, consumable items, and more. From a desk, mobile phone, or laptop, your force can immediately see what is available for use and respond to situations accordingly.
Next-Level Security
Does your current software meet FedRAMP requirements? What about FISMA or DHS 4300? And is it SCORM-compatible? If the answer is no—or worse, if you're not sure—rest assured that Acadis handles all of this for you. When you share content, provide training, schedule facilities, and keep personnel records, Acadis provides a level of security that is unmatched by other systems. It also maintains legally defensible records, which can prove invaluable in the face of litigation, media scrutiny, or heightened community awareness due to controversial or unprecedented events.
The Acadis security framework is designed to eliminate security vulnerabilities and prevent cross-site scripting, SQL injection attacks, and other malicious attempts to access or manipulate data. The intent is to give system administrators the flexibility to work efficiently, but never at the expense of data security. This helps ensure that no matter where they are, when students access your content, they do so through software that meets federal guidelines for security.
Promote Readiness
In uncertain times, when conditions don't allow for "business as usual," Acadis provides ways to keep your force informed, trained, and ready for action. Unlike setups that require law enforcement administrators to use multiple systems for scheduling, training, inventory, and case management, Acadis integrates these related tasks—and more—so you spend less time keeping records, and more time helping your staff stay on the cutting edge of best practice research and performance.
The more you let Acadis do for you, the more you can focus on what's important: preparing your world-class talent to respond to your community's most pressing needs.
Ari Vidali is founder and CEO of Envisage Technologies. He has produced technology for public safety professionals for more than 20 years.