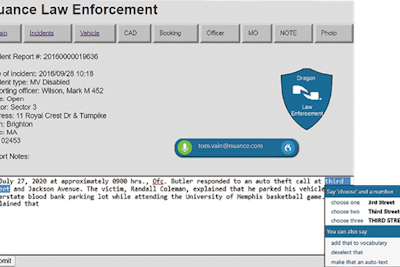 This month Nuance will launch a new version of its popular law enforcement voice recognition/dictation software, Dragon Law Enforcement. Currently the software, which is primarily used by officers in report writing, must be installed on each individual computer. The new version is delivered as Software as a Service (SaaS) and is cloud-hosted.
Michael Millward, a technical expert at Nuance, says Dragon Professional Anywhere is a proven speech recognition tool, utilizing the same Nuance technology used by the healthcare sector for three years. This law enforcement version delivers a specialized vocabulary and is continually updated to ensure accuracy within police applications.
As a cloud-hosted SaaS solution, Dragon Professional Anywhere is designed to save law enforcement agencies money. "It potentially reduces your capital expense because you are not purchasing any on-premise servers. We're taking care of all that for you," Millward says.
Other benefits of the "thin client" cloud architecture of Dragon Professional Anywhere, include automatic updates, so that IT managers know each officer is using the latest version of the software.
Dragon Professional Anywhere also has features that let administrators send out customizations and templates to all of their agency users. "You can push out the latest forms to all of your officers instantly and not have to worry about version control issues," Millward says. "Additionally, Dragon Professional Anywhere requires significantly less RAM and on-disk storage than Dragon Law Enforcement. This is a very lightweight client."
Bundled at no additional cost with Dragon Professional Anywhere is Nuance's mobile app, Dragon Anywhere Mobile. Millward says the mobile app runs on both Android and iOS. He adds that one of the reasons Nuance wanted to provide this tool for its law enforcement customers is officers increasingly have access to dedicated first responder connectivity like AT&T FirstNet and Verizon's Responder Private Core.
Dragon Anywhere Mobile "is an extension of the Windows client," Millward says. He adds that Nuance recognizes most officers today carry mobile devices, so when they leave their vehicles or leave their offices, they need Dragon on iOS or Android.
Millward says Nuance's law enforcement customers have told him a big advantage to the use of speech recognition in the field is that when they are at a crime scene or responding to a domestic disturbance they will be more thorough with their reporting.
"Once officers learn how to dictate, they capture more immediacy and more detail," he says. "And quite candidly, they tell me they sometimes don't capture these details when they have to write notes by hand. With the Dragon Professional Anywhere mobile app, this becomes an extremely fluid process."
Millward has been showing the features of Dragon Professional Anywhere and the mobile app to law enforcement. He says detectives, in particular, are thrilled with the app because it means the end of taking shorthand notes at crime scenes.
Dragon Professional Anywhere is hosted in the secure Microsoft Azure cloud service. The data is encrypted following industry standard frameworks, and can be easily recovered in the unlikely event of server failure. "We have the ability to roll over to an alternate data center quickly if needed," Millward says.
Nuance says Dragon Professional Anywhere is priced comparably to other SaaS software products and current Dragon Law Enforcement customers may be offered incentives to transition to the cloud-based solution.
To learn more and see a demo of Dragon Professional in action, register for the webinar: