License plate recognition (LPR) systems are one of those whiz-bang law enforcement technologies that we associate with the 21st century, but they have their origins in the 1970s. And the concept hasn't changed much since the disco era: the system reads license plates and compares them to a hotlist to find matches. But with the latest generation of systems, companies are adding new features and technologies that are making LPR solutions much more capable of enhancing public safety.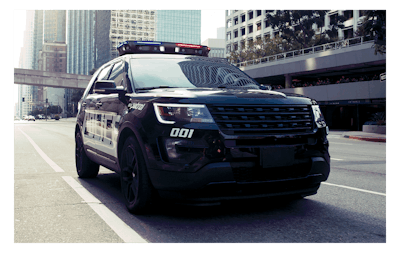 Ekin
The Patrol G2 smart patrol from Ekin www.ekin.com debuted in the United States at the International Association of Chiefs of Police (IACP) show in 2014. And it started offering its license plate reader (LPR) and other smart patrol solutions in the second quarter of 2019.
"We used the time (between the introduction and the product rollout) to study the market and get a feel for the needs and expectations of the law enforcement community as a whole," says Gerardo Diaz, Ekin's director of business development. This year Ekin formed a partnership with Recon Power, maker of electronic bikes for law enforcement, to demo its smart patrol solutions to law enforcement agencies nationwide.
Ekin's Patrol G2 is a modular system that is built on a foundation of LPR and video surveillance capabilities. Its LPR solution is bolstered by artificial intelligence resulting in a 99% accuracy rate under normal climate conditions, according to Diaz. Optional features for the Patrol G2 include facial recognition, speed enforcement, redlight violation detection, and more. In addition to the Patrol G2 smart patrol system, Ekin makes a variety of mobile and fixed solutions.
The LPR systems from Ekin are part of the company's scalable software ecosystem, Diaz says. This means that new capabilities can be added as they are developed. For example, the license plate recognition capabilities are now available in a smartphone app for mobile use. Diaz says Ekin is working on adding seatbelt wear detection and mobile phone use detection to the system.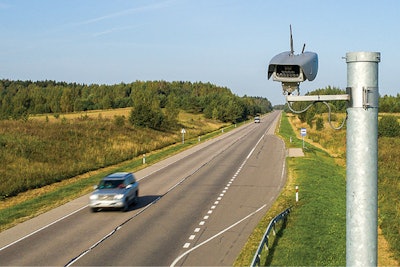 Jenoptik
Jenoptik www.jenoptik.com has been providing LPR systems to U.S. law enforcement for two-and-a-half years. Finbarr O'Carroll, head of Jenoptik Light & Safety North America, says the company is seeing more and more interest from American police agencies.
O'Carroll says Jenoptik is different from some of its competitors in that it has developed its own optical character reader (OCR) engine. The Jenoptik OCR technology is enhanced by the company's deep learning engine machine learning (AI) software. The technology is built into Jenoptik's LPR cameras for extremely fast processing of data.
"We just deployed with a Texas agency," O'Carroll says. "They were getting some results with their old LPR system in 60 seconds. But if it was slow, it could take two to three minutes. We've given them the ability to get alerts in about five seconds." O'Carroll says the alert is actually ready much faster than five seconds but sending the data to the officers is delayed for a few seconds while waiting for a photo of the vehicle to be downloaded over the cellular network so that the officer can establish probable cause for a stop. In the first three weeks of using the Jenoptik LPR solution, the Texas agency recovered eight stolen vehicles.
O'Carroll says the deep learning engine AI built into Jenoptik's LPR cameras has made them extremely accurate, even when plates are scratched or part of a character is obscured by mud or other opaque materials. "The deep learning software can identify the bottom of an obscured letter or number because it knows what the full one looks like," he explains. Jenoptik's AI deep learning software is trained with 50,000 plates. Then it learns as it sees even more plates.
Jenoptik's LPR systems are available in mobile and fixed versions. The technology can also be installed into the company's redlight and speed detection systems. O'Carroll says Jenoptik has delivered traffic safety systems to more than 2,500 American users and he believes many of these customers will soon be using the company's LPR tools as well.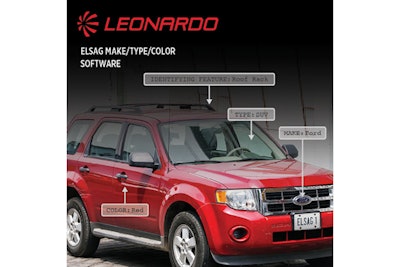 Leonardo (ELSAG)
ELSAG, a brand of the Italian aerospace and defense/security conglomerate Leonardo, is one of the best-known producers of LPR systems for the U.S. law enforcement market. ELSAG brand products www.leonardocompany-us.com have been a fixture at the International Association of Chiefs of Police (IACP) show for more than a decade.
The company makes both mobile and fixed LPR systems. It's latest mobile system is its seventh generation of the Mobile Plate Hunter. The newest Mobile Plate Hunter features a processor box that is 50% smaller than its predecessor and is IP67 rated for weather and dust. The cameras have been fitted with the latest imaging technology and offer high-resolution files of 1280 x 1024 pixels.
Leonardo says the ELSAG Mobile Plate Hunter can capture plate reads in any weather and day or night. It can even capture images of plates at passing and closing speeds of 150 mph.
Data recorded by the mobile system includes date/time and GPS coordinates. The fixed ELSAG systems can also capture the speed of passing vehicles.
Leonardo's ELSAG LPR systems are in use at numerous agencies nationwide. The company's technology is used at some of the country's largest agencies but also at medium-sized agencies such as the Allentown (PA) Police Department and the Lenexa (KS) Police Department and at small agencies such as the Duck (NC) Police Department.
Duck, on the North Carolina Outer Banks barrier islands, is a tiny community, but it has a large tourist population during the warm months. With that tourist population comes more crime than seen in the typical small town. Duck Police Chief John R. Cueto says the LPR systems have helped his agency solve chains of burglaries, recover stolen vehicles, and make opioid trafficking arrests. The LPR systems have also been used during hurricane evacuations and during the COVID-19 pandemic.
Motorola Solutions
In 2019 Motorola Solutions acquired one of the largest LPR producers in the United States, Vigilant Solutions
www.vigilantsolutions.com. Motorola makes a variety of mobile and fixed LPR systems. It also makes an innovative quick deploy LPR system.
The ReaperHD High-Definition LPR Camera is the backbone of Motorola's mobile and fixed LPR systems. Motorola says the ReaperHD can capture nearly 60 license plate scans per camera per second. The system is IP67 rated against dust and water.
Motorola's L5Q is the company's quick deploy LPR camera system. The L5Q offers flexible power options
AC/DC or solar. It features built in cellular communications and is ruggedly constructed with an IP66 rating for defense against the elements.
Users of Motorola's LPR systems can take advantage of the company's Vigilant PlateSearch intelligence solution. The cloud-based software uses analytics and local and national plate databases to identify and predict vehicle sightings. PlateSearch can pinpoint past vehicle locations, determine where to contact the subject, and even help investigators associate other vehicles to the target vehicle.
Last year in addition to acquiring Vigilant Solutions, Motorola acquired one of the nation's largest makers of in-vehicle video systems and body cameras, WatchGuard Video www.watchguardvideo.com. Recently, the company announced that it is now offering LPR capabilities in its WatchGuard 4RE in-car video system.
NDI-RS
NDI Recognition Systems www.ndi-rs.com makes a wide variety of LPR systems, including in-car, fixed, and portable. The company's U.S. headquarters are in Florida so some of its most active customers are in the Sunshine State.
NDI-RS systems are in use by the Daytona Beach (FL) Police Department. The popular tourist destination draws more than 8 million visitors annually and the department's 250 sworn officers provide services for them and the 67,000 year-round residents of the city. That's a heavy mission for a small force, so the department deploys LPR systems to help maximize its resources.
Daytona Beach PD fields both stationary and mobile NDI-RS systems.
After a bank robbery in the neighboring community of Ormond Beach, officers identified a personalized license plate on a suspect car. Witnesses also said the car had no hubcaps. The Daytona Beach PD used NDI-RS's VeriPlate Intelligence Server and Communications engine to determine the suspect had since acquired new hubcaps for the vehicle. Daytona Beach officers were able to act on that intelligence and locate and apprehend the suspect, who subsequently confessed and was charged with four counts of bank robbery.