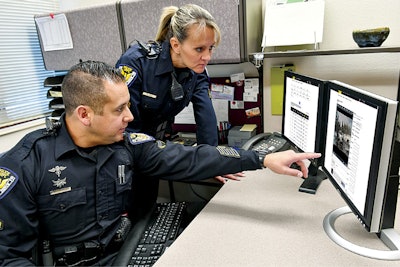 Last month Axon announced new features for its software and hardware, including tools to improve police transparency, improve training, and save supervisors time on video auditing.
The new features are:
Priority-Ranked Video Audit—An addition to Axon's Performance software that uses Axon's Transcription technology to automatically rank videos for supervisor review based on keywords that are transcribed from the audio of body camera videos such as offensive or agency-selected keywords as well as events such as unholstering a firearm or arming a TASER device.
Use of Force Dashboard—Allows supervisors to access interactive reports on use-of-force incidents in real time within Axon Standards.
VR Peer Intervention Training—Virtual reality training that prepares officers to intervene with colleagues when policy and law require.
Hypermedia Markers—Automatically flags key events captured on body camera for review in Axon Evidence such as when a TASER device was armed or when a firearm was removed from its holster.
LED Auto Brightness—Auto-adjusts the body camera's LED brightness using ambient light conditions to help keep officers safe at night and still provide transparency by showing when an officer is recording.
Publish to Social Media—Allows police agencies to easily publish approved body camera videos to their social media pages and channels.
Social Media and Webpage Evidence—Allows police and communities to submit digital evidence captured from web pages, including social media, to help get to the truth faster and save valuable time in an investigation.
Jeff Kunins, Axon's chief product officer and executive vice president of software, says the eight new features are part of what the company calls "Sprint for Justice." With the in-custody death of George Floyd and the weeks of anti-police protests and riots that followed, Axon's employees wanted to take action to help law enforcement agencies enhance community transparency and improve officer training.
To determine what actions would be most beneficial, Axon employees participated in roundtable discussions with law enforcement agencies and community members. From those discussions, Axon produced a list of possible initiatives. "So we asked what can we do the most quickly that would have the most impact directly in support of our mission," Kunins says. The list was narrowed.
More than 200 engineers were reassigned to the eight Sprint for Justice features. They developed them all in just two weeks. Kunins says each of the new features was already being piloted by law enforcement agencies. "We look forward to rolling them out more broadly," he adds.
Most of the new features are about adding tools to software, but one changes how the camera itself operates. Kunins says the new LED Auto Brightness feature on the Axon Body 3 gives law enforcement officers more options for controlling the LED indicators on the camera.
The new feature uses the light meter in the camera to set the brightness of the "recording activated" LED. Officers can also turn off the LED for tactical reasons. Kunins says that a lot of officers just turn off the LED throughout their entire shifts. "This creates a disconnect between community members and the police about how often body cameras are on and recording and how often they are actually recording," he adds. If users turn on the LED Auto Brightness setting, the blinking light will be brighter in sunlight and dimmer as darkness falls.
On the software side, the most in demand feature is likely to be the Priority-Ranked Video Audit. Available to agencies that use Axon's Performance software, which is part of the company's Officer Safety Plan 7+, Priority-Ranked Video Audit was developed to help supervisors perform more efficient audits of a given officer's videos.
Kunins says most agencies require supervisors to perform random audits of their officers' body camera videos. The problem with that concept, he explains, is that if the videos are selected at random they often show something very mundane. The new feature allows the supervisor to randomly select videos with specific keywords in the transcriptions of the video. "This is about helping police supervisors with the 'needle in the haystack' problem so that they get a more valid and useful random auditing out of a huge volume of videos," Kunins says.
The Cherry Hill (NJ) Police Department is one of the first users of the Priority-Ranked Video Audit feature in Performance. Cherry Hill Police Chief William Monaghan says of the new audit feature, "Not only will it save us time but by surfacing issues that need attention, it will support our ability to uphold the individual rights and dignity for all people in our community."
One of the ways that agencies can address issues that need attention before they actually become a problem is through Axon's immersive virtual reality training modules. The company already offers empathy training on how to deal with subjects with schizophrenia, autism, and suicidal ideation.
As part of the Sprint for Justice and in reaction to the George Floyd incident, Axon is offering a new VR training module on how to intervene when other officers are violating policy or the law. Kunins says such peer intervention training is commonly used in pilot instruction by the airlines.
Axon has also added some more capabilities to its Axon Standards product. Standards is designed for use by professional standards and internal affairs units. One of its primary applications is tracking and reporting use of force. A new feature in Standards is the Use of Force Dashboard, which allows users to visualize data and trends.
According to Kunins, the new features in the Sprint for Justice have been well received by law enforcement. "The feedback has been incredibly positive," Kunins says.
He adds that Axon believes the Sprint for Justice features will assist officers as well as agencies. "I think every one of these features is officer safety related," Kunins says. "They give agencies the ability to improve officer safety by addressing challenges before they become a bigger problem. We are also helping officers do a better job protecting the communities they serve, improving transparency, accountability, and relationships with those
communities."