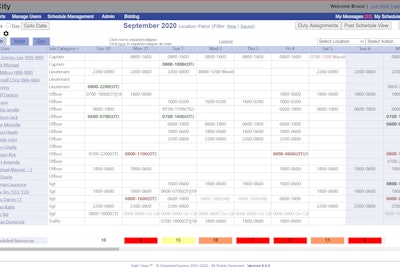 One of the most time-consuming and complicated tasks in law enforcement administration is scheduling the workforce to ensure that enough officers and non-sworn professionals are on duty. It's not just a matter of calculating that you need X number of officers on the graveyard shift. They have to have support. Special units have to be on duty or on call. And the way the officers and agency personnel are assigned is governed by municipal rules and union agreements. Given the difficulty of scheduling law enforcement, it's little surprise that workforce management software is in high demand. But not all workforce management tools are purpose-built to meet the unique demands of law enforcement like Schedule Express.
The Problem
In order to appreciate the benefits of implementing a dedicated law enforcement workforce management solution like Schedule Express into your agency, it's critical to first understand the personnel scheduling challenges that plague too many law enforcement agencies.
Law enforcement agencies are often behind the curve when it comes to adopting technology. This is not because police aren't technologically savvy. It's because agencies must cope with budgets set by politicians in their communities, augmented by whatever grant money they can bring in. As a result, many agencies are forced to use antiquated methods for scheduling officer coverage.
There are agencies where lieutenants, captains, or other managerial commanders still use only a pen and paper to determine when and where their officers are working. Others use Excel spreadsheets or similar, and some try their best to make do with generic scheduling software that was never designed to meet the robust needs of law enforcement operations. Up front, these scheduling methods may seem less expensive than buying a dedicated public safety workforce management solution, but in the long run they are costing you more, much more.
They are costing you productivity in the lost contributions of your most skilled leaders. There are agencies that have command-level staff tasked primarily with scheduling, which means they are losing valuable labor hours from high-skilled, high-paid personnel that could be used for other essential agency operations, rather than simply ensuring enough officers are on the job.
They are costing you time, the wasted hours of all personnel involved manually performing all schedule-related tasks. These hours are your agency's most valuable asset: They represent the invaluable experience those men and women are spending on administrative scheduling tasks instead of being on patrol, investigations, and more.
And they are costing you money in no small amount. Both the above, productivity and time, represent a significant loss of resources. The hourly wages are lost to what could be automated in minutes, and all the time your personnel can no longer reinvest into your operations. Our clients are consistently shocked when we help them audit their operations and they discover the amount of waste.
The Solution
Law enforcement agencies need a workforce management solution that was designed by first responders for first responders, one that is feature rich, and automates many of the tedious tasks encumbering their operations and draining their valuable resources. This is precisely what our product, Schedule Express, is uniquely designed to do.
Powered by the latest technology, Schedule Express is an award-winning, cloud-based software as a service (SaaS) solution for public safety workforce management. It offers a wide variety of features designed to make law enforcement scheduling more efficient and more accurate. Most importantly, it's created by former first responders who know the public safety environment, which is something those who have never lived struggle to understand.
Some of the basic benefits of Schedule Express include workflow automation, real-time notifications, accessibility at any time and from anywhere so that officers are always up to date on their schedules, an easy-to-use interface designed specifically for law enforcement, and interface with your payroll services provider.
The most important feature of Schedule Express is that it follows your agency's rules and knows your needs. This is not a one-size-fits-all solution because we know that no such thing exists for law enforcement. It is set up according to your collective bargaining agreements and local government staffing regulations. It's configured to account for your required staffing level, and alerts you if your agency is facing a shortage. Schedule Express offers a variety of highly advanced features to make the job of scheduling your workforce easier.
Analytics—Schedule Express offers administrators and law enforcement commanders powerful reporting and analytical tools that they can use to break down critical data. Authorized users can access the analytics and determine, for example, how much overtime they need to be scheduling to cover the agency's needs.
Security—Some scheduling applications in use by law enforcement do not offer state-of-the-art security. Schedule Express runs on Amazon Web Services EC2 Cloud platform. Users can access the application through full two-factor authentication. The software and your data are protected through high-level encryption.
Pooled Shift Bidding—One of the most complex and labor-intensive tasks facing police scheduling administrators is shift bidding. The process is so difficult that, especially in larger agencies, it can take multiple commanders and supervisors months to complete. Schedule Express facilitates quick and efficient pooled shift bidding and assignments—all according to your agency's rules. It sends the shift bid announcement to all your officers simultaneously, then intelligently stacks the names for the authorized administrator to review—either accepting or denying them all at once, by group, or individually.
To put the power of this tool in perspective: one large agency formerly assigned two lieutenants and two sergeants to this task, which literally took months to complete. They now can conduct their shift bidding process with one lieutenant who can oversee and complete it in two weeks or less.
Pricing, Setup, and Support
Schedule Express is priced on a per user basis, which is any person authorized to access the application, including patrol officers, watch commanders, shift supervisors, administration, and command staff. Once you sign up with Schedule Express, our team configures your system to comply with your specific needs. We train your staff to use the system, and our support team is available to our customers 24 hours per day, seven days a week. Because we are a SaaS solution, updates occur automatically in our secure cloud.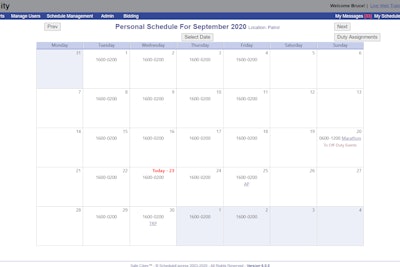 Case Study
Schedule Express is employed in a variety of law enforcement agencies nationwide, ranging in size from major city police departments to smaller agencies in rural townships. The Blaine (MN) Police Department is one such agency that has experienced great success with Schedule Express.
Located in the Minneapolis-St. Paul metropolitan area, the Blaine suburb has a population of about 65,000 people and a police force of 71 sworn officers. In late 2019, Blaine PD contracted with Schedule Express for its workforce management needs. Schedule Express was able to replace and consolidate three separate and unsynchronized products into a single solution, according to Captain Mark Boerboom.
Boerboom says the implementation of Schedule Express saves the agency 1,882 hours of administrative labor on a reoccurring annual basis. He calculates the return-on-investment value of the labor savings at more than $62,000 annually. More importantly, the supervisors that were spending so much time in the office managing their workforce are now spending that time out in the city leading their officers.
Mark Musick is CEO of Schedule Express.