Many law enforcement agencies have an overwhelming amount of data about the performance of their officers. It's in citations, reports, computer-aided dispatch logs, internal affairs files, and dozens of other primary sources. And most of it cannot easily be analyzed or even read, making if difficult for agencies to reward high-performing officers and identify problems with others.
Unlocking all of the potential for improving officer performance in all of that data is the goal of a new analytics tool from SAS. The new SAS for Officer Readiness is a powerful tool for helping supervisors and commanders "create a more high-performing department."
Major Juan Colon, retired from the New Jersey State Police and a consultant for SAS, says the company's new product can help reveal trends or patterns that can represent risk for the agency. "It is something like a check engine light. The check engine light lets you know that something is going wrong, so you don't wait until the next scheduled maintenance and have something catastrophic happen to your vehicle. You don't want to wait until the next evaluation to find out something is wrong, you want to have continuous awareness," he says.
Colon adds that SAS for Officer Readiness is not a "gotcha" tool. Not only can it detect behaviors that need correction or counseling, it also reveals positive performance that supervisors may have not noticed.
SAS consultant and former chief of the Los Angeles School Police Department Todd Chamberlain says making officer evaluations at many agencies can be too subjective because of difficulties analyzing the available data. "Some agencies have too much data, while others don't have enough," he says.
The Durham (NC) Police Department is the first agency to test SAS for Officer Readiness. Jason Schiess, manager of the analytical division for the Durham PD, says the test of the software came about through discussions with SAS that began last year. "We have been looking for technology to assist us in holistically measuring officer readiness, wellness, and performance. SAS came along at the perfect time."
SAS for Officer Readiness can pull data from a variety of agency sources, including records management systems, CAD, and other software tools commonly in use by law enforcement agencies. It also uses the number of use-of-force incidents with reports attached, training records, citizen feedback, commendations, and other performance indicators in its analysis. Each of these pieces of information is scored according to frequency and quantity and other factors as set by the agency. The analysis is used to produce easy-to-read visual representations of officer performance in context with the agency's other officers with similar assignments.
Durham PD is still implementing the technology and hasn't gone live yet, but Schiess and Chief C.J. Davis are excited about its potential. "By integrating and analyzing our data in new ways, we will gain a deeper understanding of how our department and our community can grow and thrive together," Davis said in a statement.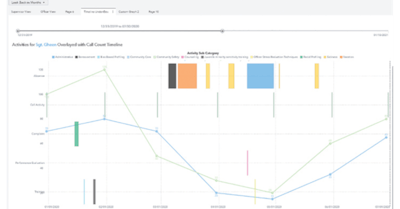 Community engagement is one of the traits that the software analyzes. Colon says this kind of performance is one of the pieces of information that traditional officer evaluation methods often fail to capture. He explains that "agencies are not well equipped to track positive community engagement" such as working with and speaking with business owners and kids and other community members.
"These data sets act as pixels on a picture that tell you what is going on with an officer," Colon says. He adds that it's important to realize that "The picture changes over time, it's dynamic."
One of the most important features of SAS for Officer Readiness, according to Colon, is that it can reveal changes in an officer's performance. These changes can be indicators of an officer dealing with stress, the effects of trauma, or even PTSD. "When a frontline supervisor sees this deviation in the reports, they can take pre-emptive, proactive action to get that officer the resources they need," Colon says. Officers dealing with extraordinary stress or with trauma are "more apt to engage in incidents that are adverse to the community, including vehicle crashes, accidental discharges, and improper uses of force," he adds. "[With SAS for Officer Readiness] frontline supervisors can intervene and prevent officers from being involved in major incidents. It's not a panacea but it is a tool to improve officer wellness."
SAS for Officer Readiness can illuminate stress being experienced by an individual officer. It can also reveal deviations from normal performance for units. "A unit's performance level can decrease because of stress or trauma. It can also decline because of ineffective leadership," Colon says.
Durham PD has tried monitoring officer stress before, according to Schiess. "A few years ago we had officers wear biometric devices," he explains. "One of the officers was sent to a suicide call where a person jumped from a building. They were the first officer on the scene. We saw the incident response was not the cause of the highest stress. The highest stress was the death notification."
Schiess says SAS for Officer Readiness will augment other systems the Durham PD has in place to monitor officer health and performance. He adds the agency has mental health resources that officers can access on their own without involving commanders and supervisors.
Durham PD plans to have the software up and running before the end of the summer.
In addition to showing officer performance, SAS for Officer Readiness also maintains record of qualifications and certifications. The system has three levels of access: Executive, Supervisors, and Officer. Individual officers can view the analysis of their own performance. This can help officers improve their performance, according to Colon.