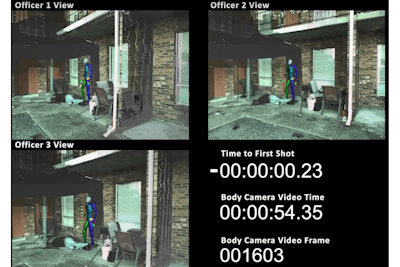 Law enforcement agencies are processing more digital evidence than ever. With public and private cameras saturating cities and neighborhoods and mandates on the use of body worn cameras by officers, the volume of digital evidence is growing exponentially.
THE PROBLEM
While video footage and photographs are important pieces of evidence, they do not tell the whole story of an incident. Key factors are not accurately represented, including distance, positions of people and objects, or timing of events. Traditional digital forensic methods provide video or audio enhancement but can still fall short of addressing the most crucial points of a case.
Additionally, the volume of data has become immense and that has created a problem for law enforcement agencies. Most do not have the re-sources, staff, and training to perform in-depth analysis on the digital evidence associated with each case. And yet, these pieces of digital evidence end up in the media to be tried by the court of public opinion.
THE SOLUTION
Knott Laboratory, a forensic engineering and animation firm, created Digital Media Forensics, a new division to assist law enforcement with analysis of digital evidence.
Digital Media Forensics uses existing digital evidence and data to recreate crime scenes in 3D and allow you to establish facts of the case that were previously unobtainable. The digital evidence is then meshed in a variety of formats to present the case from the most appropriate vantage point to a jury. These scientifically accurate reenactments have been admitted as evidence in courts across the United States.
For example, Digital Media Forensics can use video, audio, and GPS evidence from:
• Body-worn cameras
• Surveillance cameras
• Patrol dashboard cameras
• Cell phones
• Video doorbells
• Traffic cameras
• Photographs from the scene
• Drone footage
It can then merge this evidence with a point cloud such as from a Faro scanner to find key factors, including positions of people, vehicles, and objects; a second-by-second timeline of events; alternate perspectives from a better vantage point; speed, pitch, yaw, roll, and angles of objects; locations of evidence, and points of rest.
Once video analysis is complete, Knott Laboratory's Digital Media Forensics experts can use motion capture, real-time simulation, interactive visualizations, and virtual reality to create custom case presentations. Each is built in the 3D environment that best showcases the actual event.
The outcome of some cases often hinges on exact positions of officers, suspects, and victims or the exact timing of events such as the duration be-tween verbal commands and action. Digital Media Forensics can be used to answer these questions.
Additionally, there is an ever-increasing demand for transparency with the public when critical incidents occur. The objective, scientific analysis provided by Digital Media Forensics enables law enforcement agencies to clearly communicate the event to their community.
CASE STUDY
The capabilities of Digital Media Forensics have been demonstrated in an unusual civil lawsuit and in other cases.
In 2014, legendary NASCAR driver Tony Stewart was participating in a sprint car race at a dirt track in Ontario County, NY. During the race, Stewart struck fellow driver Kevin Ward Jr., killing Ward. The incident resulted in a criminal investigation and a lawsuit.
Stewart and Ward were racing closely, and as Stewart attempted to overtake Ward, Ward lost control of his car impacting the wall in a corner. Ward immediately exited his vehicle, and a yellow caution flag was raised. Ward walked down the track and appeared to be trying to address Stew-art. Numerous other drivers moved to the lowest area of the track and slowed down in accordance with the caution flag. However, when Stewart passed Ward, he clipped Ward, killing him.
A criminal investigation was launched, conducted by the small agency that had jurisdiction in this rural area. There was one video of the incident, taken by a track videographer from the press box area and little other physical evidence. The investigation relied heavily on witness testimony, which provided inconsistent observations. Ultimately the case was taken to a grand jury which chose not to indict Stewart.
The family of Kevin Ward then pursued a wrongful death civil lawsuit against Stewart. Knott Laboratory was contracted to discover answers to key questions in the case, using just the sole video and incident records.
The Digital Media Forensics team performed a 3D laser scan of the scene to generate a point cloud. The team also performed 3D scans of exemplar sprint cars used in the race. Digital Media Forensics experts then applied videogrammetry and matchmoving techniques with the provided track video. This made it possible to analyze the movements of Ward and each sprint car, including speed, yaw angles, and X,Y,Z coordinates at the rate of 30 samples per second.
It was found that prior to the impact, Ward stayed relatively stationary and remained out of the path of the six prior sprint cars that passed. Digital Media Forensics's recreation showed Stewart's vehicle speed, acceleration, angle, and vehicle path were all found to be different than each of the previous six cars. Our recreation also showed that immediately prior to impact, Stewart's vehicle accelerated and maneuvered causing it to drift up the track where it impacted Ward.
The Digital Media Forensics team produced a scientifically accurate visualization of the incident to clearly show the findings. This analysis was used in the civil court proceedings. The lawsuit between the Ward family and Stewart was settled before trial.
To view the complete visualization of this incident and other incidents, and to learn more about Digital Media Forensics, go to www.knottlab.com/services/digital-media-forensics.
Jason Evans is a project engineer with Knott Laboratory and a former law enforcement officer. He is a lead member of the Digital Media Forensics team.