Losing radio contact with your team and with other responders is not just frustrating, it can be a matter of life and death. Whether the communication disruption is caused by frequency incompatibility between interoperating agencies, a school full of thick walls and lockers, or a matter of radio range, police officers and other first responders across the country are too familiar with the problems caused by losing communications at the worst possible time.
Showing up to an emergency with multiple agencies responding presents another problem. How can officers communicate with other officers or firefighters when they are all using different radios or technologies to communicate? Unfortunately the answer is that they cannot.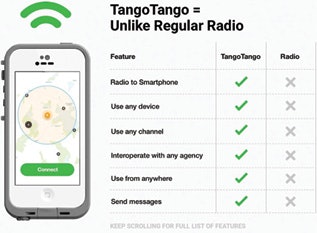 The Solution
By combining hardware and software with a support team that is always available 24 hours a day and 365 days per year, TangoTango connects your two-way radio system securely to the Internet, using cell coverage to eliminate radio dead zones. Also, any agency using TangoTango can communicate with any other agency using TangoTango, allowing first responders to interoperate regardless of what radio type or radio frequency they are using. And TangoTango users have virtually unlimited radio range, as long as they are connected to WiFi or have cellular service.
We connect a donor radio, provided by your agency, to our radio integration hardware, at your site. This provides a link to our secure, cloud-based communication servers, which also connect to the TangoTango mobile app that works on any smartphone, tablet, or PC. Once up and running, any agency connected to TangoTango can communicate (subject to mutual approval by the agencies involved) over their radios or smartphones to any other agency regardless of radio type, radio frequency or cellular provider.
It's important to know that TangoTango isn't simply an application downloaded from the Internet, nor a simple hardware box vendor. We are a "software as service" or SaaS company. That means we provide full support for your agency for the lifetime of the service.
If lightning hits a building and destroys our hardware, then we will replace it free of charge. If you are using TangoTango to assist with the fires in California and our kit is destroyed in the process, we will immediately overnight you a replacement. Need to add 20 users to help with a search and rescue in the middle of a blizzard? Consider it done. With around-the-clock, 365-days per year support located in Huntsville, AL, TangoTango is the only company in the country providing managed interoperability to first responders nationwide.
In Operations
More than 13,000 police officers, sheriffs, firefighters, and other first responders make more than 80,000 calls a day over the TangoTango app. Their case studies and testimonials offer insight into how and why law enforcement agencies choose TangoTango.
Case Study: Crisp County's Need for Interoperability—TangoTango provides south Georgia with seamless communication across agencies. Crisp County is located along the I-75 corridor. Crisp County Sheriff Billy Hancock says his agency relies on TangoTango to communicate with adjacent agencies.
"TangoTango interoperability is a must in rural Georgia. With numerous counties located nearby, many cases will cross jurisdictional boundaries. We all have different radio systems, making it difficult to communicate effectively and efficiently. We have partnered with our neighbors to the north and south, in Dooly County and in Turner County. We all three have TangoTango, which has greatly improved response and officer safety to our perspective jurisdictions. I-75 runs through all three counties making it a must."
Randy Lamberth from the neighboring Dooly County Sheriff's Office recounts a "must have" case for using TangoTango. "A vehicle pursuit took place involving Turner County Sheriff's Office, Crisp County Sheriff's Office, Georgia State Patrol, and Dooly County Sheriff's Office. We were able to monitor all their radio traffic without being relayed from one dispatch to another. We had the radio traffic first hand. This was a tremendous benefit. And yes the culprit was captured without injury to any law enforcement officers or citizens."
Imagine not having to be relayed from one dispatch to another. Instead, imagine being able to participate directly on any radio channel you have been granted access to. With TangoTango, you can.
Case Study: Hurricane Michael Destroys Radio Infrastructure—In 2019 Hurricane Michael devastated the Florida Panhandle. First responders from across the country came to the region to aid with the recovery. One of those agencies was the Seminole County Sheriff's Office, which happened to be on a free trial with TangoTango.
Mark Pergola, captain of the Special Operations Division, explains how TangoTango helped. "Upon our arrival we were met with limited radio infrastructure and limited cellular phone capabilities. The restoration time was weeks, if not months. Our radios system was not compatible with the host agency and the state repeater was down in our area. This rendered our radios useless unless we were transmitting directly with the proximity of other radios. We were able to utilize TangoTango to conduct our emergency communications via cellular phones. Even with limited cellular coverage, our deputies in the field were able to communicate on the TangoTango application to each other and back to the command post. This proved to be a huge success. It provided us with that emergency communications when radio towers were inoperable."
Case Study: Never Leave Your Team—Terry Holden, chief of the Rogersville (AL) Police Department, explains how his agency benefits from using the TangoTango app. "I have 43 years of law enforcement experience, and TangoTango is by far the best communications system that I've ever had," Holder says. "As a supervisor, you can keep up with your radio traffic, officers, and what is going on. It doesn't matter where you're at; it works nationwide as long as you have cell service or WiFi. I used this in Gulf Shores when we had a pursuit. I used the TangoTango app to call the pursuit over my radio system from over 400 miles away. The added capability of having off radio private groups has been beneficial for staying in contact with office personnel."
Customer Support
Agencies using TangoTango give the company high marks for customer service.
Tyrone Smith, sheriff of Barbour County, AL, wrote: "This letter is to express my gratitude to you and your company for being so patient while implementing the TangoTango program (at our agency). Everyone I have spoken to on the phone and met in person from your company has displayed nothing but total professionalism. There are many areas throughout the county where our car radios have difficulty receiving and sending out to our base. TangoTango has allowed us to enhance that communication for our agency. On behalf of The Barbour County Sheriff Office and The Eufaula Police Department, we would like to send our sincere thanks."
To learn more about how TangoTango's technology helps law enforcement and other first responders maintain critical communications during the most trying operations, go to www.tangotango.net.
Phil Kovacs is CEO of TangoTango.