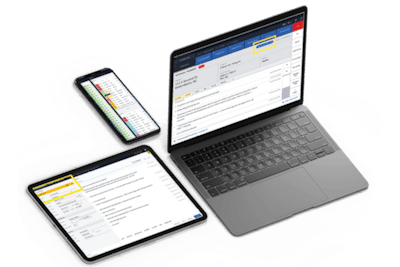 Founded in 2018, CentralSquare has in just three years become a powerhouse in the public safety technology market, especially in the computer-aided dispatch (CAD) sector. The company says its technology is currently in use at 5,200 agencies and that 25% of all 911 calls nationwide are received on its software.
Of course CentralSquare isn't really three years old. It was formed from a merger of all or parts of three major providers of government technology—Zuercher, TriTech, Superion, and the public safety and healthcare divisions of Aptean. As the company's new CEO, David Zolet, says CentralSquare is a "three-year-old company with a 40-year history."
Zolet has decades of experience in developing technologies for the government sector and believes there is much opportunity for CentralSquare to grow in the public safety space and "help public safety agencies achieve their missions."
One of CentralSquare's primary areas of interest since 2019 has been the development of what it calls CAD-to-CAD technology. CAD-to-CAD allows agencies to share information over their CAD systems, even if some of them are not CentralSquare software users.
The idea behind CAD-to-CAD is to expedite the response to calls. CentralSquare uses the example of an active shooter attack. The most appropriate and readily available officers should be dispatched to the scene regardless of jurisdiction. The company says that CAD-to-CAD can cut response times by as much as two minutes and that can save lives. CAD-to-CAD can also allow officers in trouble to request help from the nearest backup, not necessarily from their own agency. Zolet says the solution is one of the most important projects at CentralSquare because of its potential to enhance officer and public safety.
Zolet says the company is also working to improve agency efficiency by reducing false alarms and providing emergency communicators with tools that can help them determine when an alarm or a 911 call was made by mistake.
Just months before CentralSquare was founded in 2018, one of its component companies, Superion, acquired Public Safety Corporation and its CryWolf technology. CryWolf, which works with any CentralSquare CAD system, is designed to reduce officer response to false alarms. Eliminating false alarm response can help agencies that are dealing with officer shortages and overtime pressures. Some major cities have calculated that CryWolf has helped them save the time of as many as 10 officers over the course of a year.
To reduce accidental 911 calls, CentralSquare's latest systems have features that allow emergency communicators to call back or text back to 911 callers who hang up. It's estimated that as much as 30% of all 911 calls nationwide are "butt dials." So eliminating these wasteful calls could have a major impact on public safety and agency resources.
CentralSquare has also teamed up with Carbyne to add more next-generation 911 tools into its CAD solutions. Carbyne's c-Live Universe provides dynamic location capabilities, live video streaming, voice, and instant chat. These capabilities can improve efficiency, enhance intelligence and therefore officer safety, improve decision-making, and help dispatchers send the appropriate response.
One of Zolet's near-term goals for CentralSquare is to provide customers with a cloud-based subscription solution. This software as a service (SaaS) model would be available for the company's CAD Enterprise solution used by large agencies and its Public Safety Suite Pro—which combines records management, CAD, and jail—for medium and small agencies. Zolet says the cloud versions of CentralSquare's CAD products will be available in 2022.
"It's all about helping our public safety customers stay safer, achieve their mission of protecting the public, and make better decisions," Zolet says.