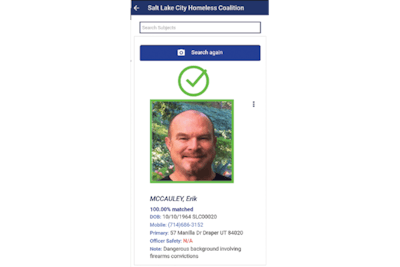 When police interact with the homeless, they have limited informational resources in the field and often no background information because the contact does not have a physical address. That is now changing through technology from Odin Intelligence LLC.
Odin's Homeless Management Information System (HMIS) provides police and other public safety agencies with tools to efficiently connect homeless individuals to services while also enabling officers to better deal with any criminal element within the homeless community.
Erik J. McCauley, founder and CEO of Odin Intelligence, drew on his background of more than 25 years of probation work in California to first develop a product that provides the tools needed by agencies when monitoring sex offenders. After creating Odin's Sex Offender Management System (SOMS) about two-and-a-half years ago, McCauley found there was a need for something similar when dealing with the homeless. So, using the technology of SOMS he created HMIS.
McCauley chose the HMIS acronym because it aligns with standard terminology for reporting to the Department of Housing and Urban Development. The HMIS data can be supplied directly to HUD. HMIS and the other current and future Odin products, are based not only on the expedient sharing of information but also on building a database and tracking interactions and actions.
"The outcomes on anything you're doing—as long as you're sharing knowledge effectively—are more positive, more productive, more efficient," McCauley says. "We're brand new, with the latest and greatest tech that can deal with any kind of problem, and we are 100% CJIS (Criminal Justice Information Services) compliant."
In the field, police or other emergency responders can access full information about a homeless person if that individual is already entered into HMIS. If the contact is not in the database, an officer can quickly add the information using a smartphone. McCauley explains how in the past every contact with a homeless individual was basically a new encounter. With HMIS, prior interactions and even outcomes are documented. Officers have a wealth of information at their fingertips. On the flip side, HMIS can also be provided to the homeless, thereby allowing them to connect to resources and schedule appointments.
Police, firefighters, or paramedics can use HMIS's facial recognition to identify someone even if the subject is non-communicative or impaired by drugs or alcohol. McCauley, however, points out that the facial recognition is only used for identification and not for investigation.
HMIS provides date of birth, prior contacts, and contact information for family members, therapists, social workers, probation officers, or parole officers. It also alerts officers with safety warnings such as the presence of needles or prior reports of the person being assaultive and with flagged information such as "registered sex offender," warrant status, and arrest history. The software even gives officers information about the subject's temporary housing history and the capability to check bed availability in local shelters and reserve a bed on the spot remotely.
"What we are doing, in a nutshell, is expediting the resources and really making the resource referral process super-efficient," McCauley says. "Not only are we the digital infrastructure, but we allow documentation and validation of all of the efforts that everybody is doing anyway."
McCauley also stresses that with HMIS—or any of the other Odin products—the department or agency owns the data, and they alone decide who has access.
Documentation is also important. McCauley references a recent lawsuit filed against a city by a homeless woman who alleged she was never offered any assistance from police or other agencies. With HMIS, every interaction is documented and the city can effectively dispute such claims with facts.