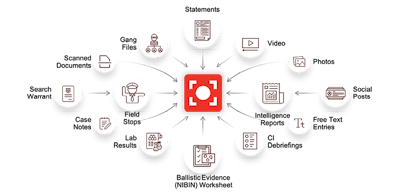 Crime is surging across the country and resources are stretched thin at many law enforcement agencies. Which means efficiency has never been more important, as investigators are now tasked with gathering more information and closing more cases than ever before. However, many units responsible for managing investigations are still trying to manage their growing caseloads with paper-based processes, homegrown software systems, and underpowered siloed applications that are inefficient, and all too often fail to bring closure for victims and families.
My company—ShotSpotter—offers an investigative solution that can make these tasks much easier. I'll explain how in a minute. But first a little background.
The Problem
The fundamental responsibilities of law enforcement investigators are to evaluate criminal activity or allegations of criminal activity, identify evidence, track and prioritize leads, and close cases. On complex cases, this may require multiple agency work units or partner jurisdictions to manage and organize workflow activitiescollaboratively.
Amid growing caseloads and shrinking resources, law enforcement has increasingly turned to technology-driven solutions to drive investigative efficiencies and improve case outcomes. Historically, providers of police record management systems (RMS) have attempted to fill the gap with claims of new features and functionality, including case management. Unfortunately, these solutions are geared more toward the initial Incident reporting needs to meet state and federal reporting requirements and not toward managing effective caseprogression.
Many agencies using RMS tools for investigations have found that the application of these tools to detective work have created more challenges than they have solved. The fact is that most RMS systems are designed primarily for reporting incidents at the patrol level. The investigative features that have been bolted on to some RMS systems often lack the analytics, collaboration tools, and workflow engine needed for demanding case management tasks. Some agencies are running their narcotics operations, homicide cases, or managing intelligence or confidential informant records through RMS systems. But not successfully or efficiently. Instead, many investigative units within police agencies are utilizing disparate applications and antiquated processes for their important case management work. But using the wrong tool for investigative management can lead to low clearance rates that allow serial offenders to remain free to commit more crime.
The Solution
The key to driving investigative efficiencies and positive case outcomes is a dedicated case management software solution that provides the tools that law enforcement needs to run a modern investigative unit.
No matter how big or small your department, case management software can help solve a lot of common issues by making all relevant case information accessible to everyone who needs to see it while securing it from those who don't. Whether you have criminal cases, vice and narcotics cases, professional standards investigations, organized crime management, or intelligence needs, today's modern software solutions can help law enforcement keep pace with the world around them.
ShotSpotter Investigate is a proven, cloud-based case management software solution that empowers investigators to gather, analyze and share information more efficiently, effectively, and securely while maintaining 28-CFR part 23 compliance for Intelligence-related data.
The platform's investigative, analytic, and reporting tools make detectives more efficient and effective—from the office or the field—helping you keep investigations moving forward. With Investigate, your team can capture documents, images, and video, in one place via a centralized, secure, case folder.
Investigate has a fully CJIS-compliant government cloud infrastructure. As a web-based application, it fosters collaboration with internal and external stakeholders who are granted access. Automated reminders ensure timely review and completion of tasks and assignments. Investigate delivers a Best Practices approach, utilizing NIEM IEPD4.0 standards for data exchange to integrate seamlessly with all leading industry information systems, such as RMS, CAD, and other tools.
Investigate can also be utilized alongside Forensic Logic's Coplink X, a leading search engine for law enforcement. Incorporating data from Thomson Reuters Clear as part of a comprehensive set of data, Coplink X offers the ability to access critical and meaningful information from your agency's IT systems and across the city, county, state, and country. An essential tool for linking associated leads based on cases associated with the NIBIN hit report, Coplink X provides actionable insights and real-time visualizations that help identify crime trends and persons/vehicles/locations of interest to solve and ultimately prevent further criminal activity.
Investigate's Features
Here's a quick look at some of the key features of Investigate.
• Centralized Investigative Solution—Investigate provides a centralized platform for all investigations within an agency and allows for controlled collaboration through a platform internally and externally utilizing a modular permission-based access approach coupled with sensitive case restrictions and secure case dissemination.• Organize and Manage Large Amounts of Data—Investigate helps agencies organize and manage numerous data sources in a single case folder. Advanced analytic capabilities also allow for the identification of trends and patterns in mountains of evidence, enabling investigators to solve complex cases quickly and with greater accuracy.• Robust Analytics and Visibility—Investigate delivers automated notification and analytical reporting to manage assignments, case load and clearance progress.• Data Privacy—Investigate provides four levels of security clearance and strict controls, including log-in access by user permissions as well as an audit trail.* Courtroom-Ready Cases—Investigate streamlines the process for hand off to prosecution packaging all evidence into a secure electronic file.
• Community Portal—Delivers a community accessible solution to intake crime tips, complaints and incident reports and supports agencies seeking information from the community about major crimes and incidents as a collaborative tool.Investigators should not have to operate in the dark ages, stuck with homegrown systems that make gathering and securing actionable intelligence such a challenge. With better tools, investigators can focus more on the outcome that matters—solving crimes. The result? Law enforcement agencies of any size can better protect the community, bring closure to victims and their families and achieve higher clearance rates, especially for violent crimes and shootings.
Case Study
Let's look at a case study that shows how Investigate can help drive investigative efficiencies and positive case outcomes.
One of the largest law enforcement agencies in the United States wanted to streamline its case progression to ensure more serial offenders were brought to justice. The department's existing process of using multiple systems and applications was slow and laborious, causing investigations to drag on for months and even years. Investigative supervisors were also hampered, unable to effectively track case progression, caseloads, and how its strategies impacted closure rates. All the while, victims and their families suffered, lacking closure they so desperately needed.
This agency chose ShotSpotter's Case Management Solutions as a tool to help streamline and automate the process. Optimizing workflows for this large city's investigative units, investigators were able to achieve a homicide case clearance rate nearly 10% higher than before and nearly 20% better than the national average within five years.
Jamie Algatt is a director of investigative solutions for ShotSpotter.