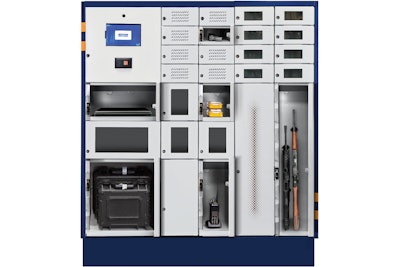 Some law enforcement agencies have long had issues storing, maintaining, protecting, and tracking the location of both evidence and equipment, including weapons. The Asset Tracer system from Real Time Networks is designed to help agencies solve these problems.
Asset Tracer is a customizable and scalable smart locker system. The system leverages RFID technology and software to secure and manage essential assets.
Mike French, CEO of Real Time Networks, says the company developed Asset Tracer at the request of customers who were using its Key Tracer key management system. "They told us they needed one solution for storing, securing, and tracking assets with back end software that allowed them to manage everything," he explains.
French says that customer requests led to the company "hiring a team and going all in to develop" an intelligent locker solution. French adds that each new customer helps the company continue developing the product. "It's a client-built product, he says. "Every installation that we do, clients give us feedback and help us make it better."
Because the Asset Tracer system is modular, Real Time Networks can build a configuration that fits each customer's needs. "Agencies can choose a wide range of different modules," says Jay Palter, vice president of marketing for Real Time Networks. "You can have different sizes and different interiors and a variety of options." Some of the options available for Asset Tracer modules include refrigeration, electrical outlets, and USB charging.
One of the major benefits of Asset Tracer is its ability to track the use and return of gear, what Real Time Networks calls "content surveillance." The assets can be fitted with RFID tags that are tracked by antennas built into the locker module that communicate with the software.
Asset Tracer is especially beneficial for rechargeable tools like two-way radios, TASERs, and body-worn cameras. "When the officers come back, in they can put their body cameras into a module and plug it in," he says. He adds that one of Real Time Network's law enforcement clients wanted a special door for its system so that a Wi-Fi signal could penetrate the steel module and the officers' cameras would upload their data when they were plugged in.
Managers can monitor who is accessing the lockers from their desktops, laptops, or mobile devices. "This lets you know that an officer opened the door to the locker, what items the officer took, and when they were returned," French says. Access to the lockers can be set up in a variety of ways, including cards, biometrics, number codes, or a combination.
French says the ability to easily track gear is saving agencies money. He explains that some agencies have misplaced equipment over the years and have to order more than needed because of insufficient inventory control. "Those same agencies are telling us that, since they started using Asset Tracer, they don't have to have as much surplus inventory as they used to," French adds.
Through the system, officers can also note when there is a problem with their equipment. "When they do that, the software sends a message to the person who is responsible for checking and repairing the equipment. Only they can clear the fault and put the equipment back into circulation," French explains.
Asset Tracer is priced per module and by the size and features of the module. There is also an annual software license. Real Time Networks will install the system for customers. "We come in and do a full implementation and project management," French says.