The International Association of Chiefs of Police (IACP) Conference and Exposition returned this year following a two-year lapse caused by the COVID-19 pandemic in 2020 and Hurricane Ida in 2021. With Dallas as the host city, the Kay Bailey Hutchison Convention Center provided more than ample space for a large expo floor, meeting rooms, and an abundance of opportunities to meet and network with chiefs and other law enforcement professionals.
The expo portion of IACP 2022 showcased a wide variety of interesting items from basic equipment to technology-driven solutions. Here is a look at some of the items from the expo.
COMMUNICATIONS
911inform
Communications Software
911inform enables full situational-awareness and communication across multiple platforms allowing for total transparency into any situation where a 911 request for emergency services occurs. The connected building platform provides emergency response teams with the bi-directional communication and controls needed to manage a crisis. Precise emergency event notifications are provided to emergency responders by delivering digital map layouts of the facility, including connected building controls for doors and video camera access capabilities.
Axis Communications
Security Solutions
Axis enables a smarter and safer world by creating solutions for improving security and business performance. As a network technology company, Axis offers solutions in video surveillance, access control, intercom, and audio systems. The solutions are enhanced by intelligent analytics applications and supported by high-quality training. Axis collaborates with technology and system integration partners worldwide to deliver customer solutions.
Motorola Solutions
Communications Connectivity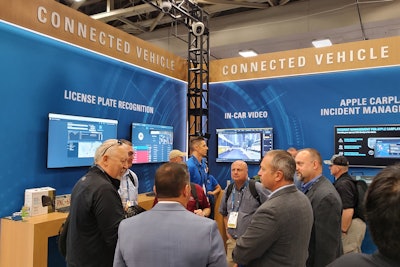 Motorola Solutions launched Incident Management for Apple CarPlay. It provides officers intuitive, in-dash access to critical information from their agency's existing computer-aided dispatch (CAD) system and is fully compatible with voice control features. When changes and updates to incidents occur, they can stay informed by on-screen notifications that can also be read aloud through Apple CarPlay. It incorporates incident mapping and unit mapping, plus unit status change.
OTTO
Covert Communications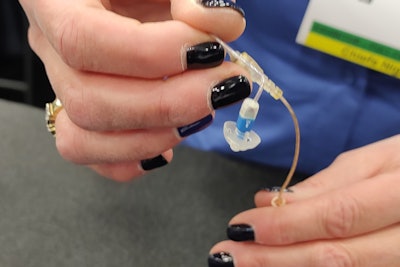 The new Covert Surveillance Kit from OTTO is tiny and described by the company as "practically invisible to the casual observer." The earpiece fits left or right and includes multiple eartip sizes. Paired with the new Surveillance PTT there is no need to raise the microphone or PTT to your mouth to send a transmission. The microphone sits on the PTT and can be fastened to a pocket or lapel to activate inconspicuously.
Panasonic Connect
Fully-Rugged Laptop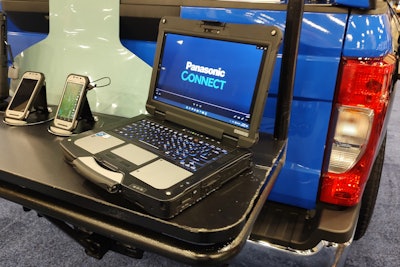 Panasonic Connect demonstrated its Toughbook 40, a fully-rugged laptop featuring a 14-inch display and a modular design that provides for user-interchangeable components. It was just one of several Toughbooks on display. Toughbook Smart Essentials adds capabilities to make sure laptops are always working when needed. The cloud-based software tool provides real-time actionable insights into the health and utilization of your mobile devices.
INVESTIGATIONS
Ekin Smart City Solutions
BIKE, MOTORCYCLE ALPR
Micro Patrol is the next generation in Ekin's Bike Patrol mobile ALPR. With this evolution, the advanced smart city solution can now be mounted on bicycles, motorcycles, and automobiles, requiring only a power supply. The ALPR system's lane count increases from two to three, and it provides license plate identification accuracy in low-light conditions, inclement weather, and traffic congestion. With ultra-wide coverage, the Micro Patrol offers 130 degrees of ALPR, which can be combined for 360-degree coverage.
Leonardo
Stationary ALPR
The ELSAG Street Sentry from Leonardo is a stationary LPR that economically aids law enforcement with real-time vehicle interdiction and investigations. It is an autonomous system meaning its own power source is included, both solar and battery. Agencies will find suspect vehicles faster with a single deployment of the ELSAG Street Sentry. Its low cost also allows for multi-site deployments.
Thermo Fisher Scientific
Handheld Drug Detection
Thermo Fisher Scientific's 1064Defender, a handheld drug detection device using Raman spectroscopy, provides analysis of molecular structures to identify suspect substances. It can test suspicious materials without removing them from packaging and exposing the user to the material. The 1064Defender Raman Analyzer has Wi-Fi and USB connectivity and a digital camera helps users establish the chain of custody.
Ultra Electronics Forensic Tech
Ballistic Identification
Ultra Electronics Forensic Tech provided information on its Integrated Ballistic Identification System (IBIS). IBIS uses specialized 3D microscopy to capture the unique marks left by firearms on fired bullets and cartridge cases. The related search engine extends the capabilities of law enforcement agencies to quickly find links between firearm-related crimes. A match found in IBIS is often sufficiently apparent to provide an investigative lead.
MISCELLANEOUS
Brother Mobile Solutions
Portable Printer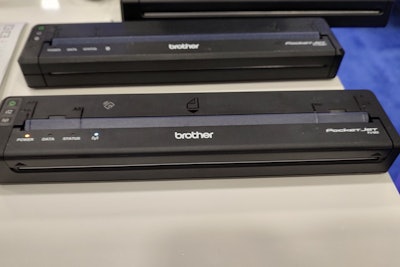 The Brother PocketJet 8 series of printers looks familiar, yet this latest version of the full-page mobile thermal printer has been improved. It delivers high quality prints up to 300 dpi, increased speed, and expanded connectivity options that include USB-C, WiFi, MFi, and Bluetooth. A wide variety of mounts and accessories are available.
Henry Repeating Arms
Commemorative Firearms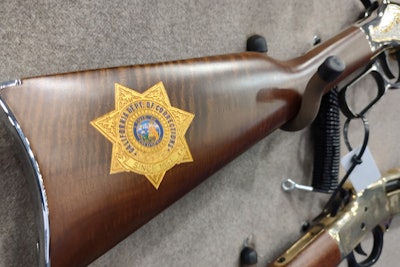 Henry displayed several rifles and also shared information about a program it offers to design custom commemorative rifles or shotguns for law enforcement agencies. Henry will engrave a department's badge design into the genuine American walnut buttstock and give the department's custom rifles a unique serial number range.
OHD
Respirator Fitting Device
The OHD QuantiFit2 is a highly specialized instrument that utilizes OHD's scientifically proven and patented Controlled Negative Pressure (CNP) technology to directly measure respirator leakage. It helps provide a fast, easy, and precise respirator fit. The QuantiFit2 battery packs allow for cordless operation, animations guide the user through each exercise, and AutoStart allows for touchless testing.
Stryker
Chest Compression System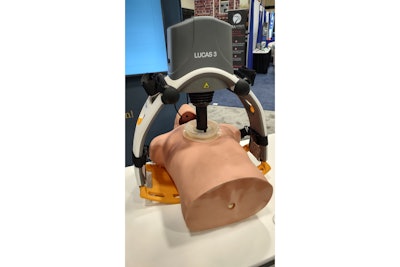 Although there were several automatic defibrillators (AEDs) at the Stryker booth, they also had the Lucas 3 displayed. The Lucas 3 is a chest compression system that can take over for first responders and continue compressions while they tend to other medical needs. It never gets tired, and it is very portable.
Traka USA
Secure Storage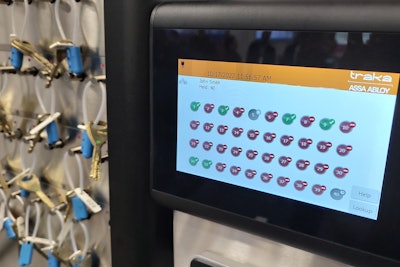 Traka's key cabinets are modular and scalable to meet the needs of any department and provide controlled key access for authorized users. Key removal, replacement, and all activity is recorded by the system, thereby generating a complete audit trail for better visibility and accountability over the use of sensitive keys. Traka also displayed an equipment locker with the same access and tracking capabilities.
VH Blackinton & Co.
Custom Badges
V. H. Blackinton & Co., Inc., a family-owned company that has been around since 1852, has been making badges for 169 years. However, the company is known for bringing new technologies into the badge manufacturing market. The company's booth displayed an assortment of badges, including custom pink badges in support of October's Breast Cancer Awareness Month. The company offers badges, insignias, award medals, commendation bars, flexible badges, and more.
OFFICER PROTECTION AND APPAREL
5.11 Tactical
Load-bearing Packs
5.11 Tactical announced new load-bearing products and accessories that will be available this fall. The LV collection of packs includes the LV18 Backpack 2.0, LV6 Waist Pack 2.0, and the LV10 Sling Pack 2.0. A second set of webbing loops on the LV18 Backpack 2.0 offers improved attachment for the LV6 Waist Pack 2.0 when extra cargo space is needed. Additional features include side compression straps, a padded back panel with a flex cuff channel, and quick-release shoulder straps with a removable sternum strap.
Compliant Technologies LLC
Conducted Electrical Weapon
The G.L.O.V.E. (Generated Low Output Voltage Emitter) from Compliant Technologies is worn as a glove and quickly transforms into a conducted electrical weapon (CEW) to be used within the force continuum to supplement existing intermediate tools within law enforcement. An on/off switch on the wrist of each G.L.O.V.E. activates the device.
Fechheimer
Duty Apparel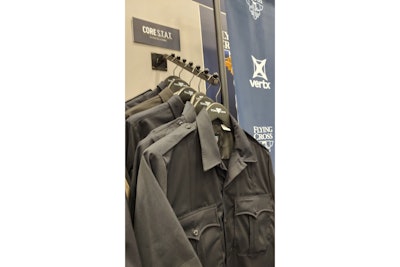 Fechheimer introduced CORE S.T.A.T, a new part of the Flying Cross line of duty apparel. The CORE S.T.A.T. shirts and pants are made from a modern polyester and spandex blend and are treated with a durable water-resistant finish. The line is designed to provide officers with uniforms that flex, stretch, and allow a wide range of motion.
Galls LLC
Uniform Sweater
Galls' Commando Crew Neck sweater offers the year-round comfort of acrylic for enjoyable wear across the seasons. The high-traffic elbow area is reinforced with monochromatic patches that add to the uniform look, rather than detracting from it. Operator-friendly design provides you with a badge tab for convenient accessibility to identifications.
Getac
Body-Worn Camera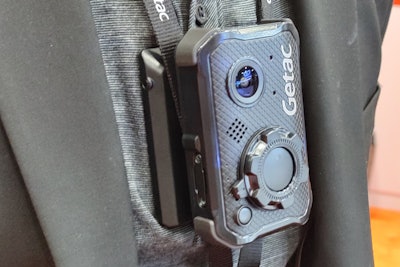 Getac showcased its new 4K Rugged Body-Worn Camera. It's small and ready to capture 4K video, however the resolution can be dialed down to allow departments to better manage the volume of data to be stored. When the highest resolution is needed, such as with SWAT officers making an entry, the 4K capabilities are readily available. It can be paired to the company's Holster Sensor for activation.
Point Blank Enterprises
Modular Armor
The new Paraclete Origin modular vest platform allows operators to quickly configure the platform from a low-vis concealment vest, up to a full coverage tactical vest and several iterations in between. SWAT team commanders now cam provide their team members with one base platform that can be employed in wide variety of different configurations.
Safeguard
Voltage Detection Device
Safeguard Compass is a personal voltage and current detector designed to detect and alert law enforcement officers and first responders of hidden electrical threats. Compass provides 360-degree detection with visual and audio alerts, indicating where the energized sources are located. Compass has a variety of mounting options.
SOFTWARE AND SOLUTIONS
Carfax for Police
Information Sharing
Carfax for Police demonstrated Driver Exchange, which allows officers and/or citizens to collect, send, and share driver information from the crash scene. It also scans driver licenses, registration cards, and VINs. Driver Exchange also offers easy data collection with auto-populate, auto-save, GPS, touch diagrams, and drop downs. The cloud-based solution works for any device.
CentralSquare
Cloud-Based Solutions
CentralSquare's Public Safety Suite helps agencies leverage technology for the fastest multi-agency and multi-jurisdictional response with the most effective use of resources. Maximize community and responder safety through automation and innovation, cloud-based systems and mobile optimization. Integration from end-to-end allows critical information to flow between 911, CAD, records and jail.
LexisNexis
Software Applications
LexisNexis Coplogic Solutions is harnessing data and enabling officers to do more on their cell phones, whether it be issuing an e-citation or diagraming an accident. The goal, by using a suite of products, is to move from reactive, to proactive, and then to a preventative approach. The ultimate goal is to reduce and eliminate accidents, in particular fatal ones. It is all data driven starting with automated crash and incident reporting and moving into the capability to slice and dice all information to pinpoint crashes and citations.
TRAINING
Columbia Southern University
Online Courses
Columbia Southern University is a 100% online university offering flexible and affordable degree programs for the professional adult, including degrees in Criminal Justice, Homeland Security, Cyber Security, Emergency Services Management, Business Administration, Public Administration, and many more. Advisors can explain the Learning Partnership program, as well as evaluation of prior education and training for possible transfer credit.
Digimation
Firearms Trainer
The Digimation DART 4 includes new features designed to make training time more productive and meaningful. New practice options allow one or two-lane practice, as well as the ability to set lighting, camera angles, add props, and more. In an industry first, DART can integrate video directly into realistic 3D environments, allowing a combination of video and 3D targets and objects in one course.
Vector Solutions
Training Solutions
Vector Solutions delivers award-winning, real-time training, operations and workforce management solutions to law enforcement and other public agencies. With its record-keeping, credentials, accident tracking, ISO training, and performance support tools, Vector Solutions is a leader in eLearning.
VirTra
Training Content
VirTra introduced VirTra Volumetric Video (V3). It combines the advantages of high-definition video and 3D characters coupled with the ability to affordably build a comprehensive library of training content suitable for screen-based or headset-based platforms, providing a novel, industry-first simulation training solution. The V3 studio has a diameter of 39 feet and can record multiple people interacting with each other at the same time.