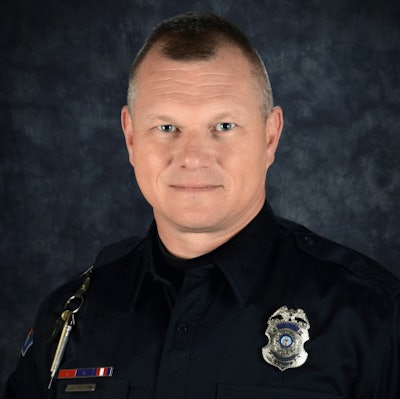 The Albuquerque police officer shot and critically injured during a traffic stop last week succumbed to his injuries early Thursday morning after a week-long battle for his life, according to Police Chief Gorden Eden.
Officer Daniel Webster, 47, an 8-year-veteran of the department, had been on life support without brain function at University of New Mexico Hospital since Wednesday, his stepfather John Hanafin told the Albuquerque Journal.
Webster died at 2:15 a.m., Hanafin said.
After the shooting on Oct. 21, Webster was rushed to UNMH where he underwent two emergency surgeries. He had remained in critical condition in UNMH's Intensive Care Unit ever since.
Webster was shot multiple times, including at least once in the face, in the parking lot of Walgreens at Eubank and Central as he tried to handcuff a man who was riding a motorcycle with a stolen license plate, according to police.