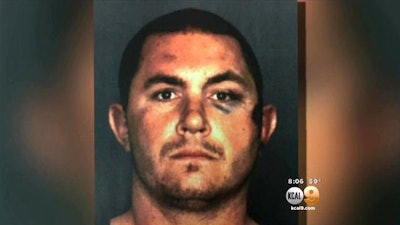 San Bernardino County Sheriff's Department deputies say that Francis Pusok has been arrested in a reported assault.
Pusok first came to the public's attention when 10 deputies were shown on video beating him after a three-hour pursuit, much of it occurring while he was on a stolen horse, in April. The chase began when deputies tried to serve him with a warrant for an identity theft investigation. Later that month, he reached a $650,000 settlement with San Bernardino County.
Deputies from the Apple Valley Police Department responded Tuesday to a residence in the 11000 block of Caribou Avenue in Apple Valley after the report of an assault with injuries. Upon arrival, the victim advised the deputies that he was at the residence changing the locks after evicting some squatters. Officials said the squatters were later identified as Pusok's family members.
Pusok was arrested without incident, transported and booked into the High Desert Detention Center on suspicion of assault with injuries. He is being held on $50,000 bail, KCBS TV reports.