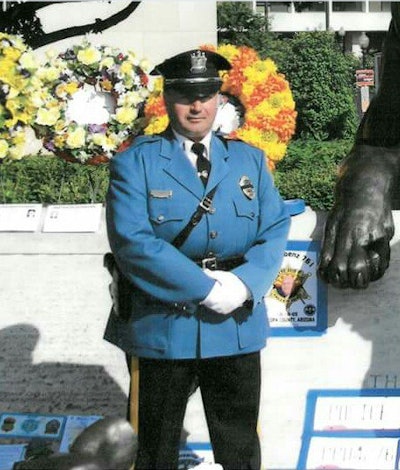 A retired lieutenant of the Roxbury (N.J.) Police Department has died after being critically injured in a bicycle crash during the Police Unity Tour Monday, his family said.
"It is with great sadness that we announce the passing of Joseph Franklin," Franklin's family said in a statement. "Helping others even in death, he donated his organs to those in need. We request privacy during this extremely difficult time and thank the community for their support."
Franklin was critically injured Monday during the first day of the 320-mile bike ride to Washington D.C. in honor of officers killed in the line of duty. He was taken to Morristown Medical Center following the crash, reports nj.com.
Franklin served with the department for 25 years, but his greatest contribution was the initiation of the department's police explorer program, Explorer Post 2188 in 1991, Roxbury police Chief Marc Palanchi said in a statement.
"Over 500 young men and women participated in the Explorer's Program during Joe's supervision," Palanchi said. "He gave his time, energy and provided leadership and guidance to young people effortlessly. Following the example set forth by Joe, many of those explorers went on to become police officers, while others simply went on to become productive members of society."
During his tenure with the department, Franklin graduated from the West Point Command and Leadership program in 1997 and received the William H. Sturgeon Leadership Award from the Boy Scouts of America in 1993.
"If I could sum up Joe in one word best, it would be honorable," the chief said.