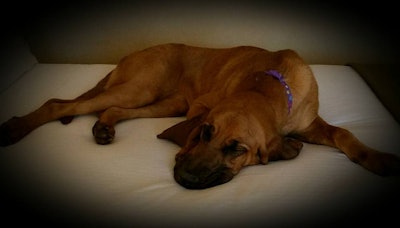 A 14-month-old bloodhound named Daisy is the newest member of the Spokane (WA) Police Department's K9 unit.
She was brought on specifically to track missing children and vulnerable adults with her handler, Sgt. Jason Reynolds, who supervises the unit. "This doesn't replace any of our patrol dogs. It supplements them," Reynolds told the Spokesman-Review.
Daisy is a rescue who came to the department by way of California one week ago. As an American-born dog, she'll be one of the few on the force who can understand English commands.
Donations to K9 Support Northwest, a local nonprofit, paid for Daisy's purchase and a week of training with Reynolds in California. The organization's founder, Carla Blazek, is a dog-lover and a frequent contributor of photography to Police Magazine who has shot photos of local police dogs for several years. The group also paid for Murphy, the department's newest patrol dog, who's still in training.
Blazek has been helping train Daisy by playing a missing person and letting the dog track her scent. Daisy likes to greet the people she finds with a nuzzle or a lick.