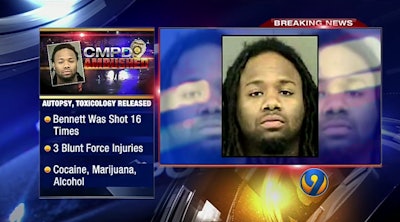 VIDEO: Murder Suspect Who Ambushed NC Officers Had Drugs in System, Autopsy Shows
A homicide suspect who shot and injured a Charlotte-Mecklenburg, NC, police officer during an ambush outside CMPD headquarters earlier this year had drugs and alcohol in his system, according to the medical examiner's report.
Jonathan Bennett was fatally shot by CMPD on Jan. 11 after pulling into the headquarters parking lot in uptown and firing at several officers.
CMPD Officer Casey Shue was shot in the leg during the ambush but is making a full recovery.
Police said that hours before the shooting, Bennett, 23, killed 24-year-old Brittany White and fled with his young daughter. He eventually dropped the girl off with a family member.
Police had been looking for Bennett when he showed up at police headquarters.
The autopsy report revealed that Bennett had 40 mg of ethanol, or alcohol, in his system as well as 1.1 mg of benzoylecgonine, which is the main metabolite of cocaine. He also had .055 mg of cocaethylene, .081 mg of cocaine, and delta-9-tetrahydrocannabinol which is the primary psychoactive ingredient in marijuana, reports WSOC-TV.